Santa Rosa, California -
Be the Change in Mental Health (BTC), a mental health clinic that offers transcranial magnetic stimulation in Santa Rosa, CA, among many other treatments, is happy to welcome RN Paula Davey to the team. Ms. Davey is excited about the opportunity to learn more about using TMS for treatment-resistant depression. She is currently being trained by the NeuroStar professionals to administer treatments prescribed by their physicians and midlevel providers who have been certified in TMS technology. The FDA has recently approved NeuroStar TMS for obsessive compulsive disorder (OCD) in addition to major depressive disorder (MDD). BTC is currently the only clinic in Sonoma County that provides accelerated protocols for TMS.
Ms. Davey has more than 25 years of experience as a nurse. Most recently, she had worked as an evening nurse manager in the Santa Rosa Kaiser Hospital ER in Los Angeles. She had worked for the last 22 years in various medical specialties and RN management roles at Kaiser Permanente before moving to Sonoma County in 2017. Her career in the ER had provided her with a first-hand view of what mental illness and depression can do to people when they are feeling suicidal or have even tried to kill themselves. Commenting on what considers to be the best part of her new job, she says, "being able to contribute to the mission of alternative mental health, utilizing my clinical knowledge and background to support our patient population reach their mental health goals. This work is so rewarding and exciting to be part of and I'm doing it here in Santa Rosa where there are so many people in need of assistance. Our local hospitals are just not equipped to handle this need."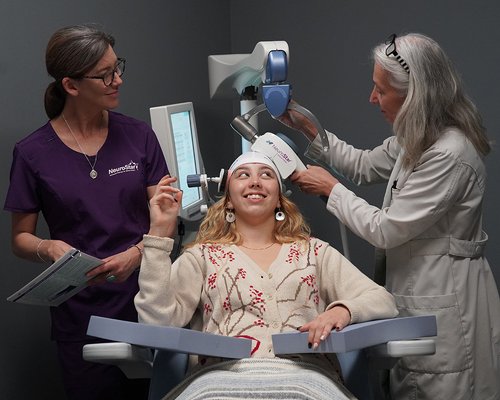 Before she became part of the BTC team, Ms. Davey had witnessed the use of ketamine many times as an anesthetic drug. Kaiser physicians have been recently prescribing ketamine for pain management in the ER. However, it was only since administering ketamine as an intramuscular drug for ketamine-assisted therapy (KAP) at the BTC Santa Rosa clinic that she had the opportunity to interact with patients who have informed her repeatedly how psychedelic-assisted psychotherapy has significantly changed their lives.
Meanwhile, Dr. Marisha Chilcott, the CEO/CMO of BTC, will be speaking at the Northern California Association for Nurse Practitioners Biennial Education Symposium on January 28, 2023. She will be providing scientific evidence and BTC's actual experience in the treatment of patients with TMS and KAP. She will discuss the theoretical mechanisms of action that are similar in these two apparently different modalities. She will offer advice as to whom these treatments are most suitable and for whom they aren't. Her talk has the goal of helping nurse practitioners in Northern California expand their toolkits in the treatment of anxiety, obsessive-compulsive disorder (OCD), and depression to beyond daily medications using non-selective reuptake inhibitors (NSRIs), selective serotonin reuptake inhibitors (SSRIs), and atypical antipsychotics.
Founded in 2022 by Marisha Chilcott, MD, Be the Change in Mental Health has the goal of shifting from the current pharmacologic drug use and recurrent therapy sessions to a results/outcome-driven service provider. This necessitates adjusting the compensation structure from per-therapy session and pre-prescription payment to lump sum rates for deliverables. BTC is a California non-profit 501(c)(3) corporation that offers psychedelic therapy and NeuroStar® TMS to the public in a safe, medically-supervised, legal way. They use licensed therapists and medical physicians to deliver these services that specifically focus on some of the most difficult-to-treat mental health issues of intractable depression, post-traumatic stress disorder, suicidality, and anxiety related to mortal diagnoses. The treatments they provide are all performed based on strict scientifically proven protocols by licensed professionals, according to the rules and regulations of the California Board of Medicine, the Multidisciplinary Association for Psychedelic Studies (MAPS), and the Department of Justice.
Those who are looking for a mental health clinic in Sonoma County can check out the BTC website or contact them on the phone or through email.