Duluth, Georgia -
Atlanta Institute of Music and Media, an accredited music college from Atlanta that has trained some of the most prominent names in modern music, is urging those with ambitions of starting a music production studio to find out exactly how they can get started from home. More information can be found in the blog post: https://www.aimm.edu/blog/start-music-production-company-at-home.
The music industry recorded a staggering $8 billion in revenue in 2021, a significant increase compared to its numbers over the last decade. Since streaming services have become mainstream and due to the introduction of countless online platforms to promote one's music that increases the chances of one going viral, even creators with humble origins can make it big. Case in point, one of the music industry's biggest breakout stars of the last couple of years, Billie Eilish recorded her songs and uploaded them to the music sharing website Soundcloud where they gained traction and eventually netted her a record deal. These stories are not uncommon and with the barriers to entry, such as hardware and software, being lower than ever, there has never been a better time to chart a career in music.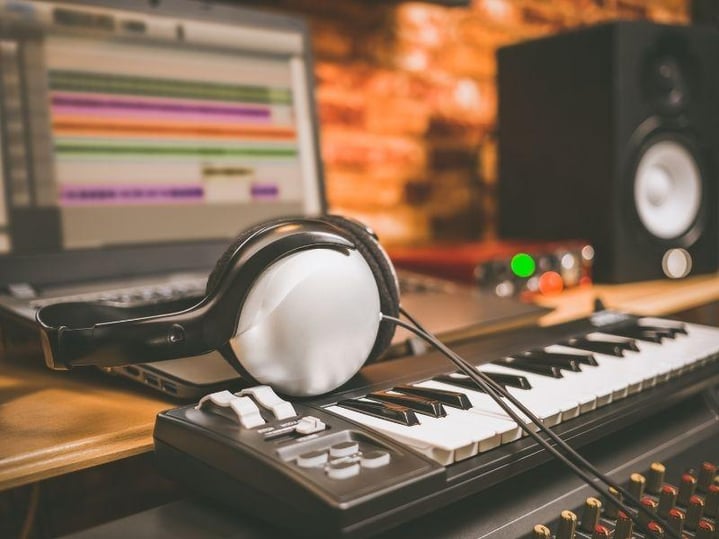 According to AIMM's blog post on the topic, those who want to produce music from the comfort of their home should consider soundproofing the room of the home where they intend to work and giving it the acoustic treatment. Soundproofing reduces sound leakage from inside the home studio to the outside world. Acoustic treatment involves the control of reverberation and echoes inside the studio to enable the musician to capture the best sound. Once the home studio is built, they will need equipment such as a desktop computer or laptop, a copy of audio software or a digital audio workstation (DAW) such as AVID Pro Tools, Ableton Live, or FL Studio, a soundboard, an audio interface, a USB microphone, XLR mic cable, mic stand, a pop filter, and headphones or a pair of studio monitors.
Once the equipment and space are ready, it is time to upgrade one's skills. AIMM recommends learning the basics such as creating a MIDI with a piano roll, creating an audio track enabled to record, and setting the input source to the webcam if recording, in the software or DAW of choice. A music school such as AIMM will cover all these basics and many more advanced topics that will put a student's skills at par with the professionals working in the industry.
The next step is getting a formal business set up by starting a company, preferably an LLC. This can involve filing paperwork and taxes, depending on the state one is in. The company should be the artist's brand which should then be marketed on as many online social media platforms as possible. They should upload their creations to popular streaming and music hosting services to reach the widest audience. The artist should also make contacts with industry professionals and tastemakers such as those who control streaming playlists and curate the music for local and college radio stations. Other marketing tools include business cards and a website. Finally, all these marketing efforts should be used to collaborate with local artists. This not only helps one broaden their music horizons but also lets them tap into the fan bases of established artists.
A spokesperson for AIMM talks about what the music college can do for those wondering how to become a music producer by saying, "The dream of being a music producer is accessible, now more than ever before. If you work hard consistently, you can make a stable living and you even have a chance of reaching the pinnacle of success. If you need a boost to your skills, AIMM offers extensive lessons, courses, and programs for music producers. AIMM offers multiple programs for producers, including the Certificate in Music Production which is offered both online and on-site on campus, and the Music Production and Audio for Media Associate Degree."
Atlanta Institute of Music and Media can be contacted for inquiries at the phone number (770) 242-7717 or the email address admissions@aimm.edu.


SOURCE: Press Advantage [Link]