Apple Spice Box Lunch and Catering is offering corporate lunch catering in Washington DC and throughout the northern Virginia area. Apple Spice in Herndon, VA is a franchisee of Apple Spice Junction, a box lunch delivery and catering business headquartered in Salt Lake City that now offers its services from over 50 locations across the country.
Apple Spice offers several food catering options such as box lunch catering, hot food catering, sandwich catering, and breakfast catering. The company's corporate and business catering menu features sandwich buffet platters, seasonal fruit and vegetable trays, fresh party salads, hot tender pot roast, its popular baked potato bar, and selections of dessert and pastry trays. Readers looking forward to enjoying its boxed lunches can choose between sandwich selections, that feature freshly-baked bread and fine meats and cheeses and crisp vegetables, homemade soups, healthy salads, and fresh bakery treats. The company also offers breakfast options such as pastries, fruits, gourmet eggs, and seasoned potatoes.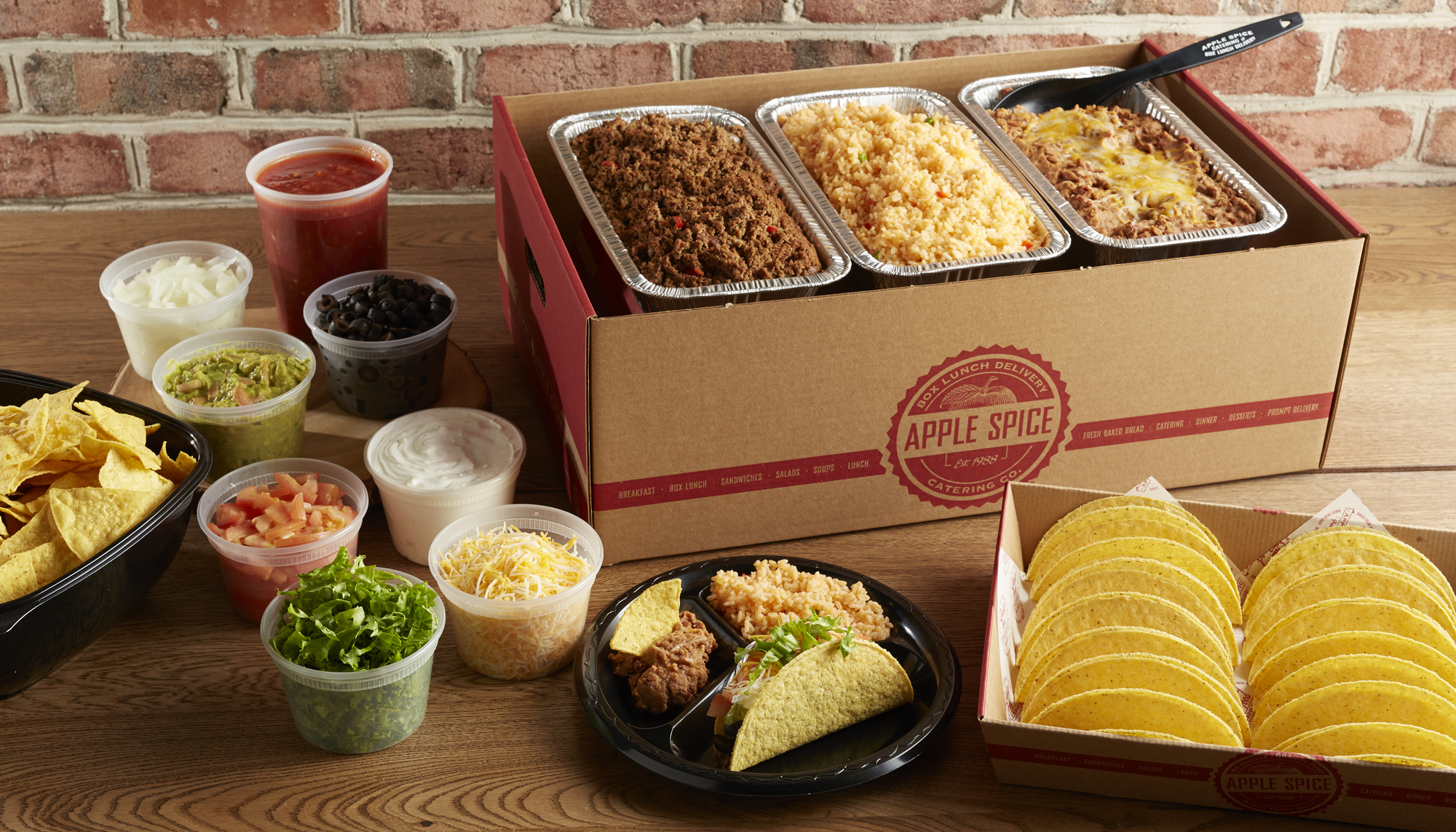 Apple Spice Herndon's menu of individually packaged entrée salads includes the chef salad, mandarin chicken salad, Cobb salad, tossed green salad, apple walnut salad, southwestern chicken salad, chicken caesar salad, Capraesar salad, roasted salmon salad, tuna garden salad, and seasonal roast vegetable and quinoa salad. Its collection of sandwiches includes the classic egg salad sandwich, classic tuna salad sandwich, vegetarian sandwich, turkey avocado, turkey and Havarti, trio classic, Virginia baked ham and Havarti cheese, house-made roast beef, club sandwich, herb-roasted chicken, chipotle chicken sandwich, classic BLT, and gluten-free sandwich. The location's selection of wraps includes Alex's Baja BLT wrap, spicy fire-chicken wrap, cran-turkey crunch wrap, roast beef Reuben wrap, turkey bacon ranch wrap, chicken Caesar wrap, and lettuce make-it-a-salad wrap.
The company offers complete flexibility for corporates ordering box lunches. Customers can schedule a delivery for a future date or request a meal to be delivered in a few hours. The company's deluxe box lunches include any signature sandwich, a fresh-baked cookie, its signature sauce, a pickle, and a choice of one signature side. Its executive box lunches include any signature sandwich, cheesecake treat, its signature sauce, a pickle, the choice of one signature side, a fresh veggie bag, and potato chips. Customers can also pick between addons such as a gluten-free lettuce wrap, upgrade any sandwich to a wrap, or fresh veggies and ranch. They can also add signature sides such as creamy potato salad, zesty pasta salad, fresh seasonal fruit, and Utz potato chips. As of the time of writing, the menu for the Apple Spice Herndon location mentions that prices are in flux due to the disruption of the supply chain owing to COVID. Readers interested in ordering from Apple Spice Herndon are requested to contact the company directly to get an updated price on all items.
A spokesperson for the company talks about its services by saying, "Apple Spice aims to be the premier box lunch delivery and catering company for businesses, meetings, and special events. We design all our services to fulfill this singular goal. This includes ensuring the highest food quality standards by picking the freshest ingredients and delivering them to our clients in sanitary and sealed packaging. We also spend a lot of time working out the logistics to deliver all food items at exactly the time that the offices request them as we realize how much our customers value their limited time. When you order with us, you are getting the best box lunches that are bound to leave your employees satisfied and your clients impressed with your hospitality and professionalism."
The company's catering services have received rave reviews from local businesses and establishments in Washington, DC, as its Google My Business listing sits at an impressive 4.8 rating from over 90 reviews. Several reviews praise the punctuality of the deliveries, the quality of the food options such as the salads and sandwiches, the responsive customer service, the low prices, and the top-notch packaging that keeps the food fresh and secured.
Apple Spice Box Lunch And Catering can be contacted at the phone number (703) 689-3334 or the email address herndon@applespice.com from Monday to Friday from 6 AM to 2 PM.


SOURCE: Press Advantage [Link]