Glendora car accident lawyer Alexander Napolin is using his years of experience to guide those who have been in a car accident about the best way to handle the steps that follow to ensure they get the compensation that they deserve from the party at fault or their insurance company.
Alexander Napolin asserts over and over again on his website that the insurance companies are not their clients' friends. They will use every shady tactic they have and throw every rule in the book at their clients just to weasel out of a claim that is made in completely good faith. The lawyer has spent his whole career fighting the insurance companies and giving them a taste of their own medicine. He recommends that everyone who has been in a car accident should try to find an attorney as soon as possible because they will be able to systematically guide the victim on what they should do next.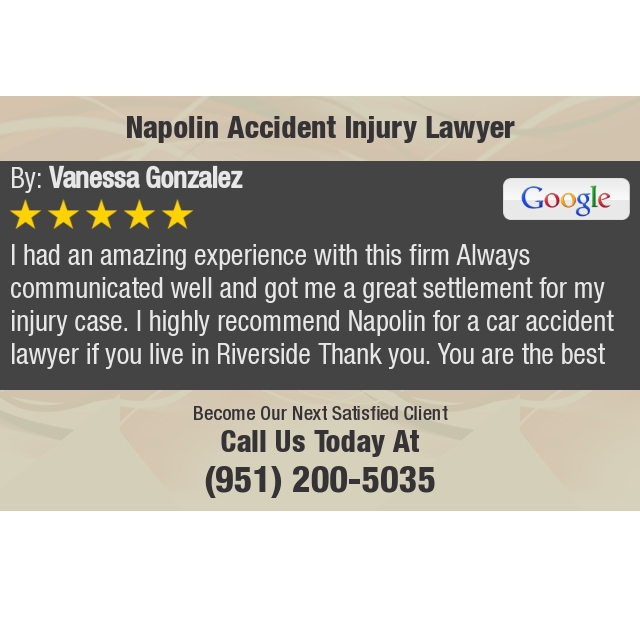 For example, one of the best things that a client can do following an accident, according to Alexander Napolin, is to get a medical check-up from a doctor who will assess the effect of the accident on the patient's overall long-term health. This is crucial because it helps build a strong case for the client in the future. Car accident injuries are not always obvious as victims can suffer from whiplash, concussions, misalignment of the spine, internal bleeding, and a plethora of other conditions that are not easily diagnosable without a deep and thorough checkup. In many cases, a patient will feel fine for days after the accident but the real effects of their injuries will manifest themselves weeks or even months after the accident. By the time the full effects of the ordeal become obvious, victims who are generally in a hurry to move on from the harrowing experience will have likely already settled with the insurance agencies. They might have spent all the money they were given on treating the most visible injuries and will be left with no money to deal with the long-term health problems that follow a nasty accident.
Glendora California's best accident injury lawyer Alexander Napolin elaborates on the need for competent medical evaluations by saying, "I've seen this happen multiple times over in my career. A lot of my clients report that their health is failing months after their accident due to misdiagnosis when they first arrived at the hospital. This is not really the doctor's fault as some doctors may be fully capable of treating a patient but might not consider the need for the kind of tests that are likely to spot long-term damage just because they are not experienced enough in dealing with car crash victims. Don't let this happen to you. I want to help you make sure you have the resources to deal with any future health problems that you might face. You can't take a chance on your health. That is why I always recommend finding an attorney that can point you to the correct doctors and medical professionals whose diagnosis will help you build the strongest case possible to put in front of an insurance adjuster or a court. I can even point you to a qualified doctor in my extended network if you don't have health insurance. So if you have been in a car accident or any other accident which has caused personal injury in California, give my law office a call today."
Alexander Napolin's practice areas include accident injuries, bankruptcy law, car accidents, employment law, medical malpractice, torts & injuries, personal injury, product liability, workers' compensation law, and more. Alexander Napolin's notable cases include Sanchez v. Children's Dental Group and Spencer v. Stephen Paddock; MGM Resorts.
The Los Angeles County law office of Alexander Napolin, considered by many to be the best personal injury attorney Glendora has to offer, can be reached at the phone number (626) 310-7766. The law office is located at 541 S Glendora Ave Ste B, Glendora, CA 91741.


SOURCE: Press Advantage [Link]