Flat Fee Movers Sarasota offers comprehensive commercial moving services to businesses throughout the state of Florida. The company's expert teams of office movers are skilled in handling complex office moves, ensuring the safe and secure transportation of clients' belongings and electronics. With their years of experience in the relocation services industry, Flat Fee Movers Sarasota possesses the knowledge, skills, and expertise required to make any move hassle-free.
Businesses in need of reliable commercial movers in Sarasota can confidently turn to the experienced professionals at Flat Fee Movers Sarasota. They have the expertise to handle a wide range of moves, whether it involves packing up a small office or relocating an entire company across the country. Understanding that every business has unique relocation requirements, their team is dedicated to providing personalized care and support throughout the entire process. From meticulous project planning and budgeting to efficient scheduling, packing, and unpacking, Flat Fee Movers Sarasota ensures a seamless and efficient move for businesses in Sarasota and beyond.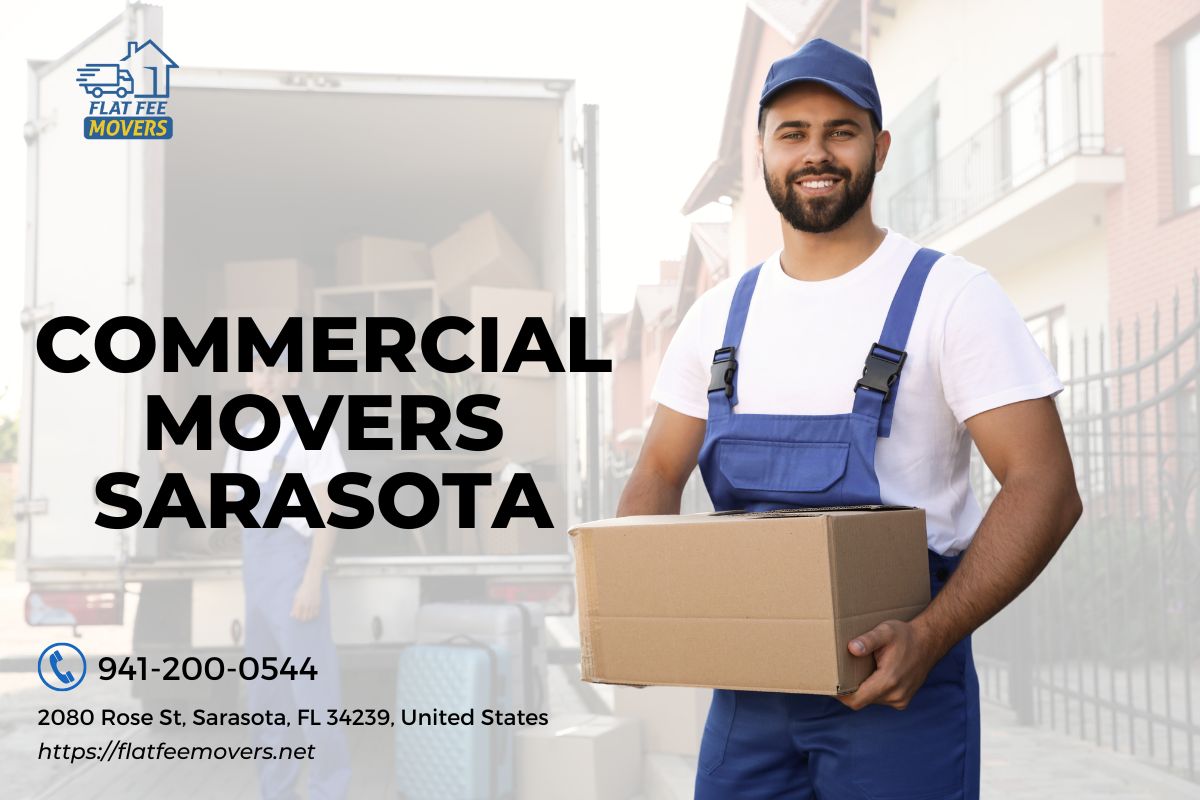 For businesses in need of commercial moving assistance, Flat Fee Movers Sarasota offers a wide range of solutions. These include furniture installation, library moves, disassembly/assembly of office equipment, vehicles for long-distance moves, and the provision of boxes and packing supplies. They recognize that minimizing downtime during a commercial move is crucial for uninterrupted operations, and they consider this aspect while devising a plan for each client's move. Serving various cities in Florida, from Tampa and St. Pete to Naples and Fort Myers, Flat Fee Movers Sarasota's office movers are well-equipped to handle any job, regardless of size or location within the state.
In addition to securely packing and transporting business items, Flat Fee Movers Sarasota also offers furniture installation services and specializes in library moves. Their highly skilled team ensures the safe transportation of office equipment through careful disassembly and assembly. Additionally, they provide boxes and packing supplies to make the moving experience stress-free for clients.
Flat Fee Movers Sarasota prides itself on delivering professional customer service in the local communities it serves across Florida. The company's knowledgeable staff members are trained in safe operating procedures for all types of moving work, catering to various locations, including Sarasota Bayfront, St. Armand's Circle, Lido Beach, Siesta Key, Longboat Key, North Trail, Downtown Sarasota Bay Island Indian Beach-Sapphire Shores Southside Village, Mote Marine Laboratory and Aquarium, Marie Selby Botanical Gardens, Sarasota Jungle Gardens, Big Cat Habitat and Gulf Coast Sanctuary, and Ringling Museum of Art. They recognize the significant impact of downtime during a commercial move on operations and strategically plan each client's individual needs. As a result, Flat Fee Movers Sarasota has gained a reputation for providing excellent customer service and ensuring customer satisfaction.
Karen J., a local business owner, recently employed Flat Fee Movers Sarasota to relocate her office from downtown Sarasota to Lakewood Ranch. She expressed utmost satisfaction with the company's services, noting the extra care taken with her belongings to prevent any damage during transport. Karen praised the team's efficiency in completing the move quickly and mentioned the absence of any issues along the way. She highly recommended Flat Fee Movers Sarasota.
John H., another local business owner, engaged Flat Fee Movers Sarasota for his commercial move from Bradenton to North Port. He commended the team's organization and efficiency throughout the entire move. The crew worked diligently, ensuring the careful packing and unpacking of his items upon arrival in North Port. John felt confident in the professionalism, knowledge, and friendly demeanor of the team, knowing that his belongings were in good hands. He described the experience as the best he could have had.
When it comes to commercial moving services, businesses in Sarasota County and the surrounding areas need look no further than Flat Fee Movers Sarasota. As one of the top-rated movers near me, they are known for their exceptional attention to detail and unwavering commitment to excellence. From the initial packing stage to the safe transportation of belongings, Flat Fee Movers Sarasota is dedicated to meeting all the commercial moving needs of their clients. Whether it's a local move within Sarasota County or a relocation to a neighboring area, businesses can trust Flat Fee Movers Sarasota to provide a seamless and reliable moving experience.