Commercial moving is the area of expertise for Flat Fee Movers Sarasota. The organization offers a knowledgeable and experienced staff committed to helping clients with their corporate moves, assuring a stress- and worry-free experience. With more than 25 years of expertise, Flat Fee Movers Sarasota has built a solid reputation in the community and places a high value on providing exceptional client service
The staff at Flat Fee Movers Sarasota is dedicated to making sure that projects are completed smoothly because they recognize the value of high-quality service for businesses. They have a track record of successfully and safely conducting relocation because of their highly qualified and licensed team members. The business provides a full-day service backed by cutting-edge technology, including cutting-edge surveying tools, packing supplies, and moving boxes.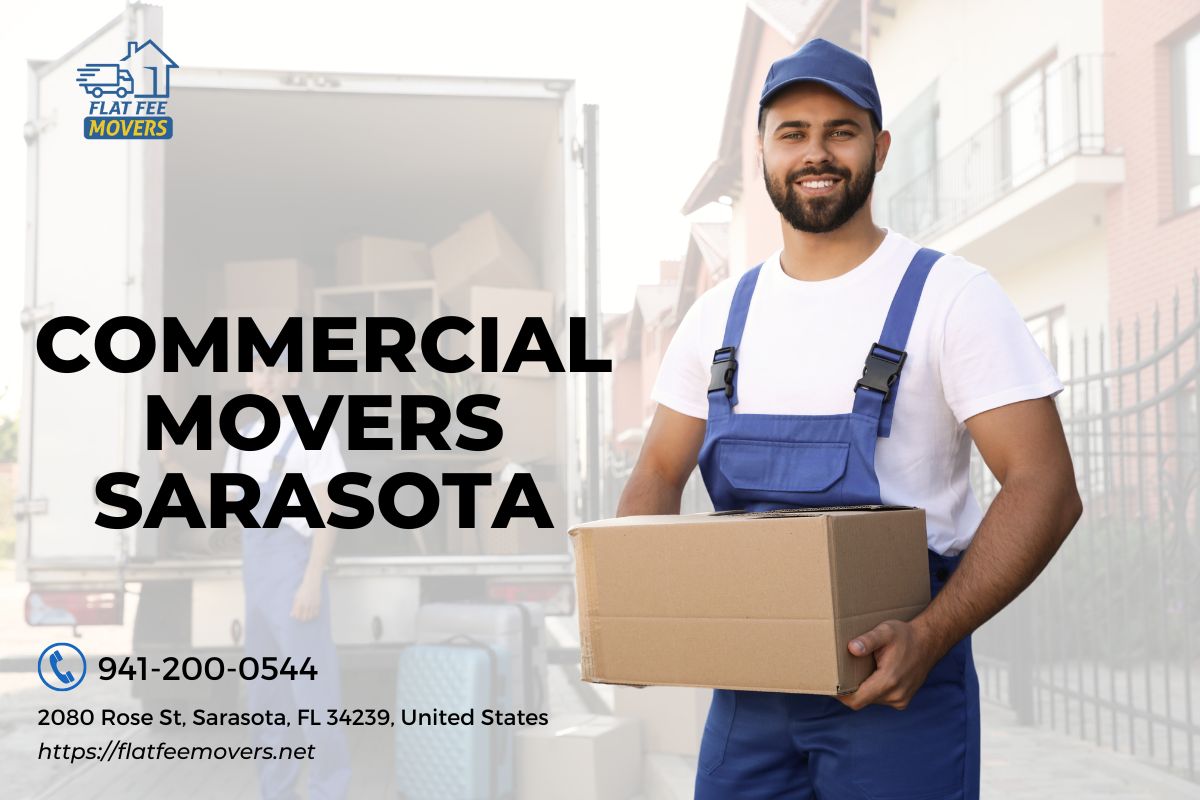 Flat Fee Movers Sarasota takes pride in providing personalized customer service tailored to individual needs. Customers may anticipate getting free quotes and comprehensive information on every element of their move, from planning to execution. Customers can discuss their relocation needs, including budgets, timetables, and other unique requirements they may have, through a thorough survey process.
Recognizing the importance of organization in commercial relocation projects, the team at Flat Fee Movers Sarasota ensures careful consideration of every detail before commencing work. Clients can feel confidence in a smooth and effective move, minimizing time and financial impact, by addressing themes like furniture disassembly, proper packing practices, and efficient loading. Additionally, the business also provides a safe truck-tracking system to let customers know where their possessions are at all times and informed about the whereabouts of their belongings. With the use of cutting-edge technology, every action is tracked, watched over, and documented, giving you peace of mind and complete insurance coverage for any objects being carried.
For office removals, Flat Fee Movers Sarasota provides a range of services tailored to meet the unique needs of each client. They offer packing and unpacking services throughout the entire process and handle transportation for both short and long distances within the Sarasota area. The team specializes in setting up computer networks in offices, ensuring minimal disruption to day-to-day operations.
The objective of Flat Fee Movers Sarasota is to give clients a hassle-free experience for their business relocation requirements. Businesses looking for dependable relocation services in various Sarasota locations now turn to the organization because of its comprehensive information, affordable prices, and top-notch service. Positive testimonials from pleased clients support their claim that they provide high-quality service.
A Sarasota resident and business owner John Roberts, appreciated the company's knowledgeable and welcoming staff. He was pleased with the swift and effective completion of his workplace relocation, noting the safe shipping of his furniture and items without any damage. Roberts stated his intention to use their services again and confidently recommended them to others.
Harriet Stow also had a positive experience with Flat Fee Movers Sarasota. She commended their professionalism, communication, and speed, feeling confident that her items were in safe hands during transport. Stow had no issues throughout her move and highly recommended their services to anyone in need of trustworthy commercial movers Sarasota.
Flat Fee Movers Sarasota continues to provide reliable service, consistently leaving customers highly satisfied with their moves. Whether for business or residential relocation, they are the trusted choice for commercial movers in Sarasota area.
In conclusion, Sarasota's Flat Fee Movers is a professional and trustworthy business moving company. With over 25 years of expertise, their devoted and qualified team offers exceptional client care, guaranteeing speedy and stress-free relocations. They emphasize organization, provide individualized solutions, and make use of cutting-edge technology to deliver swift and secure migrations. Customers frequently compliment their competent staff and superior service. Businesses searching for reputable commercial movers in the Sarasota area may depend on Flat Fee Movers Sarasota.