Event Rental Systems (ERS), the premier provider of business solutions for the event rental industry, is changing the game with its highly efficient and sophisticated party rental management software. Designed specifically to address the unique challenges and complexities of the party rental sector, the software offers a transformative way to streamline operations, maximize efficiency, and enhance customer experience.
At the heart of ERS's software lies an understanding of the party rental industry's particular demands, ranging from inventory management to customer service. By transforming the process into a seamless and user-friendly experience, ERS is revolutionizing the way party rental companies do business.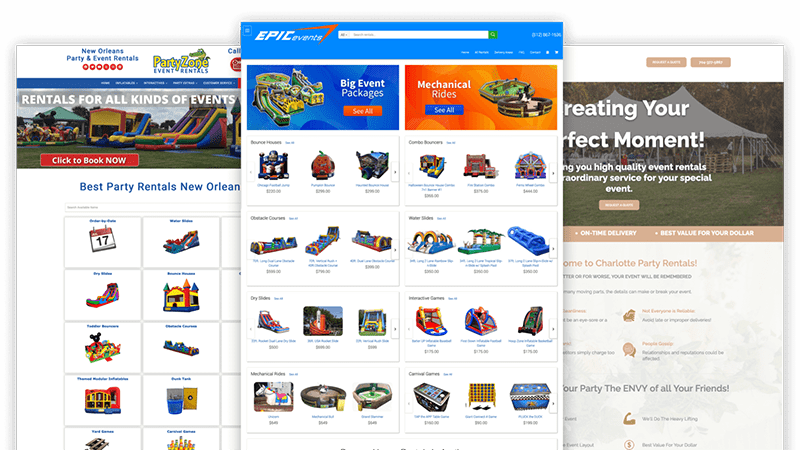 "Our mission at Event Rental Systems is to help party rental businesses operate more efficiently, reduce costs, and deliver exceptional service to their customers," said Jeremy Thrailkill, VP of ERS. "Our software addresses the industry's unique requirements head-on, integrating every aspect of the business, from bookings and contract management to inventory tracking and customer relations."
ERS's software empowers rental companies to automate time-consuming tasks, freeing up valuable resources. Features such as real-time inventory management, dynamic pricing, route optimization, integrated online booking, and financial management all combine to create an all-encompassing business solution.
One standout feature is the real-time inventory management system, which allows companies to keep accurate tabs on their inventory, thus preventing overbooking or under-utilization of assets. By enabling real-time inventory updates, companies can ensure that they never lose a booking due to unavailable equipment or find themselves with surplus inventory.
Furthermore, the software's integrated online booking and payment system simplifies the reservation process for customers. By allowing clients to make reservations, sign contracts, and make payments directly online, the system not only offers convenience to customers but also significantly reduces administrative load on the company.
One of ERS's clients, Party Plus Rentals, reported a dramatic increase in efficiency and customer satisfaction since implementing the software. "The ease of use, comprehensive features, and stellar customer support have transformed our operations," said Mary Johnson, owner of Party Plus Rentals. "Our booking process is faster, inventory management is accurate, and our customers appreciate the seamless online booking experience."
To further aid businesses in their growth, ERS also offers robust reporting and analysis tools within its software. These tools enable companies to gain deep insights into their operations, helping them identify areas of improvement, understand customer behavior, and make informed decisions.
"The party rental industry is becoming increasingly competitive, and companies need to leverage technology to stay ahead," Thrailkill said. "Our rental software is designed to be a complete business solution, empowering companies to focus on what they do best – creating memorable events."
ERS's commitment to innovation and service excellence has positioned it as a leader in the event rental industry. With its party rental management software, redefining the standard for operational efficiency and customer service.
Adding further perspective to the benefits of their offering, ERS's CEO, Rob Weinstein, said, "Our party rental management software is more than just a tool - it's a comprehensive solution that enables businesses to transform their operations and drive growth. We believe that technology should empower businesses, not hinder them. That's why we have developed software that is intuitive, powerful, and tailored specifically to the needs of the party rental industry."
Weinstein added, "Our success is measured by the success of the companies we serve. We're proud to be able to contribute to their growth and efficiency. With our advanced, industry-specific software, we're confident we're providing them the best solution on the market."
Event Rental Systems (ERS) is the leading provider of software solutions for the event rental industry. Based in Albuquerque, New Mexico, ERS has been helping businesses around in the United States and Canada improve their operations, increase their efficiency, and deliver exceptional customer service through its advanced, industry-specific software solutions. Committed to innovation and excellence, ERS continues to redefine what is possible in the event rental industry.
ERS invites all party rental companies to experience the benefits of its innovative software solution first-hand. For more information or to schedule a demo, visit www.eventrentalsystems.com.


SOURCE: Press Advantage [Link]