Towson Roofing Pros, a roofing contractor based in Towson, MD, has recently provided an answer to the question on the benefits of hiring a professional for rubber roof replacements. Rubber roofing is made from rubber or plastic polymers or a combination of both materials. It is employed to minimize roof leaks and to provide more impenetrable sealing. However, it requires a different process of installation compared to the procedure used for the usual asphalt shingles. Towson Roofing Pros wants to point out a number of benefits for property owners when getting the services of a professional roofer for performing rubber roof replacements.
While rubber shingles are more costly compared to asphalt shingles, they are less expensive compared to slate shingles and they are just as fire-resistant. Another advantage of rubber roofing is that it has a longer lifespan. While asphalt shingle roofs usually last for 15 to 20 years and require a bit of maintenance during that time, rubber roofs can last for 30 to 50 years and need only a little maintenance. If installed properly, the property owner may never experience a leak or any cracking. In the event that there is a crack or a leak, this can easily be repaired using a latex sealant.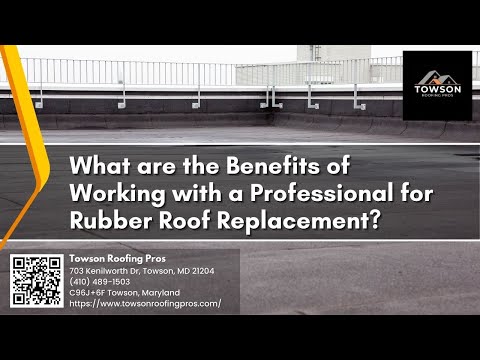 Rubber roofs also have strong resistance against extreme weather conditions. They are particularly advantageous for low-pitch or flat roofs where water damage is more common because water does not run off as fast compared to steeper roofs.
One good reason for hiring a professional is having access to specialized equipment and knowledge. A spokesperson for Towson Roofing Pros says, "Professionals have the training, experience, and equipment needed to perform rubber roof replacement safely and effectively. They know what materials to use, how to properly apply them, and how to ensure that the roof will be watertight and long-lasting."
Another good reason for hiring a professional is savings in time and expenses. A professional roofer can finish the rubber roof replacement in much less time and efficiently compared to someone who is not experienced and knowledgeable about rubber roofs. Having the roof done by an inexperienced worker will likely cost more not just because it will take longer to complete but there is even the higher risk of making mistakes and encountering unexpected issues during the process.
A third good reason for getting the services of professionals for replacing a rubber roof in Towson is their ability to provide expert problem-solving. It is important to note that even the most well-planned roof replacement projects can have unexpected difficulties, such as rotted wood, hidden mold, or other structural issues. A professional roofing specialist can easily determine the appropriate solution, having done so many roof replacements in the past.
Lastly, another important reason for hiring a professional roofer is better safety. It can easily be seen that roofing projects are dangerous work, particularly for those who are inexperienced. There is a significant risk in the inexperienced making mistaking, particularly when working at heights, using specialized equipment for roofing tasks, and handling heavy materials.
Started in 2005, Towson Roofing Pros is a Baltimore roofing contractor that can deliver different kinds of roofing services for residential and commercial customers. They provide free estimates for all of their roofing services. To come up with an estimate, they will go to the home or property and perform an inspection and perform measurements and assessments about the roof and then create a detailed plan for roof repair or replacement. They will then submit a written proposal to the homeowner or property owner, which contains the details of the things to be done, the roofing materials, and the expenses for materials and labor. Once the customer gives the go signal, they will perform the roof repair or replacement. Their service areas in the Baltimore area, such as Carney, Cockeysville, Parkville, Towson, Lutherville-Timonium, Owings Mills, Hampton, Carney, Yorktown, Brooklandville, the greater Baltimore area, Reisterstown, and Pikesville.
Those who are looking for a Baltimore rubber roofer can visit the Towson Roofing Pros website or contact them on the phone. They are open from 8:00 am to 6:00 pm, from Monday to Friday.