Reputable Bronx movers, 5 Star Movers LLC - Bronx Moving Company, has long been committed to making its New York City area customers' moves as stress-free as possible. The company does this through its emphasis on customer service, its attention to detail when scheduling & handling moves, and by making the best use of its skilled and experienced moving personnel. Now, this well-reviewed Bronx moving company is taking that one step further. That's because it will be making moves for its customers even more stress-free by offering some of the most affordable packing services in the Bronx, NY.
A company representative says, "We here at 5 Star Movers realize that when businesses and families move it takes a toll on the people involved in that move both physically and mentally. The further the move the higher the potential stress level is. That's why we go out of our way to ensure that we do everything in our power to limit the stress that our customers experience during a move. Our very affordably priced packing services are a great example of that."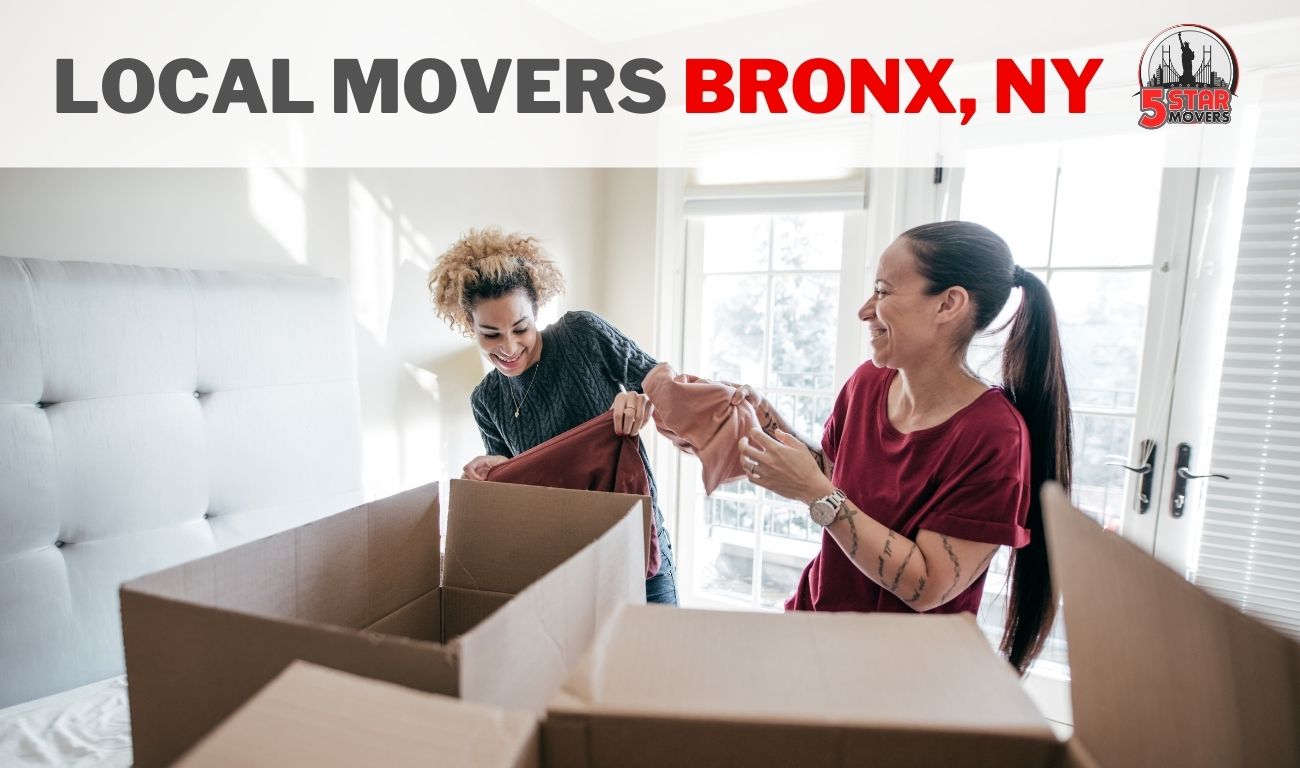 The company representative stated that so many people that use their packing services are satisfied with them because their moving team takes the time to pack for a customer just as they would if the move was for themselves. That means never overstuffing boxes, eliminating gaps between items to prevent shifting, and adding bubble wrap and newspaper around the most delicate items that will be packed. Larger items will be padded with heavy blankets and have other steps taken to fully protect them. These movers Bronx NY will even supply such necessary packing needs as sturdy corrugated cardboard boxes and packaging tape. He says they will only pack up one room at a time and clearly mark every box's contents to help simplify the unpacking process. It was also emphasized that they will not cut corners either no matter how big or how small any packing job is. According to the company representative, "Whether you're moving a house or office, we can help make the process as smooth and stress-free as possible. We can pack and unpack your belongings, load & unload them onto our trucks, and even transport them to your new home or workplace."
Those that have used 5 Star Movers LLC - Bronx Moving Company's packing services as part of a move often express great satisfaction with the packing and other work that was done for them. Julia Lawrence's 5 out of 5-star review proclaimed, "I just wanted to say thanks to 5 Star Movers LLC for the great service and reasonable price. They contributed greatly to the move and worked fast to complete the paperwork. On paper, everything looked great, but the reality was even much better. The movers arrived on time, worked quickly and effectively to pack, load, transport, and unload our belongings, and were able to deliver everything in perfect shape. There was no way anything could have caused an issue. I would recommend them in case I ever needed them again."
It was also mentioned that they at 5 Star Movers LLC - Bronx Moving Company are willing to contract with a customer to carefully pack up their belongings even if they are not the company that will be transporting them. He added that they are fully licensed and insured and fast and reliable movers no matter whether someone is moving elsewhere in New York City or relocating way across the country.
The company representative closed by saying, "If you're looking for a reliable and affordable Bronx moving company then look no further than us at 5 Star Movers LLC. We not only offer a wide range of packing services, but we are a full-service company that has all your moving needs covered at a price that will suit your budget. You can even count on our experienced moving team to handle all your belongings with great care. So don't hesitate to get in touch with us today for a free quote. We're sure you won't be disappointed with our service and you will definitely find us to be one of the most reasonably priced moving companies Bronx."