Duluth, Georgia -
The Atlanta Institute of Music and Media, based in Duluth, GA, is encouraging music producers to learn an instrument as part of their education. Much like building a certain muscle makes the body work more fluidly as a whole, the Institute says that experience playing an instrument can enhance their capabilities in music production.
To illustrate their point, the Atlanta Institute of Music and Media recently published a new blog post that delves further into the subject. Titled 'Why Music Producers Should Learn an Instrument,' the post says, "Many successful producers still have a background in instrumentation. Even if you're not a master of the instrument, having experience playing an instrument is critical. It helps you understand and relate to the musician you're working with and ultimately elevates your craft. Consider this, too — the music industry is incredibly competitive, so any advantage you can get over the competition will help set you apart."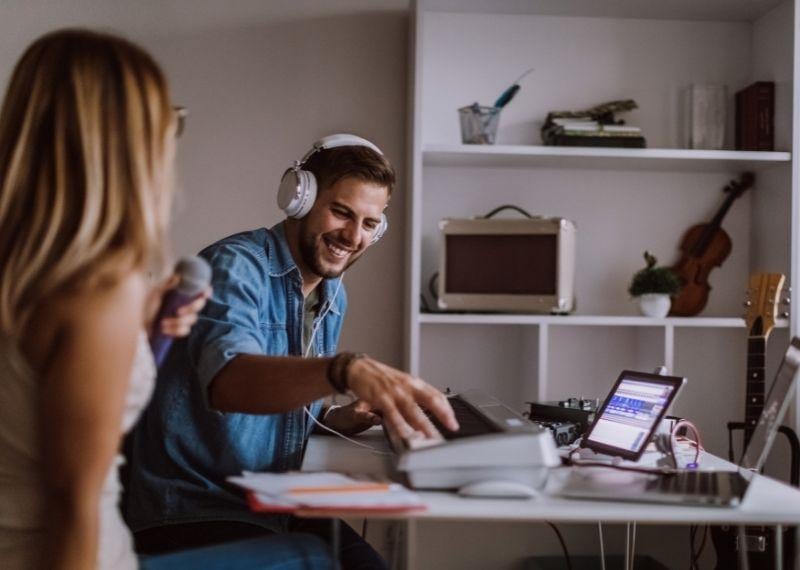 In essence, playing an instrument opens up the artist's perception of numerous aspects of music, including music theory and other notable concepts that they might miss if they attempted to stick solely to production. A good producer can mix hundreds of sounds (or more) to create a song they like. With a background in instrumentation, their instincts will naturally have a much deeper pool of understanding to pull from, and this will be quite evident in their output.
If an individual had to pick an instrument for the express purpose of improving their talents as a music producer, AIMM says they recommend the piano or a keyboard. "A producer with little or no understanding of music theory can try their best, but a person with a strong music theory background and knowledge has a massive advantage. Essentially, they have a built-in blueprint on how to start creating music and how each additional piece can be integrated. It's all about expanding your 'tool kit,' so to speak." Learning piano includes much of this, from keys, chords and scales to tones, pitches, sheet music and more. Electronic music producers in particular stand to gain a great deal by learning the keyboard.
Alternatively, the Institute also recommends that students consider learning what is known as a 'single voice instrument,' such as violins, cellos and other string instruments. Since overlapping rhythms cannot be played in the same way they can on a piano, this produces a restriction that musicians have to be creative to get around. AIMM acknowledges that songs contain numerous instruments, samples and other elements that contribute to the final product, but this is not the only aspect of music that a student should know. By learning a single voice instrument, they will learn to explore music in a more intimate degree than simply aiming for a final product.
Any student who looks into the matter today will soon learn that there is no need to learn an instrument to be a music producer. Success is not determined by a knowledge of instruments alone, so they may want to eschew this part of their education in order to get started earlier. However, AIMM deeply advises them to learn an instrument because it will offer them a great deal of opportunities as well as potential for growth as time goes on and their career progresses.
Fortunately, they will not have to take this journey alone. The Atlanta Institute of Music and Media offers a comprehensive Music and Technology Associate Degree that combines music production techniques and education with in-depth training in one a selection of instruments. Students may choose between learning the guitar, bass, drums, keyboard or vocals when they pursue AIMM's music degrees, developing a strong understanding of music theory under the guiding hand of their faculty.
AIMM has produced many musical talents who have gone on to have extremely illustrious careers, and the institution is adept at preparing students for various aspects of the modern music industry. As a result, anyone who wants to implement a solid foundation for their music career could scarcely do better than if they signed up with the Atlanta Institute of Music and Media.
Further details can be found on AIMM's website. Similarly, students and other interested parties may contact the Institute directly to follow up on any further inquiries.


SOURCE: Press Advantage [Link]