Beverly Hills, California -
Jochen Chiropractic & Wellness Center, based in California, is pleased to offer Acupuncture In Beverly Hills to their clientele. The Center is a therapy provider that also offers many other popular treatment options. Among these are the center's chiropractic and cupping therapy services.

The Center believes that their clients would all be pleasantly surprised at how impactful an acupuncture treatment can be. The treatment is conducted by a highly trained specialist who will painlessly insert very thin needles into specific points in the body. The location where the needles are placed are significant, and so is the depth that the needle is inserted to. Most people have come to associate acupuncture with pain relief, but it also has the potential to give many other benefits. Some of these benefits of having acupuncture done include reduced back and neck pain as well as relief from tension and joint pain in the hands and arms. It is also believed that acupuncture treatment has the ability to reduce stress and help provide headache relief. Certain individuals who suffer from allergy and digestive system problems have even had some positive effects and relief through acupuncture treatment.

Some more holistic benefits of acupuncture are thought to be enhanced mental awareness, increased energy and stress relief. The Center is always willing to have a patient come in for a free consultation with an acupuncture therapist to see if this increasingly popular form of treatment may benefit them. The Beverly Hills holistic chiropractor believes that clients may have many holistic benefits from acupuncture treatment. Two other non-invasive treatments offered by the Center are cupping and chiropractic treatments. The clinic believes that these treatments have the potential to help the body heal itself and leave a patient feeling energized and comfortable after their treatment is completed.
Dr. Stephen Jochen, D.C., the founder of the Jochen Chiropractic & Wellness Center, says, "We take great pride in the chiropractic services that we offer and how some simple spinal manipulations can make a drastic impact as to how a patient feels and heals. However, we offer other non-invasive services which can similarly leave a patient amazed with the results. This includes our acupuncture and cupping therapies. That is why these specialized treatments are always among the most popular services at our Beverly Hills wellness center. We here at the Jochen Chiropractic & Wellness Center pledge to continue looking for new and innovative non-invasive body treatments such as these that are designed to relieve chronic pain, speed healing and leave a patient feeling more positive about the state of their health." Learn more here: Chiropractic Massage Beverly Hills.

Cupping therapy, while not as widely known as acupuncture, has been used in Asia and other areas of the world for centuries as an alternative form of therapy. The treatment consists of local suction being created on the skin through the application of specially heated cups. The treatment is meant to increase blood flow to the body, which is thought to help speed up the body's natural healing process. The gentle suction created by the cups can also relieve muscle tension and improve the body's connective tissues in the treated areas.

The holistic treatments offered by the Center have received the praise of their clients over the years. Marcia Wade, in her 5-Star review, states that, "Dr. Stephen Jochen and his capable team of physicians, therapists and administrative support personnel are the best! They are professional and focused on overall wellness. My sessions are timely, and I feel aligned, light on my feet, and physically fit after each visit. I appreciate the holistic approaches and treatments and have discovered the joys of acupuncture and cupping. I look forward to my 'tune up' appointments because they do my body good! Come check out this awesome center. Let them know Marcy sent you!" The client highlights her appreciation of the holistic treatments as she feels that they are contributing to her overall wellness as well.

To learn more about chiropractic, acupuncture and cupping therapy as well as the other holistic treatments offered by the Jochen Chiropractic & Wellness Center, patients may visit their official website. The center can also be contacted via phone or email.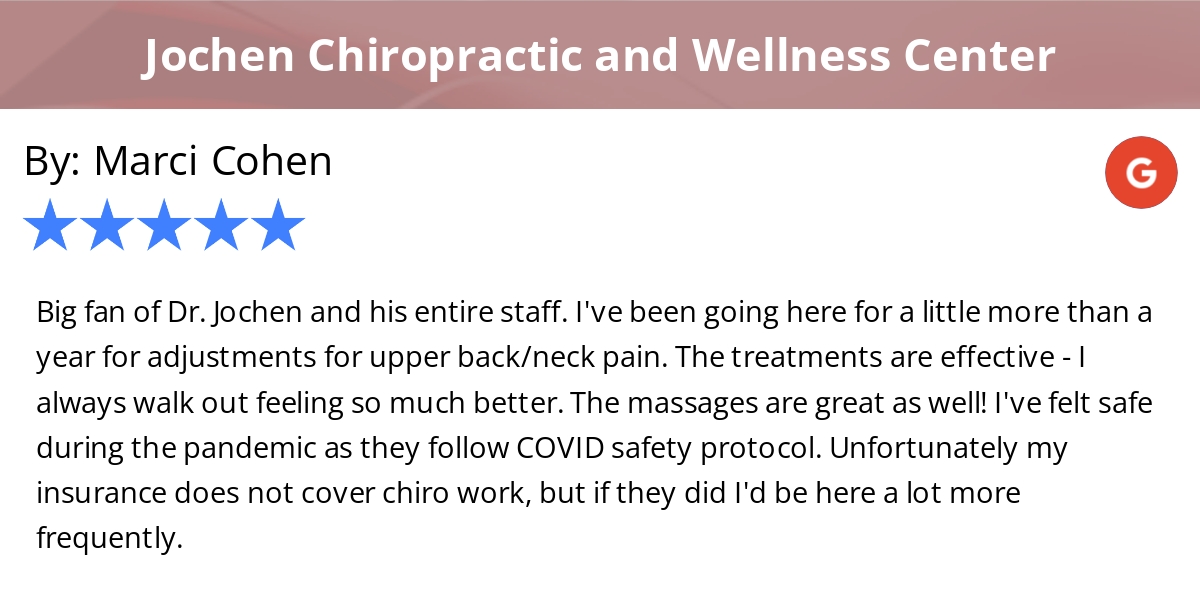 SOURCE: Press Advantage [Link]