FRoffice Coworking has announced that they are offering coworking offices, also known as community offices, for rent in Budapest, Hungary. These temporary coworking offices have been provided with amenities that can be useful for a broad range of professionals, including startup entrepreneurs, freelancers, and other work from home professionals. Spaces are available for community offices, coaching rooms, meeting rooms, or just workstations. Those who rent will be provided with their own keys, allowing them access to the offices 24 hours a day, and even on weekends.
A spokesperson for FRoffice Coworking says, "We are flexible, allowing clients to rent a full office, a meeting room, or a workstation for one whole year or just one day. Our rooms are available not just on weekdays, but also beyond regular working hours or even during weekends. Renters are provided with their own gate code so that there's no need to wake up the doorman. It is also possible to modify or even cancel appointments before the start of one's rental, so that clients won't lose any time if customers request for a adjustment of a schedule overnight. Moreover, if there's a sudden need for an ad hoc room to be used for a quick meeting, language lesson, or presentation, this is possible. The office is also dog-friendly, so renters can bring along their pets to work."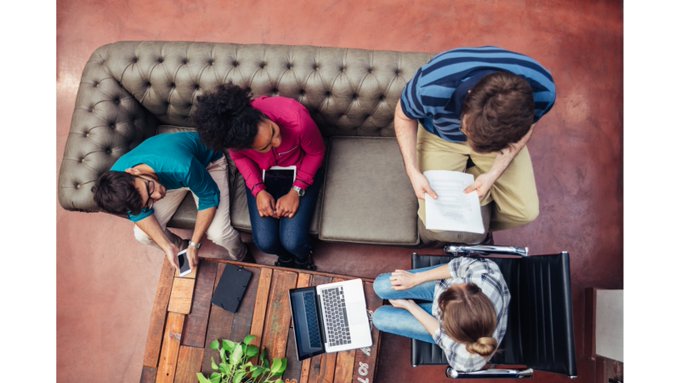 The office rooms and coworking spaces have their own amenities that are typically found in conventional offices. These include office equipment for photocopying, printing, and other work-related activities. The meeting rooms are equipped with a big screen TV and a flipchart that are commonly required for business presentations. The meeting rooms can contain 8 to 10 people although this may be smaller at the present time because of social distancing requirements due to the pandemic.There is also a mastermind room that is furnished with comfortable furniture to allow people to use it for workshops, training sessions, and meetings. A coaching room is also available for one-one-one inspirational talks and coaching.
The entire building has a total of 257 square feet of usable area. Renters can have peace of mind in the knowledge that their coworking space will be available and ready to use whenever they are ready to do some work. Business owners and employees have access to the building any time of the day at any day of the week because they are provided with their own keys.
This office facility is provided with many conveniences for clients, such as a fully equipped kitchen with appliances, community area, air conditioning, restrooms with showers, and cleaning on demand. For professionals, the facility provides several tools of the trade for smooth functioning of daily office tasks, such as flip-charts, fast and secure Wi-Fi network, and IT instruments. Well-experienced security professionals are in charge of the safety of the facility with the help of full video surveillance, lockable safes for safekeeping of valuables, and alarm systems. Easy parking can also be provided on the street for just a nominal fee.
The office building is strategically located in Budapest, providing easy access to public transport such as buses, trams, subway M3, and trolleybuses. It is located in the 13th district, at the intersection of Lehel Street and Dózsa György Street. There are also various restaurants, fast-food joints, in the area, including a food market within walking distance.
Those who would like to rent a desk, room, or office space can pay a reservation fee. The payment must be made at least 48 hours before schedule. And in the event that there are any changes in schedule, clients may get a full refund as long as they notify the company two weeks in advance. If they notify the company a week before the scheduled date and time, a 50 percent refund will be provided. However, if notification is made less than a week before, no refund can be provided.
People interested in renting a coworking office or just a workstation in Budapest can visit the FRoffice Coworking website, or contact them through the telephone or via email. The office's address is Budapest, 14 Lehel Street, 1134 and their phone number is +36 1 701 0849. They may also be contacted through their email address at info@froffice.hu.

Magyarul / In Hungarian:
Az FRoffice Coworking bejelentette, hogy coworking irodákat, más néven közösségi irodákat kínál bérbe Budapesten. Ezeket az ideiglenes coworking irodákat olyan kényelmi szolgáltatásokkal látták el, amelyek a szakemberek széles köre számára hasznosak lehetnek, beleértve a startup vállalkozókat, szabadúszókat és más otthonról dolgozó szakembereket. A terek rendelkezésre állnak közösségi irodák, coaching szobák, tárgyalók vagy csak munkaállomások számára. A bérlők saját kulcsot kapnak, így a nap 24 órájában, sőt, akár hétvégén is hozzáférhetnek az irodákhoz.
A FRoffice Coworking szóvivője szerint: "Rugalmasak vagyunk, lehetővé tesszük, hogy az ügyfelek egy teljes irodát, tárgyalót vagy munkaállomást béreljenek egy egész évre vagy csak egy napra. Szobáink nemcsak hétköznapokon, hanem a rendes munkaidőn túl, sőt, akár hétvégén is rendelkezésre állnak. A bérlők saját kapukódot kapnak, így nem kell a portást felébreszteni. Lehetőség van a bérlés megkezdése előtt időpontok módosítására vagy akár lemondására is, így az ügyfelek nem veszítenek időt, ha az ügyfelek a menetrend módosítását kérik egyik napról a másikra. Sőt, ha hirtelen szükség van egy ad hoc teremre, amelyet egy gyors megbeszélésre, nyelvórára vagy prezentációra kell használni, ez is lehetséges. Az iroda kutyabarát is, így a bérlők magukkal vihetik a háziállataikat is a munkahelyükre." Több információ itt: https://froffice.hu/közösségi-iroda-budapest/
Az irodahelyiségek és a coworking terek saját kényelmi szolgáltatásokkal rendelkeznek, amelyek jellemzően a hagyományos irodákban találhatók meg. Ezek közé tartoznak a fénymásoláshoz, nyomtatáshoz és egyéb munkával kapcsolatos tevékenységekhez szükséges irodai berendezések. A tárgyalók nagyképernyős TV-vel és flipcharttal vannak felszerelve, amelyek általában az üzleti prezentációkhoz szükségesek. A tárgyalótermek 8-10 fő befogadására alkalmasak, bár ez jelenleg a világjárvány miatti társadalmi távolságtartási követelmények miatt kisebb is lehet. van egy mastermind terem is, amely kényelmes bútorokkal van berendezve, hogy az emberek műhelymunkák, tréningek és megbeszélések céljából használhassák. Egy coaching szoba is rendelkezésre áll egyéni inspiráló beszélgetések és coaching céljából.
Az egész épületben összesen 257 négyzetméter hasznos terület áll rendelkezésre. A bérlők nyugodt szívvel gondolhatnak arra, hogy coworking helyük bármikor rendelkezésre áll és használatra készen áll, amikor csak készen állnak a munkára. Az üzlettulajdonosok és az alkalmazottak a hét bármely napján, a nap bármely szakában bejuthatnak az épületbe, mivel saját kulcsot kapnak.
Ez az irodahelyiség számos kényelmi szolgáltatással várja az ügyfeleket, például teljesen felszerelt konyhával és háztartási gépekkel, közösségi térrel, légkondicionálóval, zuhanyzós mellékhelyiségekkel és igény szerinti takarítással. A szakemberek számára a létesítmény számos munkaeszközt biztosít a napi irodai feladatok zökkenőmentes elvégzéséhez, mint például flipchartok, gyors és biztonságos Wi-Fi hálózat, valamint informatikai eszközök. A létesítmény biztonságáról jól képzett biztonsági szakemberek gondoskodnak teljes körű videómegfigyelés, az értéktárgyak megőrzésére szolgáló zárható széfek és riasztórendszerek segítségével. Könnyű parkolási lehetőség az utcán is biztosított, csak névleges díj ellenében.
Az irodaház stratégiai helyen található Budapesten, így könnyen megközelíthetőek a tömegközlekedési eszközök, mint a buszok, villamosok, M3-as metró és trolibuszok. A 13. kerületben, a Lehel utca és a Dózsa György utca kereszteződésében található. A környéken különböző éttermek, gyorséttermek, köztük egy élelmiszerpiac is található, sétatávolságra.
Aki íróasztalt, szobát vagy irodahelyiséget szeretne bérelni, az foglalási díjat fizethet. A befizetést legalább 48 órával az időpont előtt kell teljesíteni. Abban az esetben pedig, ha bármilyen változás történik a menetrendben, az ügyfelek teljes visszatérítést kaphatnak, amennyiben két héttel korábban értesítik a céget. Ha egy héttel a tervezett időpont előtt értesítik a céget, akkor 50 százalékos visszatérítést kapnak. Ha azonban az értesítést kevesebb mint egy héttel korábban küldik meg, nem jár visszatérítés.
A budapesti coworking iroda vagy csak egy munkaállomás bérlése iránt érdeklődők a FRoffice Coworking weboldalán, illetve telefonon vagy e-mailben is felvehetik velük a kapcsolatot. Az iroda címe: Budapest, 1134 Lehel utca 14., telefonszámuk: +36 1 701 0849. A info@froffice.hu e-mail címen keresztül is felvehető velük a kapcsolat.