Duluth, Georgia -
The Atlanta Institute of Music and Media explains the need for tools and instruments and identifies 5 top music production laptops. AIMM is rated as one of the best Atlanta Music Schools and offers exceptional recording and music production courses. The article stresses the importance of the best technology to produce, mix, and master music.
"Music producers need to utilize the best laptops they can get their hands on so their machines can keep up with their music."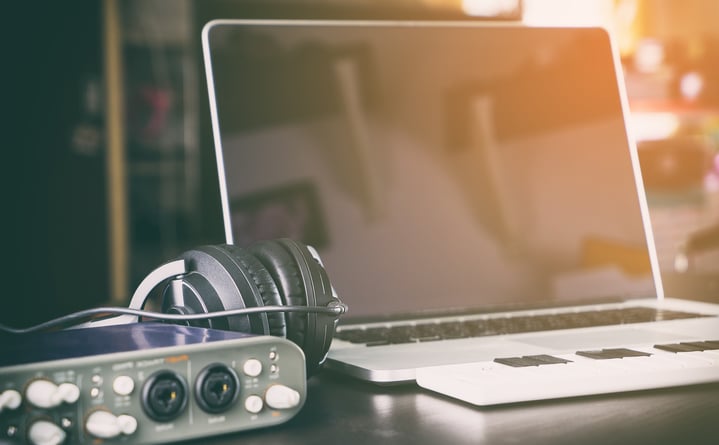 The Atlanta school of music suggests using a laptop with a good processor and RAM to be able to tackle multiple tracks. For music producers who are always on the road, AIMM advises using a laptop that can "handle a drop or two as well as wear and tear from being in a bag a lot of the time." This may include thin and light laptops that are easy to carry around.
The Atlanta music institute shares a list of the top five laptops for music production. MacBook Pro for Music Production tops the list, with 32 GB RAM, 2.6GHz 6-core Intel i7 processor, and up to a 512GB solid-state hard drive. The article lists several features of the MacBook Pro that make it unique while advising budding music producers to avoid the regular MacBooks.
"You can get your MacBook Pro for around $1300 (starting out)."
The second on the list of AIMM top laptops for music production is Microsoft Surface Book 2, which is a tablet and an extremely versatile machine. The top music school in Atlanta rates Surface Book 2 as the best of best with Intel i7 6-core processor, 256 GB of storage, 16GB of RAM, and a 15" touchscreen display.
"If you opt for the 15" display (which is the minimum you should consider) and 256GB of storage, you're looking at about $2000 for the Microsoft Surface Book 2."
The third on the AIMM list is Lenovo IdeaPad Y700, which gets a top spot for its powerful processor, "a terabyte of storage, serving up impressive speeds for a non-SSD with its quad-core Intel i7 processor." AIMM states that its amazing graphics card sets it apart from the competition. The laptop comes with only 8 gigs of RAM, and the battery lasts 4 to 5 hours.
"The Lenovo has fantastic processing, and if you happen to be a gamer as well, this laptop is perfect for you. Produce music by day and play a little WoW or Sims on the side."
Some like-new options are priced under $1000 on Amazon.
ASUS ROG Strix G15 comes next on the list of top laptops for music production. AIMM finds that the ASUS ROG is great for nearly any performance-intensive task with a ton of ports. The laptop comes in 15" model and 17" model. Anybody interested in bigger screens may find ASUS ROG a great option but "You just have to remember that bigger screens can negatively impact your mobility," suggests the Atlanta school of music.
Last on the AIMM list is HP Spectre X360, which is a beautiful, versatile, and powerful 2 in 1 laptop with a folding 4K touchscreen. "The 15" model with an 8th generation Intel i7, 16GB RAM, 512GB SSD, and a Radeon RX Vega graphics card is an excellent laptop for any music producer."
The laptop comes with USB Type-A and 2 USB Type-C ports and an SD card reader and an HDMI port.
"The versatility and price point of the Spectre X360 an excellent choice for a WIndows-based music production laptop. You can order your HP Spectre X36O for about $1150."
The article lists some minimum specifications that a budding music producer should seek in any laptop. This includes the right CPU, with at least 17 quad-core core and a minimum of 2.2Ghz frequency. Another important requirement is the RAM storage, which AIMM suggests, should be between 8GB and 16GB.
Hard Drive is another important criterion. AIMM recommends a "minimum of 256GB of internal storage and 500GB of external storage." AIMM suggests 15" of screen size, which is easier to carry around.
As an AVID Pro Tools Training Partner, the Atlanta Institute of Music and Media prides itself on being one of the top music production schools for engineers and producers that want to learn the best insider tips regarding recording, mixing, and mastering.
A budding music producer should try to explore the list of laptops shared on the AIMM top tools and instruments for music production and get the best bang for their buck. AIMM warns, "The last thing you want to do is get stuck with a cheap machine that can handle the simple tasks you need it to perform. You don't want to get a laptop that takes the fun out of your profession."
To read the article in its entirety, click here: https://www.aimm.edu/blog/best-laptops-for-music-production
Anybody keen to make a name in the industry should first enroll for the Music Production and Audio for Media Associate Degree or the Certificate in Music Production at the Atlanta Institute of Music and Media.


SOURCE: Press Advantage [Link]