Duluth, Georgia -
Atlanta-based music school, Atlanta Institute of Music & Media, has shared a new blog post entitled, "How To Clean the Guitar: Safe Guitar Cleaning Tips." AIMM has earned a reputation for being the premier institute of music learning and technical training in the industry. The music school frequently shares tips and tricks for music lovers to hone their skills in their favorite genre. This time the Atlanta music academy has come up with guitar maintenance and cleaning tips.
The blog post starts with a warning that "dirt, dust, sweat, skin oil, spilled drinks, smoke, and a multitude of other things can dirty and age guitars." Simultaneously, AIMM offers a few preventative measures to prolong the guitar's life and keep even an electric guitar and an acoustic guitar clean.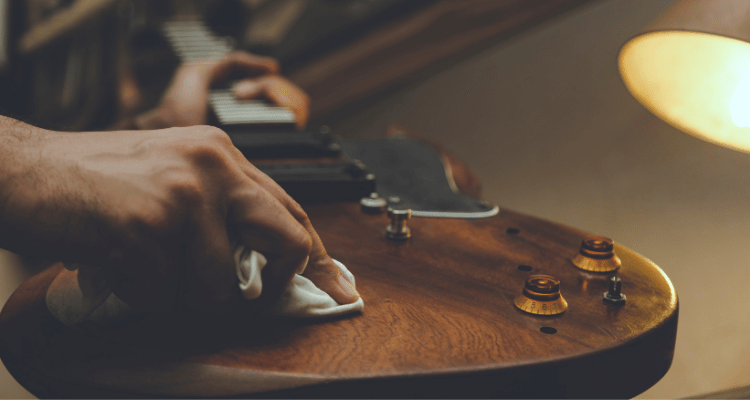 Sharing tips on cleaning a guitar, the music school in Duluth lists the reasons how a guitar gets dirty, stating that it depends on "where you play and for how long. If a musician gigs a lot on the weekends, the guitar is probably used to sweltering stages and intense stage lights." Sweat is the kryptonite to the guitar because it not only makes the guitar's finish look bad, it can actually wear away the lacquer and cause irreparable damage to the fretboard over time."
Sweat from the body can easily flow into the electrical components of the guitar and rust them. Moisture, according to AIMM, is one of the biggest enemies of a piece of technical equipment. The Atlanta Institute of Music & Media suggests practicing in an air-conditioned room or studio to prevent moisture from damaging it. In addition, AIMM suggests keeping the guitar clean all the time if someone sweats a lot to prevent it from becoming dirty in the first place.
For those who do not have time to clean guitar regularly, the Atlanta music school suggests using clean hands to play their favorite six-stringed instrument. It is a cardinal sin to pick up the instrument with greasy hands from food, adds the reputable music institute.
"Washing your hands is such a simple thing to do, so guitarists should start doing it right away if they aren't already." The blog post explains that the strings are a tell-tale sign that the guitarist uses dirty hands on the instrument. A color mismatch indicates this clearly, adds the blog post. Cleaning hands before playing is an important guitar maintenance tip that lengthens the life of strings and saves the person time and money on buying new strings frequently.
Another important guitar maintenance tip is to keep the instrument in a case to prevent exposure to dust or dirt. "The major downside of leaving ar guitar out is that it will accumulate a lot of dust," says Keith O'Neill, who is a senior instructional designer and instructor for AIMM. Dust, warns O'Neill, can accumulate in the crevices of the guitar, affecting its electronics and functionality over a period of time. One tell-tale sign of dust accumulating in the guitar is a crackling sound when the guitar's pickup selector or volume is moved. O'Neill suggests removing the cavity plate on the back of the guitar to blow the dust out.
The blog post lists the necessary guitar cleaning accessories, which include paint cleaning clay, microfiber cloths, guitar polish, polish pad, guitar wax, and guitar detailer. Even car cleaning counterparts work perfectly to clean a guitar. O'Neill explains how pain cleaning clay and other cleaning supplies work on dust, dirt, gunk, and grime along with other contaminants that accumulate on a guitar. "Guitarists should be able to hear the clay picking up the contaminants as you clean. The finish of the guitar will be very smooth and will restore some of its lost gloss. After that, wipe down the guitar with a dry cloth, or preferably, a microfiber cloth," which traps dirt without scratching the paint.
Keith O'Neill warns against using "steel wool, paper towels, socks, a T-shirt" for cleaning a guitar as they tend to scratch the instrument.
Polishing is an excellent way to maintain a guitar and remove light scratches embedded in the clear coat. A car paint polish works just fine to remove light scratches on a guitar using a small polish pad, restoring its rich, deep color.
Waxing is crucial to protecting a clean and "polished pat from oxidation and light scratches," with the wax made from 100% Carnauba being the best for a guitar. As it hardens, the wax forms a protective barrier. A microfiber cloth can be used to apply the wax, and after a light haze to buff it out, advises AIMM's top instructional designer and instructor, adding, "Please don't use too much because it can get messy and make the wax hard to remove. To make the guitar look brand new again, put on a light coat of wax and let it dry. Then add another coat of wax, let that one dry, and then buff everything with a microfiber cloth."
Detailer is the most commonly used guitar cleaning accessory and should be used to wipe off fingerprints left after all the cleaning tasks. Using the detailer with a microfiber cloth will ensure a glossy finish.
Claying and polishing the guitar regularly will help keep it looking its best.
Those interested in turning their guitar passion into a successful career can enroll with the Duluth music school to hone their skills, knowledge, and practical learning of using the instrument.
The Atlanta Institute of Music and Media has earned a name for its top music courses and exceptionally talented instructors who are dedicated to putting AIMM students in the best possible situation to land a successful career in the music industry. Students can learn how to master the guitar and improve their precision and guitar speed and learn valuable music production techniques by enrolling in the Music and Technology Associate Degree: Guitar Concentration.


SOURCE: Press Advantage [Link]