DC Roofing of Arizona, a roofing contractor based in Tucson, Arizona, has announced with pride that they have recently received two five-star reviews. The company has more than 15 years of experience in providing roofing services in Southern Arizona. They can perform a wide range of roofing services, from full commercial buildings to residential porch roofs. They can repair all roof types, including residential or commercial, pitched, flat, shingle or tile, from new roof installations to total roof tear-offs and replacements to repairs of roof leaks.
Barbara C., one of the customers who gave them five stars, said, "We were extremely pleased with DC Roofing. David is very knowledgeable and answered all our roofing questions. He inspected our roof and gave us a quote that included the new roof coating, repairing some of the old facia, trimming one of the trees and replacing a broken wind turbine. The DC Roofing crew worked so well together. They arrived on time and got right to work. The entire project was completed exactly when David projected. It is always such a pleasure to work with such a professional team. We highly recommend DC Roofing."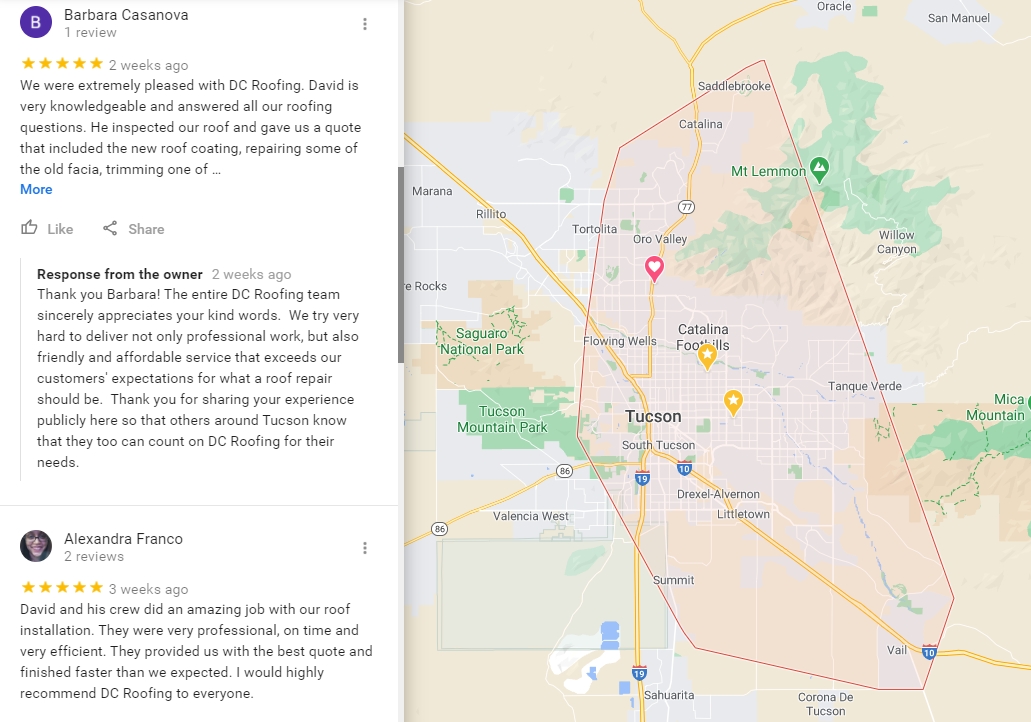 Alexandra F., the other customer who also gave them five stars, said, "David and his crew did an amazing job with our roof installation. They were very professional, on time and very efficient. They provided us with the best quote and finished faster than we expected. I would highly recommend DC Roofing to everyone."
David Contreras, owner of DC Roofing of Arizona, says, "We would like to thank our customers for taking the time to share their experience. We really appreciate it and we are indeed very happy that you are pleased with the kind of work that we provided for your roof. Rest assured that we will continue to do our best and even make improvements whenever possible."
For residential roofing, they offer roof repair, roof inspection, and roof coating. For commercial roofs, they provide roof maintenance, roofing repair, roof coatings, and roof inspections. The residential roofing materials they can provide include ceramic or concrete tiles; various roofing shingles such as asphalt, wood, or other composite shingles; flat roof using bitumen, PVC, or built-up materials.
Ceramic or concrete tiles offer a number of benefits for residential properties. They have a very attractive appearance for many people. They are reminiscent of Mediterranean style homes and they are durable and long lasting. They can withstand heat and salt water air and they can drain a lot of water fast, which means that they are beneficial in areas that get a lot of heavy rain.
Meanwhile, asphalt shingles are affordable and easy to work with. They are also quite durable, especially with asphalt shingles made from a fiberglass base and asphalt and mineral granules. These asphalt shingles often have a 20 to 30 year warranty.
The commercial roofing materials they can handle include spray polyurethane foam (SPF), single-ply membrane, metal, tar and gravel, and shingle. SPF is sprayed as a liquid so that it expands into a foam and creates a solid layer across an existing roof. This can last for more than 50 years and it can withstand any climate. SPF is known for providing substantial energy savings because it can provide air, thermal, and vapor insulation. Meanwhile, single-ply membrane roofing is one of the most common types of commercial roofing materials.
Built-up roofing (BUR) systems are often used for both residential and commercial applications. These are commonly known as "tar and gravel" roofs and are frequently used for flat roofs. A BUR system is installed by alternating layers of reinforced fabric and modified bitumen. The last layer is stone or rock to protect the underlying layers from extreme heat and cold, UV rays, and wind damage. It should be noted that each type of roof has its pros and cons and property owners may want to discuss these with DC Roofing professionals to find out the most appropriate roofing material for their property.
Homeowners and other property owners in Tucson who are in need of roofing services may want to check out the DC Roofing of Arizona website, or contact them on the telephone or via email. They are open from 6:00 am to 7:00 pm, from Monday to Saturday.