Popular music social media platform Drooble recently shared a new blog post on the Duluth, Georgia based Atlanta Institute of Music and Media (AIMM). In the Drooble article, which can be freely accessed by any online user who visits their website, they explore the school's educational strengths and the broad variety of avenues they offer students who wish to join the musical industry.
According to the article, students who sign up with AIMM have a lot to gain, whether they intend to pursue careers as musicians or engage in musical production (or a combination of the two). This is due to the fact that the school has a long, successful history of connecting passionate musicians and music producers with the teaching talent and the connections they need to find their place in the music industry. The article also notes that the school's esteemed alumni include names like Kesha Lee and Turbo the Great.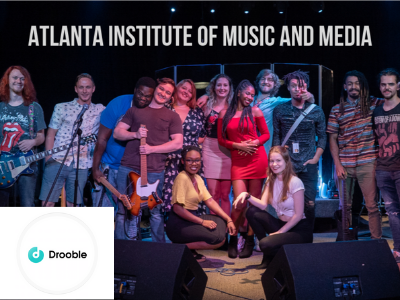 Nite Driscoll, President of the Atlanta Institute of Music and Media states, "AIMM offers a Music Production and Audio for Media Associate Degree, a Music and Technology Associate Degree with a Focus in Guitar, Bass, Drums, Keyboard, or Voice, and an Online Certificate in Music and Technology with a Focus in Guitar, Bass, Drums, Keyboard, or Voice." As the article notes, the school also offers a Music Production Certificate that many will find incredibly appealing, given the fact that it can be completed within a single year at their Atlanta campus.
The post goes on to conclude that, "No matter which program you choose, you will have the opportunity to learn from industry-leading instructors, utilize industry-standard equipment in exclusive studios, and even become Pro Tools Certified. No other music college combines organic instrumentation with technical recording components in their programs like AIMM. Whichever side of "the glass" you want to sit on in a recording studio, AIMM will help you get there and achieve your goals."
The Atlanta music school maintains an intense commitment to their students and the overall progress of the music industry, through the cultivation of musical talent. This commitment led them to launch their Online Certificate in Music and Technology, a recent addition to their offerings that enables the school to reach a far greater pool of talented and driven students than their campus can sustain. As with their Music and Technology Degree, students can opt to take the online certificate with a focus in either Guitar, Bass, Drums, Keyboard, or Voice.
This online variant of their certificate program also bestows a great deal of flexibility for musicians and producers who are actively engaged with their craft, whether they are performing for live audiences or taking on opportunities in music production with industry peers. The online program allows them to complete this stage of their education and growth as artists in as flexible a manner as they require. They may also access recorded video as part of their learning materials to avoid missing out on vital training sessions.
The music academy's online reviews reflect the strength of their academic achievements and the deep satisfaction that students have with their facilities. In their 5-Star review of the Atlanta Institute of Music and Media, Mason Donovan (a Google Local Guide) says that, "I've been working at the best music college in Atlanta for three years now, and I absolutely love everything about this music and media college. They have taught me more than I could ever research on my own and have been a blessing in my life. If you're looking for the best music school in the country, then you need to give the Atlanta Institute of Music and Media a shot first. The classrooms have all the up to date equipment for their students, and all the newest software for learning."
Students who wish to explore the accuracy of this review, and others like it, in greater detail will be pleased to learn that they are invited to attend the next AIMM Open House. Driscoll says, "AIMM will be hosting an Open House on Saturday, November 9th for interested music students, which will include free sample classes and live performances." While the event is completely free for all attendees, interested parties are asked to RSVP in order to ensure the school can prepare adequately for their visit.
Prospective students and other interested parties may reach out to Nite Driscoll to follow up on any further inquiries they may have. More information can also be found on the music academy's website, such as a breakdown of their educational programs and facilities. Furthermore, the school maintains an active presence on several social media platforms, all of which can be used to get a glimpse at student life on their Atlanta campus.


SOURCE: Press Advantage [Link]