Bounce Houses R Us, a leading party rental company, is thrilled to announce its comprehensive range of Chicago Bounce House Rentals, ensuring that every event in the Windy City becomes a memorable one. With a reputation for delivering top-notch quality and unmatched variety, the company is setting new standards in the party rental industry.
Lynn Casey, the owner of Bounce Houses R Us, remarked, "The company mission has always been to provide not just a service, but an experience. Bounce Houses R Us understands the importance of celebrations and how they bring people together. Bounce houses and other party rentals are a testament to the compnay's commitment to adding joy to every event."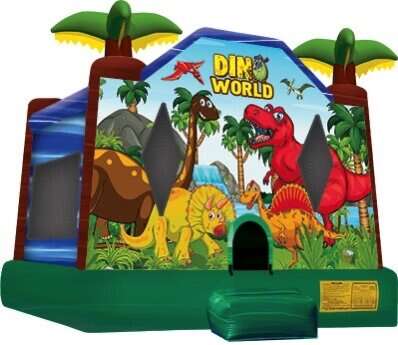 Bounce Houses R Us has been recognized as Chicago's top-rated party rentals company, offering an extensive collection of bounce houses, water slides, carnival games, and much more. Their inflatable bounce house rentals have become the go-to choice for adding fun and excitement to any event in Chicago. With a diverse range of themed bouncy castles, the company ensures that every party theme is catered to, from Disney Princess and Mickey Mouse to Frozen and Candy Land.
But it's not just about variety. Bounce Houses R Us is committed to safety and hygiene. Every inflatable rental is meticulously cleaned and sanitized, ensuring a safe and sanitary experience for all guests. This dedication to customer safety, combined with their vast selection, has solidified their position as Chicago's number one bounce house rental company.
"Bounce Houses R Us always believed in going the extra mile for customers," said Lynn Casey. "Whether it's ensuring the cleanliness of our inflatables or providing personalized solutions for unique event needs, the team is dedicated to making every event special."
Ed Burton, a satisfied customer, shared his experience, stating, "We had some weather and scheduling challenges this summer, but Bounce Houses R Us were flexible and helpful as we figured out our solutions. They communicate really well, and we will definitely be renting from them again! Very simple and easy, very personal. Great service!"
The company's offerings don't stop at bounce houses. They also provide water slide rentals, perfect for cooling off on hot days. Their extensive selection features bright and colorful designs, ensuring that every event is both fun and visually appealing. For those looking to add a touch of nostalgia to their event, Bounce Houses R Us offers concession machine rentals, including cotton candy machines, popcorn machines, and hotdog machines.
Bounce Houses R Us is also proud to serve the Chicago Public School and the City of Chicago park district. Recognizing the importance of insurance for public events, the company provides certificates of insurance, ensuring peace of mind for event organizers.
For those planning events in the broader Chicagoland area, Bounce Houses R Us has got you covered. They deliver to over 32 Chicagoland suburbs, ensuring that no matter where you are, you can experience the fun and excitement of a Bounce Houses R Us rental.
In addition to their expansive inventory, Bounce Houses R Us is also pioneering innovative solutions to enhance the overall party experience. Their recent introduction of the portable 9-hole putt putt mini golf course has been a game-changer for many events in Chicago. Whether it's a corporate party, school event, or a backyard gathering, this portable mini golf course offers a unique entertainment option that appeals to both kids and adults.
Understanding the evolving needs of their clientele, Bounce Houses R Us has also expanded its services to cater to various events, from birthday parties and block parties to church events and corporate gatherings. Their commitment to customer satisfaction is evident in their user-friendly online booking system, available 24/7, which simplifies the rental process for busy event organizers.
Moreover, the company's dedication to community involvement is commendable. They have been actively participating in local events, supporting schools, and collaborating with park districts to ensure that every child in Chicago gets a chance to experience the joy of a bounce house. Their active role in the community has not only garnered them immense respect but has also strengthened their bond with the residents of Chicago.
Bounce Houses R Us also places a strong emphasis on environmental responsibility. Their cleaning and maintenance processes are designed to be eco-friendly, using biodegradable cleaning agents and ensuring minimal waste. This green initiative reflects the company's commitment to not only serving its customers but also preserving the environment for future generations.
Bounce Houses R Us is a full-service event rental company based in Chicago, IL. With a focus on quality, safety, and variety, the company has become the top choice for party rentals in the region. From bounce houses and water slides to carnival games and concession machines, Bounce Houses R Us offers everything needed to make any event a success.