NC based Inflate-A-Party (IAP) has opened its full range of inflatable rentals to residents in Apex, Raleigh and so on. The company's bouncers, slides, obstacle courses, rides and more can all be rented through its official website, and anyone can get in touch directly for more personalized assistance. Get started here: https://www.inflate-a-party.com/.
Apart from its expansive selection, the company's chief appeal lies in its commitment to customer service and wide-ranging experience with all kinds of events. Some may believe inflatables, such as bounce houses, to be the domain of the backyard birthday party, but this is far from the only event that Inflate-A-Party is accustomed to handling.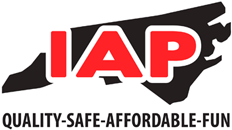 For instance, the company regularly delivers rentals to church gatherings, carnivals (including those held at individual schools) and corporate events, and they say the main qualifiers tend to have more to do with an event's available space, themes, setting and so on. If a customer has the space (and the venue in question has adequate power supplies), Inflate-A-Party will have no issue delivering the rental of their choice.
The company's rentals also include other items that are vital to keep an event running. Where a steady supply of electricity is unavailable, the company can provide generators to power an entire event. It also supplies concession machines, tables and chairs, tents, sound equipment and more. Customers are encouraged to describe what their party or event requires when they get in touch; the team will offer suggestions and recommendations if required. See more here: https://www.facebook.com/bouncehouserentals/.
Inflate-A-Party is considered an excellent option for new and longtime customers alike. While the company appreciates those who like its services enough to return year after year, it also understands that new customers will often have little experience placing an order for such rentals. This relative inexperience can make the process appear to be somewhat intimidating, and this is exacerbated if the customer in question has already had negative experiences with other providers.
To make up for this, the Inflate-A-Party team goes out of their way to ensure that first-time customers have a stellar experience, and all are welcome to ask as many questions as they wish prior to ordering a rental. Common questions include the length of a standard rental, how much assistance the company provides onsite, what safety measures need to be accommodated and so on. Whatever a customer's concerns may be, they can rest assured that the team will satisfy all their inquiries.
The company comments that this process also allows customers to learn more about the rentals themselves, and a little insight can go a long way towards making the best choice for a specific event. For instance, while bouncy houses are always a hit with children, many might instead prefer a wet slide if the weather has been uncomfortably hot in recent weeks.
This approach has garnered a company a strong community of satisfied parents (and other customers). As Maria says in her review, her, "First time using Inflate-A-Party was such a great experience! We rented the smallest water slide for our 3-year-old's birthday party, and it was perfect. The kids had a blast! The process of reserving online was super easy, just like communication through email and over the phone. Setup and pickup was friendly and fast. Highly recommended for any party you want to throw! Our son already picked up a different slide for next year!"
A review from Joseph also sheds light on how accommodating the company can be when unforeseen challenges arise. "We loved Inflate-A-Party," his review says. "We attended a birthday party that used IAP and had so much fun that we used them for our joint party. They are easy to book, easy to reschedule (we had to push our party a week due to illness) and super friendly and reliable. Takes them 15 minutes to set up and 15 minutes to break down. We had the American bounce/water slide combo, and the kids couldn't have had more fun. From 3-year-olds to 11-year-olds, all at the same time for 3+ hours of straight fun. I would highly recommend and will book with them again in the future." See more here: https://goo.gl/maps/cjSZFr1XuijXbbDr6.
IAP's website makes it easy and convenient for anyone to check a rental's availability and place an order at any time. The team can also be reached by phone or email for any other inquiries.


SOURCE: Press Advantage [Link]