Towson Roofing Pros, a roofing contractor based in Towson, MD, has recently provided the answer to the question about the benefits of using metal roofing sheets for residential or commercial buildings. Roofing sheets made of metal can provide a wide range of benefits both residential and commercial properties. Overall, metal roofing is a great option for homeowners and other property owners looking for a reliable and long-lasting roof. It is the second most preferred roofing material in the United States and has been increasing in market share because of its many advantages.
First of all, metal roofing are long lasting and very durable. A spokesperson for Towson Roofing Pros says, "Metal roofs can withstand harsh weather conditions like strong winds, heavy rain, and even hail without getting damaged. In fact, many metal roofs come with warranties of up to 50 years, so you can rest easy knowing that your roof will last for a long time."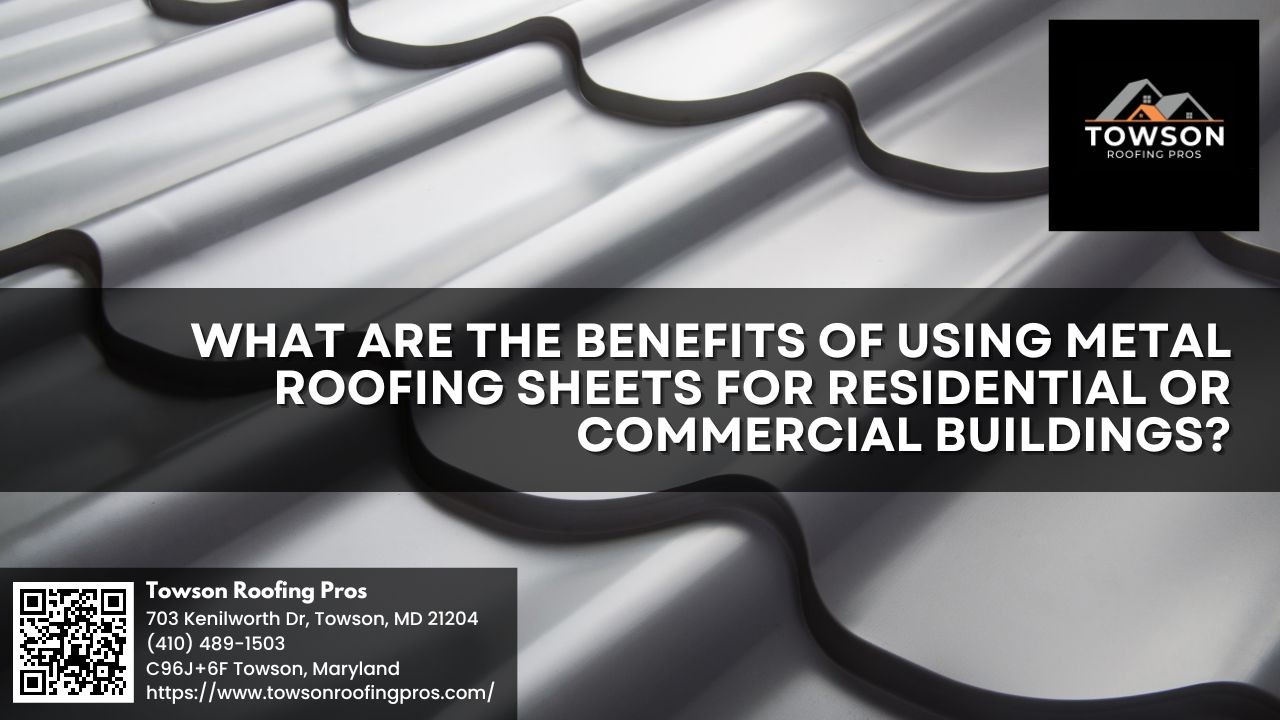 Metal roofing sheets also offer a roofing option that is extremely energy-efficient. The reason for this is that metal roofs reflect up to 70 percent of the sunlight and heat up and away from the building. In contrast, traditional asphalt shingles have low reflectivity and absorb a lot of heat. In addition, metal has high thermal emissivity because metal has high conductivity and can easily transfer and emit thermal energy. Third, the design of metal roofs allows easy movement of air under the roof, which permits proper ventilation, and this allows the hot air to get out and let the cool air in. This can bring down energy expenses while making the home or building more comfortable for everyone.
Another advantage of metal roofing for residential and commercial buildings is that the metal sheets are much lighter compared to other roofing materials. This makes it more convenient to use metal roofing when retrofitting or adding to an existing building. Metal roofing is also fire-resistant, which can help in reducing the risk of fires.
Finally, metal roofing is a sustainable alternative because the metal roofing sheets are typically made from recycled materials and after the completion of their lifespan, they can be fully recycled again. The spokesperson for Towson Roofing Pros says, "Overall, metal roofing sheets offer a variety of benefits for both residential and commercial buildings. They are durable, energy-efficient, lightweight, fire-resistant, and sustainable. If you're looking for a roofing option that will last for years to come, metal roofing sheets are a great choice."
Meanwhile, Towson Roofing Pros has an enviable overall rating of 5.0 out of 5 stars on Google. In a recent review, Brittany M. gave them a five star rating and said, "I am so thrilled with my new roof that Towson Roofing Pros installed. They did an amazing job, and I was stress-free the entire time. They cleaned up after themselves, and the whole procedure was smooth. I've already suggested a friend and will undoubtedly utilize them again."
Established in 2005, Towson Roofing Pros is a Baltimore roofing contractor offering a wide range of services for both residential and commercial buildings. They provide free estimates for all of their roofing services. When requested for an estimate, they will go to the home or property and they will perform an inspection and take various measurements on the roof and then come up with a detailed plan for roof repair or replacement. They will then present a written proposal to the customer, which describes the details of the various tasks to be done, the roofing materials, and the expenses for labor and materials for the roof installation or repair. Once the customer approves of the plan, they will proceed with the roof repair of replacement.
Their service areas in the Baltimore area, include Parkville, Towson, Cockeysville, Owings Mills, Hampton, Lutherville-Timonium, Yorktown, Brooklandville, Carney, the greater Baltimore area, Pikesville, Carney, and Reisterstown.
Those who require the services of a residential or commercial roofing company in Towson and other areas in Baltimore, can visit the Towson Roofing Pros website or contact them on the telephone. They are open from 8:00 am to 6:00 pm, from Monday to Friday.


SOURCE: Press Advantage [Link]