Ridgeline Roofers Columbia of Howard County, Maryland, have published a blog article about the types of asphalt shingles available for roofing projects. Asphalt shingles are among the most popular roofing material in the United States, being used for nearly three quarters of new roofs installed each year. Some of the reasons for their popularity include affordability, durability, and energy efficiency. Not only are asphalt shingles budget friendly, they have a solid lifespan of 20 to 30 years, and can help keep homes cooler in the summer and warmer in the winter, reducing the energy cost of the homes. Of course, the specifics change depending on what type of asphalt shingle roof a building has.
Some of the types of asphalt shingles include three-tab shingles, which are a cheaper and more lightweight option with a shorter lifespan, and luxury shingles, which are thicker and heavier and have the longest lifespan of all types of asphalt shingles. Luxury shingles have excellent resistance to harsh weather conditions like wind, hail, or snow. They can be designed to look like other roofing materials that might be more aesthetically pleasing but aren't as durable as asphalt, such as slate or cedar. Homeowners who want to install asphalt shingle roofs in Columbia MD might consider the cheaper three-tab or the more durable luxury asphalt shingles when installing a new roof on their home.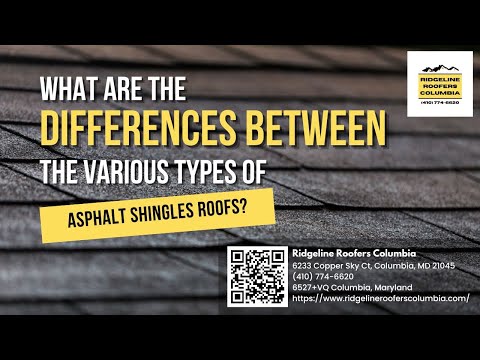 In between three-tab shingles and luxury shingles is a middle-ground asphalt shingle known as architectural shingles. These come in a wide range of color and design options, and are more resistant to wind, hail, and other harsh weather conditions than the three-tab asphalt shingle. They also have a moderate lifespan, lasting between 25 to 30 years on average. Luxury asphalt shingles can last from 30 to 50 years depending on the specific product. Three-tab shingles, on the other hand, usually only last from 15 to 20 years, and can be vulnerable to damage from extreme weather conditions such as storms and wind.
All asphalt shingles are made from a variety of materials, including asphalt, fiberglass, and mineral granules. The asphalt provides the shingles with their strength and durability, while the fiberglass and mineral granules provide them with their weather resistance and appearance. The combination of these materials makes for a roofing material that is affordable, durable, and energy efficient, making them an optimal choice for many homes. Asphalt shingles are also available in a variety of colors and styles, so homeowners can choose the perfect shingles to match the style of their home. Similarly, they are available in a variety of thicknesses, so homeowners can choose the shingles that are right for their climate and the weather their hometown typically gets.
Homeowners looking for asphalt shingle roofers in or around Columbia, Maryland need look no further than Ridgeline Roofers Columbia, who specialize in installing quality roofing systems that will survive the harsh winters that are so common in Maryland. Because Ridgeline Roofers Columbia understands how important a strong roof is to protecting a home and everything inside it, they are committed to installing quality roofs that add to the beauty and value of each home they work on. When a roof is damaged, such as in a storm or other kind of incident, Ridgeline Roofers Columbia also offers repairs to restore roofs to "like new condition". They will even assist homeowners with the insurance claims process, making sure they identify all of the damages to the property and request the amount of compensation they are entitled to.
As a state certified roofing contractor, Ridgeline Roofers Columbia is a great one stop shop for repairs following any storm. Anyone who is in need of roofing services, whether it's the installation of an entirely new roof or repair to an existing roof after a damaging event, is welcome to contact Ridgeline Roofers Columbia for an estimate on what the project might cost. In addition to asphalt roofs, Ridgeline Roofers Columbia offers a variety of roofing materials, including cedar shake, metal roofs, and many others they would be happy to chat about.