Sacramento, California -
Sacramento, CA - Sacramento Tree Professionals is proud to announce the launch of their groundbreaking Tree-to-Mulch recycling program. This innovative program provides an eco-friendly solution for tree removal services, creating a sustainable way to reuse and repurpose unwanted tree waste. The program was introduced by Sacramento Tree Professionals' CEO Duygu Bagdu as a way to reduce the amount of tree waste in landfills and give new life to discarded trees and limbs.
"At Sacramento Tree Professionals, we are committed to finding solutions that put the environment first," said Bagdu. "We understand that many people have trees on their property that they no longer need or want, but they don't know what to do with them. With our tree-to-mulch program, we are providing green alternatives without compromising quality or convenience."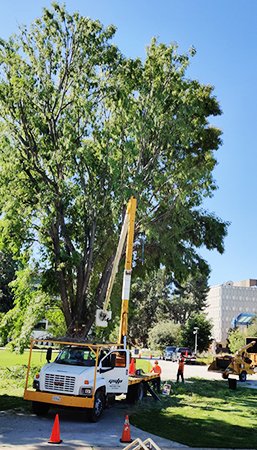 The tree-to-mulch program works by turning unwanted tree waste into mulch that can be used for landscaping and gardening projects. Sacramento Tree Professionals uses specialized equipment to grind up the branches and trunks of unwanted trees and transform them into usable mulch. This mulch can then be used as a soil amendment, helping to add nutrients and retain moisture in the soil. It also helps prevent weeds from growing and can be a great way to create attractive landscape designs.
To learn more about Sacramento Tree Professionals' modern approach to tree care, visit the company's website: https://www.treeservicesacramento.com/.
In addition to creating mulch from unwanted tree waste, Sacramento Tree Professionals also offers tree removal services through their certified arborists. These experts can safely and efficiently remove unwanted trees from residential and commercial properties. Sacramento Tree Professionals also offers trimming, pruning, and stump grinding services to keep trees healthy and looking great. These services are provided with the utmost care and attention to detail, ensuring trees get the best treatment possible.
"Our team is passionate about preserving the beauty of the natural world," said Bagdu. "We strive to make every job count and deliver results that exceed expectations. Our goal is to provide our customers with a service that is efficient, professional, and eco-friendly."
Sacramento Tree Professionals sets a new standard for tree removal services with their revolutionary Tree-to-Mulch recycling program. By providing green solutions for tree waste disposal, they are helping to reduce the environmental impact of tree removal while still delivering high-quality results.
Sacramento Tree Professionals is a leading provider of tree removal services in Sacramento, California. Their experienced team of certified arborists has provided top-notch tree care services since 1999. For more information on the company's services and its new approach to tree waste disposal, visit its offices at 5815 Muldrow Rd Sacramento, CA, 95841. Alternatively, homeowners interested in the company's services can call 916-713-3925 or email sales@treeservicesacramento.com.


SOURCE: Press Advantage [Link]