Abreu Movers Near Me Westchester is excited to announce the launch of their new long distance moving services in Westchester. With 25 years of experience, Abreu Movers has become a leader in providing affordable and reliable moving services. The company's goal is to offer an easier and worry-free moving experience while providing communication and assistance throughout the entire process.
Abreu Movers Near Me Westchester offers a variety of customizable packing options based on each customer's unique needs, including car shipping and debris removal. To help ease the stress of long-distance moves, the company provides customers with a personalized menu of services and responsibilities, allowing them to make informed decisions about their move. Abreu Movers ensures customers are kept up-to-date every step of the way, from selecting additional services to tracking household goods from point A to point B.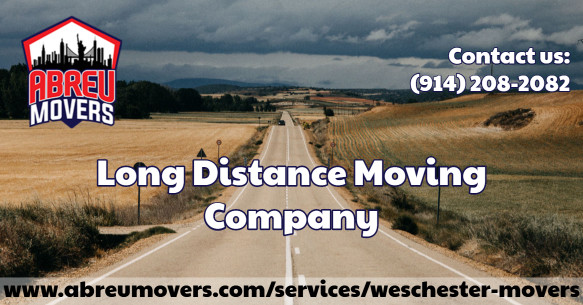 The team at Abreu Movers Near Me Westchester provides assistance with packing and loading belongings safely and securely for transport, handling everything from furniture to pianos and antiques with care using specialized equipment. The company's employees are trained to properly handle fragile items and provide full coverage insurance for any potential damages during transit.
Abreu Movers Near Me Westchester provides detailed information on their website, including FAQs, flat rates, and extra services available upon request, to help customers choose the right long distance movers. The company also has reviews from past customers and top ratings on Google and Better Business Bureau. Abreu Movers strives to make the long distance moving process as simple and stress-free as possible with upfront pricing, availability in all 50 states, and a streamlined quote process.
Abreu Movers Near Me Westchester offers flexibility when it comes to storage options, including short-term or long-term solutions for those who need extra time in between moves. The company also provides free storage for up to 14 days to help customers accommodate any delays during the relocation process.
Abreu Movers Near Me Westchester's commitment to providing quality customer service is evident through their attention to detail and communication throughout every step of the move. The company's competitive prices, top ratings, and reliable planning strategies make them one of the most trusted long distance moving companies available today. To experience what sets Abreu Movers apart from the rest, visit their website or call for a free quote.
Past customers of Company Abreu Movers Near Me Westchester have had positive experiences with their long distance moving service. Barbara J. from White Plains was impressed with the company's competitive rates, good reputation, and excellent customer service. Michael R. from Yonkers highly recommends Abreu Movers for their dedicated and hardworking team, who took great care of his belongings during his long-distance move from Los Angeles to New York.


SOURCE: Press Advantage [Link]