Santa Clarita, California -
Pasadena, CA. Hope California, a convergence of movements, ministries, churches, organizations, and supporters dedicated to bringing the transformational hope of Jesus Christ to save souls, heal the broken, and reform the regions of the Californias announces its harvest festival for 2023 including its appearance at the LA Memorial Coliseum.
This launch will be a multicultural and multilingual evangelistic initiative that will culminate simultaneously in 10 "Hope Festivals" in stadiums and festival venues in 10 key regions across the state of California and Baja California, Mexico. The regions in California, U.S.A, are Sacramento, San Francisco, Fresno, Santa Barbara, Los Angeles, Orange County, and San Diego.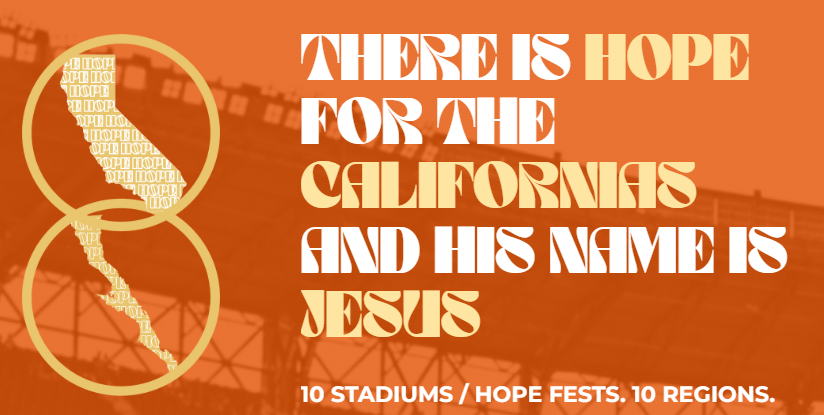 ‍Since its birth in October 2021, Hope Californias has found support in both an English speaking and Spanish speaking audience that has pledged to provide its support through prayer as well as financially through donations.
"In an era when bad news dominates the airwaves and stories of hopelessness abound, our nation is in desperate need of hope. Almost daily, we hear news of another mass murder, school shooting, increased poverty, child abuse, homelessness, suicide, racial divisions, addiction, human trafficking, and now, pandemics. But there is hope! His Name is Jesus," stated Mando Matthews, the director and founder of Hope Californias and Ekballo Pasedena.
Matthews is quick to point out that the name Hope Californias is derived from its plans to host three of the stadiums in Baja California, Mexico. These include Ensenada, Ciudad de Constitución and La Paz. "We intend to impact and provide assistance to both the American and Mexican states of California," shared Matthews.
As part of its kickoff campaign, Hope Californias is launching it's initiative with 40 Days of Hope and a night of prayer at the Rose Bowl on Feb 22, 2023. "We are calling thousands of believers to pray and fast for 40 days for the salvation of the Californias and for millions of souls." Mando, went on to add, "This 40 Days of Hope will culminate in multiple simultaneous harvest festivals at stadiums and festival venues on April 1-2 across California and Bala California."
Included in the initiative is "LOVE WEEK." This is a week when volunteering local churches will participate in a community outreach in all 10 regions. The goal of this campaign is to provide groceries and essential goods to families in need as well as introduce other local assistance programs that may address their physical, financial, emotional, and spiritual shortcomings. This "LOVE WEEK" is scheduled to take place March 24th through the 31st, 2023. This will be followed by the harvest festivals on April 1, 2023.
For more information and to learn how to partner, please visit https://www.hopecalifornia.us. Those interested may also watch Matthews give a more personal invitation by watching his YouTube video: https://youtu.be/H87fRfXi_Oo.


SOURCE: Press Advantage [Link]