Event Rental Systems (ERS), an all-inclusive bounce house rental software company, is eager to highlight recent updates made to its cloud-based booking platform. The industry-leading event rental management company provides top-of-the-line software as well as various marketing services to its extensive clientele.
ERS, based in Albuquerque, New Mexico, has earned a positive reputation across the party rental industry by offering options for customizable websites, online ordering functionality, dispatching and asset tracking, customer relationship management, and other significant features via its user-friendly software.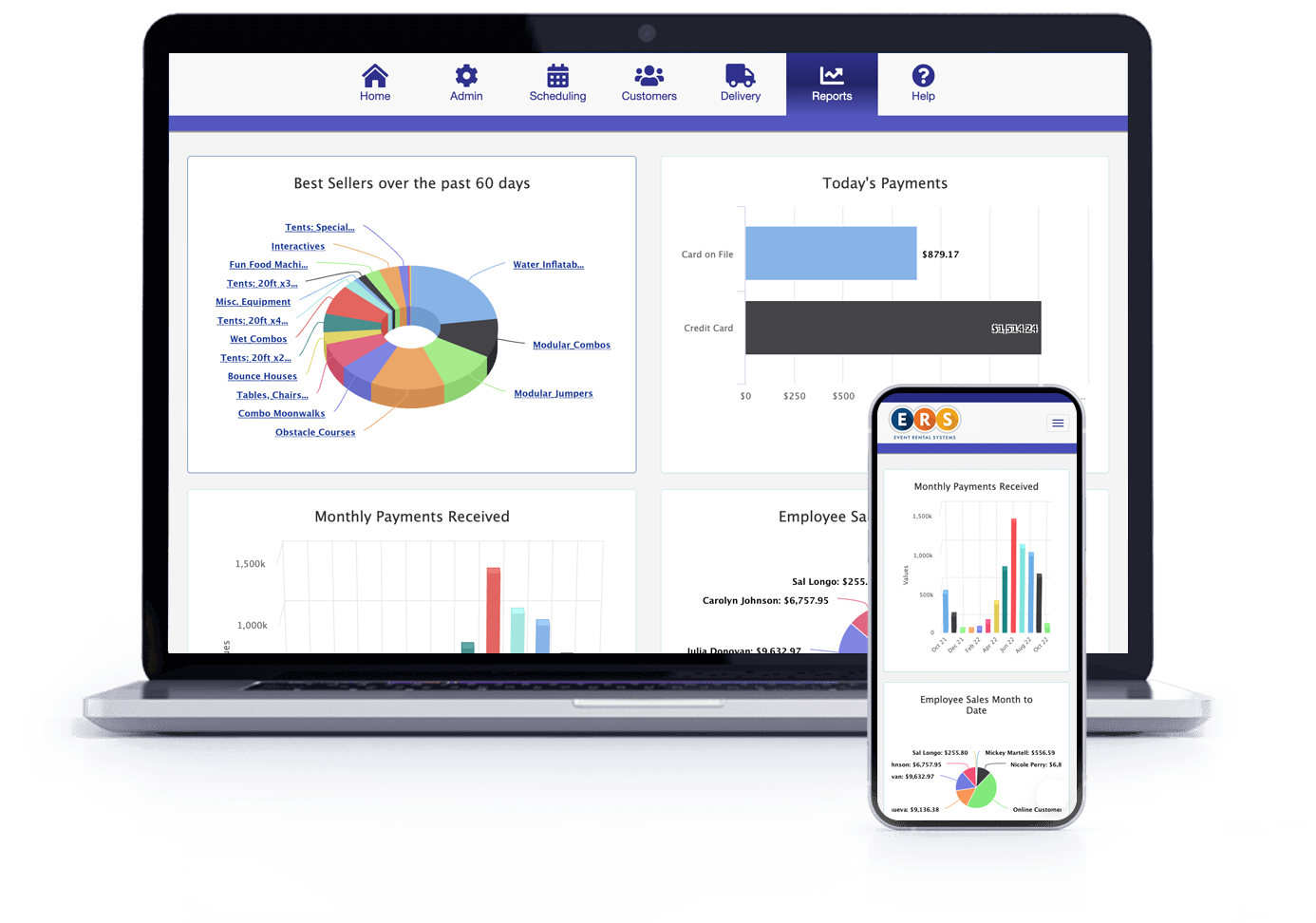 The company actively works to improve upon its current system and deliver the best in features, services, and customer support to allow its clientele, party equipment rental businesses, to streamline and simplify their daily operations. Co-founder and ERS spokesperson Rob Weinstein noted that the company works diligently to enhance and build upon its platform to continue to offer versatile, flexible, and invaluable features that allow event rental company owners and staff to focus on more critical aspects of managing their businesses. "Our ultimate goal is to provide a service that allows our customers to run their businesses on autopilot," Rob said. "And we continue to do so by implementing the feedback we receive while staying in touch with upcoming trends in the industry."
The company announced recently that a series of helpful updates have been made, including adding more information to the delivery and routing screen for drivers. The company name, address, and city have been added to the boxes in the "Delivery" tab to assist users in building their routes. This update will continue to simplify the delivery process for company drivers.
Another feature update was made to the reporting functionality, allowing users to mark certain reports as "favorites," saving them for easy accessibility in the future. In addition to being able to save frequently used reports, the company highlights a new report under the "Product Reports" category called "Customer Custom Pricing List." This report shows all custom or special pricing that is configured for the user's customer database. The software is capable of generating various helpful reports, including coupon reports, customer survey answers, sales by category, employee time cards, sales overviews, and others.
Lastly, an update has been made for customers with multiple orders on a single day to receive automatic messages. The duplicate message filter that prevents customers from being spammed with too many emails has been updated to account for customers who have multiple separate orders on a given day to further streamline communication on behalf of the party rental business using the software.
While regular software updates to the encompassing software are an enticing draw for potential customers, the company's marketing services have set them apart in the industry. ERS offers state-of-the-art web design, search engine optimization services, pay-per-click marketing, and high-level automation. Customers who currently utilize the ERS software and would like to learn more about marketing opportunities are encouraged to contact the company directly.
Dozens of positive reviews can be found on the company's website as well as on various online platforms, including Facebook and Capterra. Customers remark on the ease of use, friendly customer service, valuable services, and helpful features. Patricia P. said in her 5-star review, "Exceptional staff, responsive customer service, and a great software package for our business needs. You cannot go wrong with Event Rental Systems. It is very versatile and user-friendly for the most part. But the best part of this software is the staff. They are very responsive to customer questions and requests and go the extra mile to make sure that I get what I need to run the business."
Those seeking accessible and cost-effective bounce house rental software are encouraged to visit the official website to view more information about the extensive features, the pricing model, packages, and other services. ERS staff members can be reached via phone or email. Additional information and posts can be viewed at https://posts.gle/Y5oMyLJGXKPiTpLL7.