Palo Alto, CA based NurseRegistry is pleased to announce that they are supporting local schools with community outreach, support, and donations. NurseRegistry is committed to delivering the best experiences for nurses, patients, and organizations and has helped thousands of nurses, families, and facilities, thereby establishing itself as the preferred staffing resource for many in the region.
NurseRegistry is a nurse staffing agency with over 500 nurses that offers private duty nurses as a private pay solution and also assists in staffing various facilities, such as skilled nursing facilities, residential eating disorder facilities, alcohol and drug rehabilitation centers, schools, and more. In addition to providing nurse staffing with flexible scheduling and professional and licensed nurses, NurseRegistry is proud to offer support to local schools and communities. NurseRegistry donates supplies and provides medical services for children.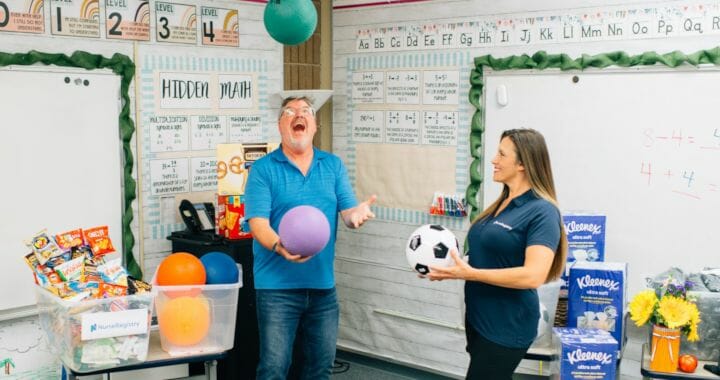 NurseRegistry's local school support takes many forms. NurseRegistry believes that all students and teachers deserve quality school supplies and healthcare products for their classrooms, which is why they are proud to broaden efforts to support local schools with their donation program. As part of this ongoing effort to improve the educational experience of the community's children, NurseRegistry has donated Clorox® wipes, hand sanitizer, Kleenex® tissues, antimicrobial balls, jackets, snacks, and more.
In addition to their many donations, NurseRegistry also works with over a dozen schools by providing exceptional nursing staff to students who need them most. With students now back in the classrooms after the global pandemic, schools have been in need of healthcare supplies and proper healthcare guidance, and NurseRegistry has stepped up to help. As part of their efforts, NurseRegistry has donated to no fewer than nine local schools in 2022 and has helped to fulfill thousands of dollars in requests for supplies for both students and teaching staff. Learn more about how nurses work with schools at: https://www.nurseregistry.com/healthcare-staffing/school-staffing/.
HR Director at NurseRegistry Linda Newcomb says, "The idea was to go to the different schools that we could reach and help them get the tools they needed to promote health and fight germs. We asked them for a wishlist, and they told us the things that they needed. They needed healthy snacks and better quality Kleenex. They also asked for sweatshirts, which was something that I didn't anticipate."
NurseRegistry has also donated to the Charter Alternative Program, which has been a safe haven for students to learn after the Covid-19 pandemic. Charter Academy (Charter Home Study Academy K-8) is an alternative program that provides a unique way for kids to get an education. CHSA offers a hybrid model where students are physically in the classroom twice a week, and remote learning from home for the rest of the week. NurseRegistry is proud to have filled requests by school staff for supplies that continue to keep their students healthy and safe.
NurseRegistry aims to support even more students and teaching staff in 2023 and the years to come. The organization understands that each student is unique and that there are multiple factors in play when it comes to the health of the community. This is why it offers a variety of services, including but not limited to nurses accompanying students from home to school and back home, nurses managing diabetes for students, including Blood Glucose (BG) Checking, Insulin Administration, and Insulin Pump Monitoring; nurses taking part in educational programs on diabetic care and asthmatic care, leading training for school staff, and answering questions for staff and parents; and nurses assisting special needs students by monitoring for seizures and managing medications, among other care requests. NurseRegistry is proud to state that nurses are willing to go beyond the school to provide care for children as they need it.
Those who are interested in learning more about NurseRegistry should visit the organization's official website to get started. There is also a video discussing NurseRegistry's partnership with EDCOE on their Instagram page. In addition to Instagram, NurseRegistry maintains a social media presence on Facebook, Twitter, and LinkedIn. NurseRegistry encourages interested parties to get in touch with them for any questions or concerns.