5 Star Movers Sarasota, a moving company based in Sarasota, FL, is offering a range of reliable moving services in Sarasota and surrounding areas. Thus, when in need of reliable movers Sarasota residents can depend on 5 Star Movers, which is proud to be a locally operated and owned family business that is dedicated to offering quality moving services throughout the Sarasota area, including St. Petersburg, Venice, and Bradenton.
That they provide quality moving services is evidenced by the highly positive reviews they have been receiving from customers. They have an overall rating of 5.0 out of 5 stars on Google and in one of their recent reviews, Rosalind P. gave them a five star rating and said, "I've used 5 Star Movers Sarasota twice, and both times have been exceptional. 5 Star Movers Sarasota made the relocation from Sarasota to Harbour Heights, Florida much easier. The initial configuration was simple and quick. During my two experiences with 5 Star Movers Sarasota, nothing was damaged. I would strongly recommend them for your upcoming relocation."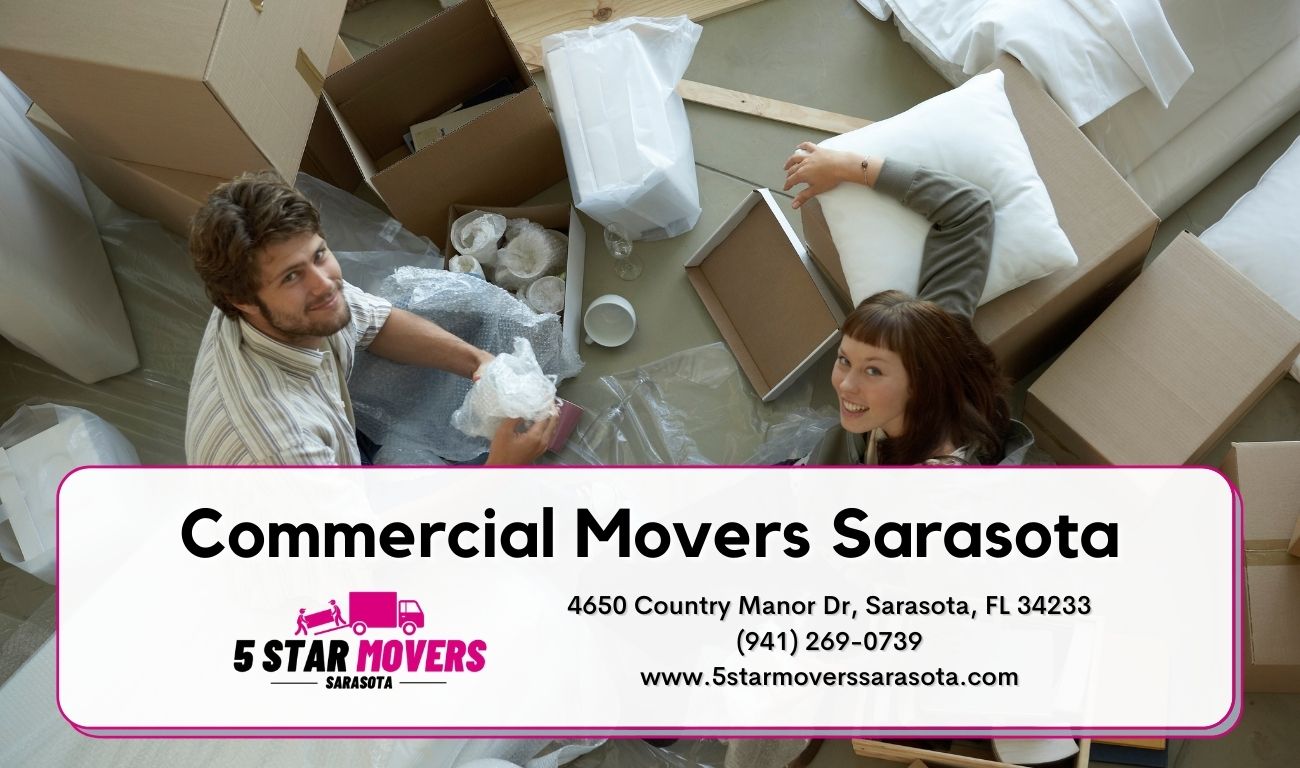 A spokesperson for 5 Star Movers Sarasota says, "If you're looking for a reliable moving company in Sarasota, you don't have to look too hard. 5 Star Movers Sarasota is here for you with years of experience and the resources to make your relocation as simple and stress-free as possible. Our staff is composed of customer-oriented professionals who will go the extra mile to meet all your moving requirements. Whether you need a Sarasota mover to pack up your entire house or just one room, our professional movers will do it quickly and efficiently so you don't have to worry about a thing. And when it's time for them to unpack everything at your new home, they'll put things where they belong – no more guessing what goes where."
These Sarasota movers offer various kinds of moving services, including: local moving; long distance moving; commercial moving; senior moving; moving help; piano moving; packing services; and more. When it comes to local moving, customers can relax while the professional local movers handle all of the necessary tasks. They offer a customized moving package for each customer, allowing the customer to be in control of the moving process at all times. Rather than simply provide a one-size-fits-all moving service, they allow the customer to decided how much is needed for the packing, lading, storage, delivery, and unpacking services.
They can also provide full-service long distance moving services and just like their other moving services, they customize the service based on the specific needs of the customer. Customers can have peace of mind in the knowledge that the packing will be done by professionals with years of experience and who really care to ensure that valuable items are not damaged. They also perform item inspection to ensure that the items do not get damaged or lost while in transit by land, water, or air.
5 Star Movers Sarasota is a full-service moving company providing various types of moving and labor services, such as packing, unpacking, and storage services for both residential, and commercial moves. Their professional movers have the knowledge and experience in all of the vital aspects of the relocation process and will carefully handle all of the client's valuable items. They provide packing, crating, and storage services, including provision of packing supplies that are essential for a stress-free move. They will also separate the different items, pack them and then load and unload everything. Their trucks are equipped with lift gates to minimize any potential damage to client's possessions during transportation. All of their vans have GPS tracking systems to allow the client to be in control of all aspects of the moving process. And all of their moving staff and moving crew are trained, reliable, and have many years of experience in packing and unpacking household goods.
Those who require a dependable Sarasota moving company can visit the 5 Star Movers Sarasota website or contact them through the telephone or via email. They are open from 7:00 am to 9:00 pm, from Monday to Sunday.


SOURCE: Press Advantage [Link]