Florida based Karma Movers St Petersburg FL is pleased to announce that they are now offering long-distance moving services to residents and businesses in St. Petersburg and the surrounding areas. Karma Movers has a team of experienced and qualified movers who can handle any type of move, big or small. Learn more about the company and their services here: Movers St. Petersburg FL.
Karma Movers St Petersburg FL says, "Anyone will agree that moving is a stressful experience, and it only becomes more stressful when you are moving long distance — whether you are moving to your new home in a different city or moving to a new workplace halfway across the country, long distance moves can take a lot out of you and your family or team. Karma Movers are here to take that stress off your shoulders. We understand your moving needs and concerns, and our goal is to ensure that you are able to focus on the other aspects of the move while we handle the difficult part."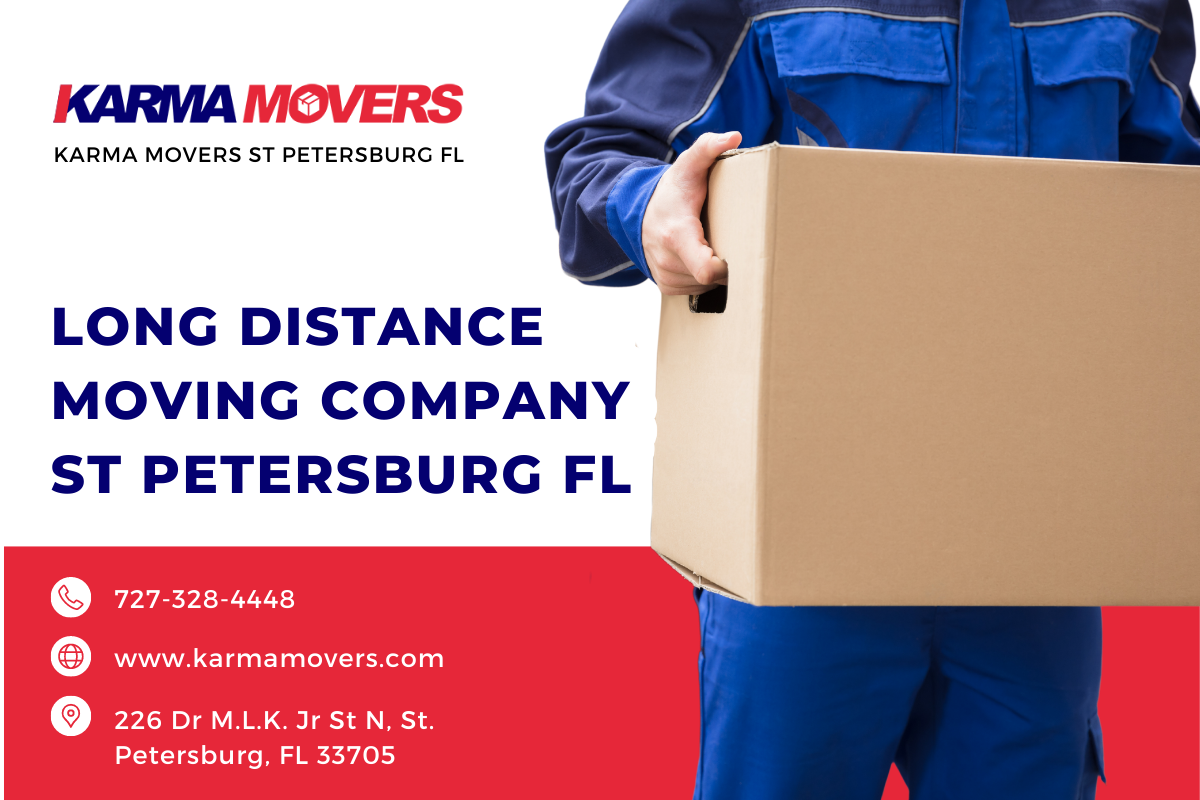 Karma Movers handles interstate, long distance and cross country move operations from St Petersburg. The company is properly registered and licensed and boasts a team of excellent movers as well as a fleet of top tier moving trucks. The company provides services that are tailored around their customers' moving plans. With this approach, they are able to meet the needs, schedule and budget of customers in the most efficient way possible. This approach has allowed them to become one of the most dependable moving companies in the city. Karma Movers also promises a seamless and safe moving experience.
Customers who find themselves needing extra moving supplies can purchase them directly from Karma Movers at affordable prices (through the company's moving boxes and supplies facility). Karma Movers also offers storage facilities with the inclusion of term storage facilities to ease their customers' storage needs. The company is associated with the United States' American moving storage association. Customers will be able to store their valuable items with Karma Movers as needed, and they can rest assured that their belongings will be safe and secure.
The company says, "We can guarantee that we provide the most affordable moving services anywhere around St. Petersburg. We price our services based on your preference of moving type, the amount of space you need, your items size and weight, storage cost and other costs. There are no hidden fees or costs. All we want to do is to make your life easier."
The services provided by Karma Movers have earned them a place among the best St. Petersburg moving companies. Dora Robertson says in her review, "Once the furniture has been collected, the company maintains outstanding communication and delivers regular updates. The vehicle can then be tracked in real time, providing an accurate delivery estimate. Each mover has been courteous and helpful. Due to how straightforward and stress-free they make the relocation, we would not hesitate to recommend them. Best Moving company ever! Thank you very much to Karma Movers St Petersburg FL."
Marilyn Peterson writes, "If I could give this company 10 stars, I would without a doubt! From beginning to end, the action was flawless. From the owners to the office staff, everyone was incredibly professional and extremely courteous. The moving crew that assisted us was fantastic! Their professionalism, friendliness and apparent ability to work well together resulted in a swift, professional move! Clearly, these men knew what they were doing. They even completed the move ahead of schedule and under budget! Recommend Karma Movers St. Petersburg FL to anyone in need of services like these."
Those interested in learning more about the full range of services provided by Karma Movers St Petersburg FL should visit the company's website to get started. The company encourages interested parties to get in touch with them via phone, email and so on. Karma Movers can also be found on Facebook. Learn more about the company and their services at the following link: Moving Company St. Petersburg.