London, England -
Forest & Ray - Dentists, Orthodontists, Implant Surgeons, based in London, UK, is pleased to offer teeth cleaning services to their community. The clinic offers scale and polish, dental cleaning and tartar removal. Their dentists offer a vital and thorough cleaning procedure that patients' teeth require to stay healthy and ward off infections. In order to ensure that the roots of the teeth and gums are as clean as possible, it is realistically not enough for people to maintain their oral health at home. Instead, it is recommended that they visit a professional dental hygienist every six months.

In addition to being unsightly, tartar build-up on the teeth is thought to be the main cause of gum disease, and it can result in cavities. Tartar can only be removed by a dental specialist due to its tight bond with the enamel. It is crucial to have teeth properly cleaned at least every six months to help avoid gum disease and tooth decay. Patients should expect their appointments to take between 30 and 60 minutes at the Forest & Ray Dental Clinic, which allows for the most thorough treatment. To maintain good oral hygiene, a thorough dental cleaning is essential. Additionally, it serves as the best defense against major dental disorders for patients, and this is also why it is required prior to oral surgery and dental implants.
The elimination of tartar (mineralized plaque), which can still form despite diligent brushing and flossing, is made possible by a dental cleaning, which is typically done by a dental hygienist, especially in places that are challenging to brush. At least twice a year, a patient must have their teeth thoroughly cleaned by a dental hygienist in order to ensure that tartar both above and below the gum line is removed.

No matter how hard a patient brushes or flosses, dangerous plaque, calculus (hardened plaque) and bacteria can only be removed by professional teeth cleaning with specialized dental instruments. Professional teeth cleaning can stop cavities, gingivitis and periodontal disease. It includes tooth scaling (root-planing), tooth polishing and debridement if too much tartar has accumulated on the surface. Given that every area of the mouth is not accessible when brushing one's own teeth, even the most thorough and attentive at-home oral hygiene regimen will leave the mouth with some trace quantities of bacteria. In a sense, even if a patient uses mouthwash and flosses, bacteria can still collect in the tooth roots and in the spaces below the gum line, which can lead to tooth decay, periodontitis and a host of other dental issues. Professional dental cleaning is required as a preventative step and an oral health booster approximately every six months.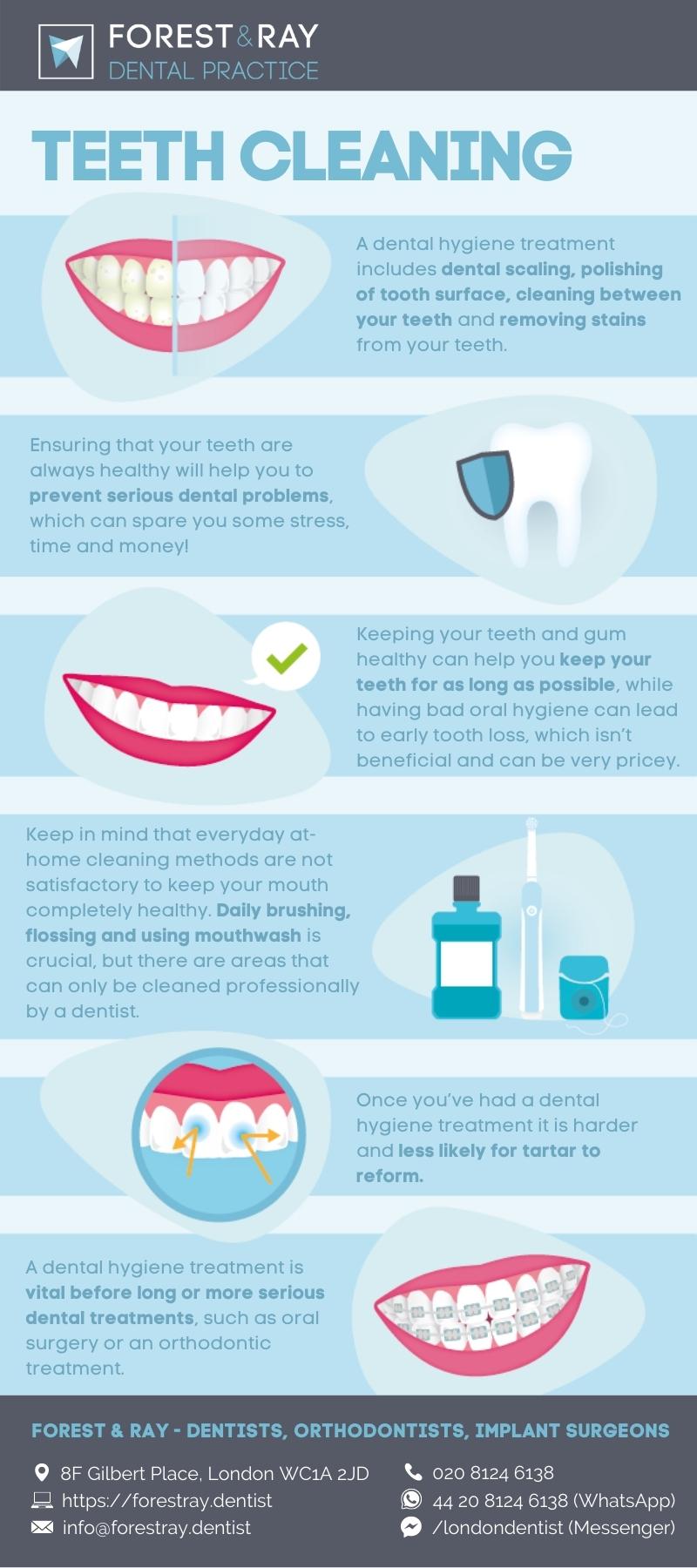 Teeth Cleaning in London can be viewed as an investment on the part of the patients, and as such, it is one that will help them avoid having to spend a fair amount of money later on. Each of the three categories for oral hygiene appointments has a defined charge. Depending on whatever category the patient falls under, the amount of work and chair time required will vary. The dental hygienist at the London clinic strongly advises scheduling a routine twice-yearly hygiene appointment to avoid the need for future, potentially expensive and unpleasant dental procedures. Only the most severe instances require the longer hygiene sessions, which might be shorter the more frequently a patient receives them. The average hygiene session lasts about 30 minutes. As a time-saving measure, Forest & Ray advises patients to receive the treatment at every half-year check-up, which is a crucial component of dental health and is strongly recommended.
Forest & Ray is a dental practice based in Central London that offers a variety of procedures, same-day appointments seven days a week and reasonably priced services. The team is convinced that receiving adequate dental care is the secret to success, a confident smile and self-esteem. The team at Forest & Ray is committed to providing patients with the best care possible. If patients put their trust in the team, they will ensure that the patient meets their dental objectives and contribute to maintaining oral hygiene to the fullest extent possible. The team guarantees painless treatments and a kind and professional demeanor regardless of age or condition.
If anyone would like to learn more about dentistry, they can do so by perusing the Education menu or by checking out the blog on the new Forest & Ray website. Patients may also contact the team via phone or email.