Gretna Containers is a family-owned Waste Management that has steadily grown in popularity since its inception back in 2020. Much of this is due to the two main principles that the company operates under. These are keeping their services simple and taking that one step further by making them some of the most reliable waste disposal services in the Omaha area too. Something that the company owner, Jonathon O'Malley, says that they never compromise on.
O'Malley stated on their website at https://www.gretnacontainers.com/, "Our company's goals are to provide top-notch customer service at an affordable price without comprising the quality of trash containers that we rent. We have the goal of becoming the leading provider of roll-off containers to our local community and that includes both homeowners and local businesses as well. We also have helped many Omaha area contractors get rid of the majority of refuse they produce as they go about their daily jobs. We realize that having to haul off trash and debris can be quite stressful and cumbersome to our customers, so we encourage them to just let our simple and reliable service handle their junk and trash removal for them. When customers work with us, refuse and junk disposal could not possibly get any easier." He says he operates the business just as if all his customers were his family, friends, and neighbors and that's why so many have come to trust their trash and junk removal services.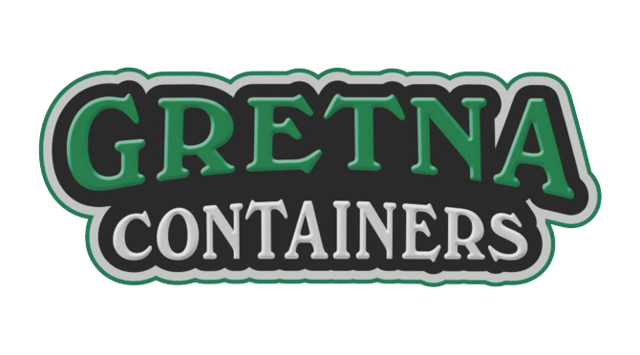 The company owner went on to say that their dumpsters can be used by individuals and businesses for a wide variety of cleanup projects. This includes everything from attic and basement cleanouts to the weeding out of unnecessary items before a business move. Yard debris and other items can also be easily disposed of in the rental dumpsters that Gretna Containers provides. There are not many items that the company won't haul away for their customers. O'Malley mentioned some of the prohibited items as being dirt, concrete, bricks, pavers, rock, car batteries, paint, railroad ties, and appliances. They do accept construction debris, all forms of trash, bulky furniture, wood from remodeling projects, and mattresses for disposal.
O'Malley also professed that he always strives to keep things as simple as possible when it comes to renting a dumpster from them. That includes them only offering one type of dumpster at one very reasonable price. That eliminates the need for customers to have to spend time estimating the exact amount of trash or junk they need to haul away to avoid overspending. He says the dumpsters they provide are a generous 12' L x 4' W x 8' H in size and up to 1-ton of trash or junk can be placed in them without incurring an extra charge. The standard dumpster rental period that's included at their flat rate dumpster rental price is also a very accommodating 7-days. They like to offer their Omaha area dumpster rental customers some flexibility too as extra days only incur a $20/day fee and extra weight is charged for at $53/ton. This information is also provided on the company's Facebook Page at https://www.facebook.com/gretna.containers.
O'Malley emphasized that they also do everything within their control to deliver and pickup their dumpsters exactly when promised. Ordering a dumpster drop-off from Gretna Containers is kept very simple too and can be done by phone or by filling out their online ordering form. The simplicity and reliability of their services is why he feels they get very few complaints about how they operate their waste management business.
The company owner also mentioned that those in many parts of the Omaha Nebraska area can take advantage of their simple and reliable dumpster rental services. This includes not only those in greater Omaha, but they also serve customers in Boys Town, La Vista, Elkhorn, Bennington, Papillion, Waterloo, Bellevue, Carter Lake, Gretna, Valley, Springfield, near Offutt AFB, as well as those over in Council Bluffs, Iowa. He says that those in most areas that are close to these locations can also take advantage of their highly popular waste management services. He suggested that those who would like more information on their waste management services refer to the company website or their Goggle Maps Business Listing at https://goo.gl/maps/mb7rFY14SbPbiswVA.


SOURCE: Press Advantage [Link]