Hook Company, based in Florida, is pleased to inform the residents and business owners of Sumter County Florida that its trash pickup service is available for all customers in the area. The company guarantees easy bookings and hassle-free, timely pickup. Customers can always contact the Hook Company team for more assistance if they so wish. Notably, they are considered the top waste disposal provider in the county, and interested parties are encouraged to visit the company website or contact the team directly to learn more about services and pricing for Sumter County waste management services.
The company considers it its foremost priority to keep its customers happy, so special accommodations can often be made to ensure a property is being serviced according to its needs, such as when a client needs immediate junk hauling services to support a foreclosure or hoarding cleanout. Hook Company encourages customers to make their wishes known when they first get in touch with one of the company's helpful representatives. The company offers Sumter County garbage pickup on a regular basis for residents and commercial entities, one-time garbage disposal for short-term cleanouts or projects, junk cleaning and hauling, renovation waste removal, construction debris removal, appliance hauling, and other services.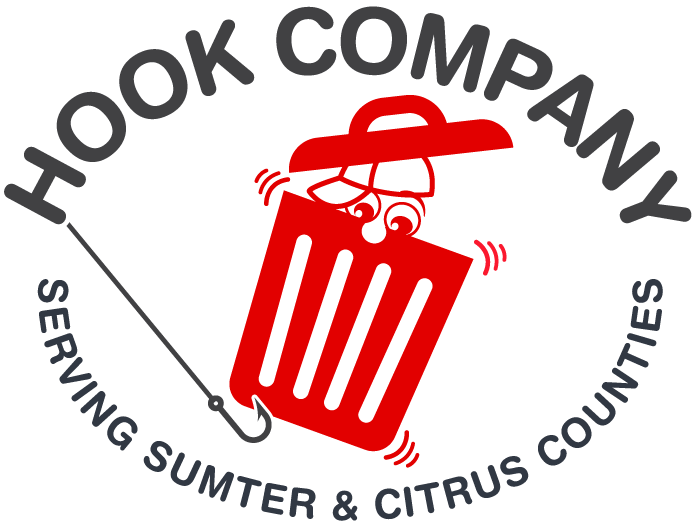 The company holds a reputation for offering excellent services at cost-effective and competitive pricing. The service area includes Citrus County, including Floral City, Inverness Highlands North, Inverness Highlands South, Inverness, and Hernando, as well as Sumter County, including Bushnell, Center Hill, Lake Panasoffkee, Webster, and Sumterville. Those interested in the company's services who live outside of the listed region are encouraged to contact the company directly to see if special accommodations can be arranged. The company also offers special rates for "snow birds" who are in the area partially throughout the year.
Brad S. has high praise to share about the company's work ethic as well as their approach to customer service in his Google review. The happy customer said, "This company is top notch. Sometimes (especially with this Covid thing) money gets tight and bills are tough to pay. They have always been awesome about us making our payments a few days late without losing service. Also, their guys go the extra mile, like forgetting that it's trash day and running garbage out at the last minute. Unlike other companies that would simply pull away if the trash wasn't completely out, these guys are always willing to help out or wait a few minutes to help with our procrastination! On top of all that, they are very affordable (around 22 bucks a month billed every 3 months) for 2 large cans (my own) but they also offer can rentals if you need one too. A+++. Would never go anywhere else."
Kim M. also says, "Justin went out of his way over the holidays to make sure our garbage was picked up. The truck couldn't get down our road due to the tree trimming. He met us on a day that is not scheduled for pickup. Great service and great employees. Thank you."
Hook Company specializes in waste collection that residents can depend on to keep their curbs, streets, and neighborhoods clean, and working with this company virtually guarantees that customers will never have to see trash idling beyond the expected pickup time. All waste is disposed of responsibly, in accordance with all city, county, and state regulations, in an effort to prioritize eco-friendly and sustainable practices. The company can be reached via social media, phone, or its state-of-the-art website for more information on how to get on its schedule today.