Cleveland, Ohio -
Electronic Merchant Systems, a national payment processor, has posted an article about pizza shop payment processing solutions, and why their products are excellent for small, local pizza shops looking for an easy and reliable system for accepting payments from their customers. Local, independent pizza shops are still a fixture in the United States of America, because customers still appreciate fresh, high quality ingredients sourced from local farmer's markets, distributors and suppliers. For these pizza shops to thrive, however, they need a seamless ordering experience, which means they need to streamline their payment processing systems. Electronic Merchant Systems (EMS) works closely with small businesses to ensure long term payment solutions that encourage quick transactions and customer retention. From robust point of sale systems to mobile payment acceptance, EMS helps small business owners accept payments in a variety of methods, including chip, swipe, and contactless payments. Through their reliable, easy to use solutions, they help small businesses like local pizza shops grow by improving their customer experience and lightening the load of the shop's employees.
Electronic Merchant Systems has been helping local businesses such as independent pizza shops realize their full potential by providing payment processing solutions that cover their unique needs as small businesses serving a localized clientèle. From the top point of sale systems to completely customizable gift cards, EMS has solutions to cover the payment processing needs of pizza shops and other restaurants. One highly effective point of sale system Electronic Merchant Systems recommends to many of their pizza parlor clients is their MaxxPay Mini, which offers quick payment acceptance of all major credit cards in any form, including EMV chip, swipe and contactless options, so customers can use whatever form of payment they prefer whether they are purchasing pizza from their favorite local pizza shop, or one they've never tried before. The MaxxPay Mini makes it easy to add all of the pizza and side dish options, prices, and inventory into the system so it can handle everything else about ringing up pizza orders and processing payments. The easy to use interface with an LED touchscreen makes it simple to take orders and complete payments quickly and conveniently. Pizza parlors that use the MaxxPay Mini will also get access to Electronic Merchant System's cloud-based back-office reporting systems anywhere they can access the internet.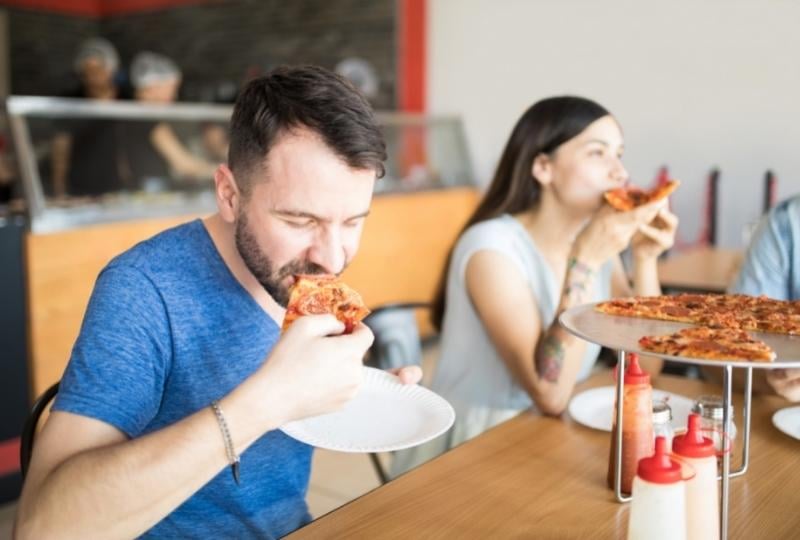 EMS' pizzeria credit card processing is just one of many services they offer to pizza parlors and other businesses. Electronic Merchant Systems can also provide restaurants with gift cards and loyalty programs that are personalized for their businesses. Gift cards are appealing to customers, and can benefit businesses through brand awareness, greater customer loyalty, a higher volume of orders, and increased profit and cash flow. An in-house creative team can help pizza shops develop custom designs for each shop's gift cards which represent the brand and look great. Loyalty programs are another essential tool for encouraging customer loyalty, allowing restaurants to engage, retain and grow their customer base by rewarding them for returning again and again. With their skills, experience and variety of offerings to fit any pizza parlor's needs, Electronic Merchant Systems can offer payment processing solutions that are reliable and take a load off the busy schedule of pizza parlor owners, who already have long days with never ending lists of tasks that don't need the burden of payment systems that crash or only take limited payment options.
Security has always been a top priority for Electronic Merchant Systems, which has been a certified level 1 PCI provider for over ten years. Their dedicated team of customer support specialists is available around the clock to help pizza parlors through challenges and answer any questions they may have about their payment processing systems. They are dedicated to handling all of their pizza shop client's merchant services needs, including: providing the top payment processing tools and opportunities, improving cash flow, gift & loyalty programs, providing the best credit card rates, and streamlining your business operations.


SOURCE: Press Advantage [Link]