Lancaster, Texas-based American AF Dumpster Rentals is a company that offers a variety of trash and junk hauling options in and around the entire Dallas area. The way that the company emphasizes customer care and prompt and reliable service has seen it rise to be one of the #1 dumpster rental options in the Dallas Metroplex. Part of this also stems from the fact that they now offer convenient online booking for all-size dumpster drop-offs.
Dumpster rental dates can be booked by a commercial customer, residential customer, or contractor simply referring to its webpage which can be found at https://www.americanafdumpsters.com/dumpster-rental-dallas-tx/. A company representative, Josh Roman, says, "We here at American AF Dumpster Rentals are always looking for ways to smooth the dumpster rental process for our customers. A big part of that is being able to offer our customers convenient online dumpster rental bookings. That means a contractor can still order a dumpster drop-off they overlooked during a busy day at 9 PM or a residential customer can easily plan ahead for their upcoming attic clean out."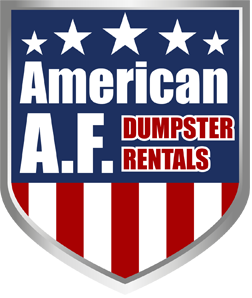 Roman went on to talk about how their dumpster rental bookings can be completed using a simple 4-step process. It all starts by selecting from their 15 and 20-yard dumpster sizes. Next, the customer will decide if they want a 1, 3, or 7-day dumpster rental period. After that, the customer picks a date and then the checkout procedure follows. Those that are not comfortable booking their dumpster drop-off online always have the option to call them and text messaging can be used to schedule a dumpster pick-up. The company representative was also proud of the fact that they will stick to their dumpster delivery and pickup schedule as close as possible even during the most adverse weather conditions. A fact that was recently pointed out on the company's Facebook Page which can be seen at https://www.facebook.com/AmericanAFDumpsters. Here it was noted that despite the Dallas area receiving heavy downpours for most of the day on March 12th, they still completed their entire dumpster drop-off and pick-up schedule.
The company representative also discussed how versatile their dumpster rental services are. They can be used for a wide variety of cleanup projects. This includes such efforts as cleaning out garages, attics, and other storage areas. He mentioned that their dumpsters are also often used to dispose of regular trash, e-waste, TVs, furniture, refrigerators & other appliances, yard waste, unused hot tubs, and more. Their larger-size dumpsters are also a popular choice for trash removal for contractors that have ongoing roofing, construction, or demolition projects. American AF Dumpster Rentals accepts any type of trash or debris that is not considered to be hazardous. If a customer has a question as to whether they have an item, substance, or material that they are not sure that the company can haul away for them, Roman says a customer should feel free to give them a call to discuss the matter further. He also thought it was important to mention that they dispose of everything that they haul away according to local and state guidelines and that this task is always done in the most environmentally responsible way. Also noted was the professionalism and experience of their drivers. Often they can place a dumpster as near as possible to where a customer needs to load it as long as doing so will not harm lawns or potentially damage underground septic systems.
Those that have used the services that American AF Dumpster Rentals provides have been very pleased with how smoothly the process went. Jo Ann Spriggs stated, "The dumpster was delivered and set up for us in minutes. We filled it full and they came and got it exactly as scheduled. Wonderful service." Haley Lopez proclaimed, "Wonderful prices and the perfect size dumpster." Randy West shared, "Very professional and I would use them again and again." These reviews can all be seen on the company's Google Maps Business Listing which is located at https://g.page/americanafdumpsters?share. Those that want more information on the services that American AF Dumpster Rentals offers in the Dallas Metroplex area can contact them by phone or refer to their above-mentioned website.


SOURCE: Press Advantage [Link]