Duluth, Georgia -
Atlanta Institute of Music and Media is announcing that their online Certificate in Music Production program is currently enrolling new students. This entirely online program teaches students basic skills and best practices for recording, mixing, and mastering original music.
The online music production certification includes 17 courses taught by Atlanta Institute of Music and Media's Music Production faculty and staff, for a total of 36 credit hours. Students can complete the certification in 9 months, or three quarters, of full time enrollment, taking 12 credit hours at a time. Students can also choose to enroll part time, and spend 18 months, or 6 quarters, taking 6 credit hours worth of courses at a time. Because Atlanta Institute of Music and Media is registered as an AVID Training Partner, students taking the online Certificate in Music Production even get the opportunity to become AVID Pro Tools Certified during the course of their training. This certification shows that they are competent users of AVID Pro Tools, one of the top audio production technologies available today. In addition to AVID Pro Tools, students of Atlanta Institute of Music's Music Production Certificate program will also get the chance to learn Ableton Live, a technology that bridges the gap between creative music production and live performance.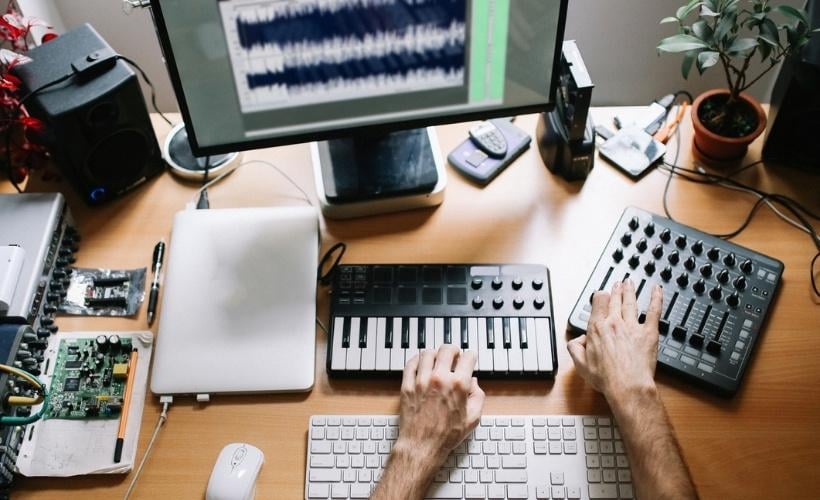 Students of the Atlanta Institute of Music and Media's Certificate of Music Production program will use Avid Pro Tools and Ableton Live to learn analog and digital music production, as well as microphone techniques, and how to use virtual instruments and effect plugins. Students will also hone their knowledge of music theory essentials, and learn to use their keyboard skills with a digial audio workstation, or DAW. Through completing the program, students will create a foundation in the knowledge and skills necessary to becoming successful as a professional sound engineer. Atlanta Institute of Music and Media provides an immersive, hands on learning environment, with rigorous and engaging course material, all at a significantly lower cost than most music schools, and with the ultimate flexibility of asynchronous classes. Atlanta Institute of Music and Media is even willing help students with their careers, especially networking with other music professionals, for as long as they live after taking courses with the institute. Students in the Music Production program are not required to complete General Education courses; they are only required to pass an entrance exam to be admitted into the program. Interested students are encouraged to learn more about AIMM's Online Music Production course to decide if they would like to enroll.
In addition to the Online Certificate in Music Production courses, Atlanta Institute of Music and Media has options for many other interested musicians, including an online certificate in Music and Technology which teaches students to perform a variety of styles of music, both live and in the studio. Students in this program take courses in scales, chords, reading music, as well as music performance, appreciation and business skills. The Certificate in Music and Technology also includes instrument specific technical courses, so students can learn about reading, scales and technique on their choice of bass, drums, guitar, keyboard and voice. All of the online courses from Atlanta Institute of Music and Media come with a prepackaged syllabus, so students can complete them at their own pace, working around their already busy schedules. Because the online courses from Atlanta Institute of Music and Media are targeted at people who want to level up their music careers and skills, this kind of flexibility that comes with online courses is a huge benefit because students can work around their busy music making schedules and work on the course material in their spare time.
The Atlanta Institute of Music and Media aims to provide a positive, fulfilling, and rewarding experience to all students while they receive a top quality education in contemporary music and media arts. The institute combines audio, video, computer labs, and live clinics to deliver quality musical education to students at an affordable price. Anyone who wants to learn more can contact the institute today.


SOURCE: Press Advantage [Link]