Beverly Hills, California -
Jochen Chiropractic & Wellness Center has announced that it is offering the best medical resources and professionals available to serve those searching online for Cupping Therapy Near Me Beverly Hills.
Cupping therapy is a method of TCM (Traditional Chinese Medicine) that helps to promote circulation within the body by using the power of suction created by heated cups. Muscular tension that comes from physical activity or an injury is relieved by the heated cups being placed on certain meridian lines. During the procedure, the therapist strategically sets the heated cups on the client's meridian lines and instructs them to stay still for about 20 minutes so that their body can let the cupping do its work. The neck, back, and shoulders are areas that usually receive cupping therapy to relieve stiff muscles, reduce swelling and inflammation, and bring relief to pressure points within the body.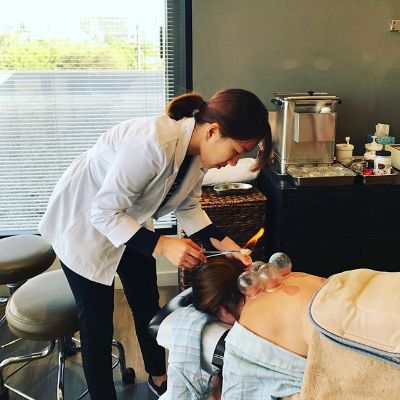 Cupping therapy is effective at restoring muscular function and eliminating stress both before and after a significant sporting event. Other conditions that are treated with cupping therapy include arthritis, coughs, colds, headaches, including migraines, and general stress and anxiety. This therapy also boosts the immune system, enhances the body's natural detoxification processes, and promotes relaxation.
At Jochen Chiropractic & Wellness Center, which offers the best treatments using acupuncture Beverly Hills has to offer, the cupping therapy treatment is offered by acupuncturist Jainen Shin, L.Ac. According to her LinkedIn profile, Jainen has almost 7 years of experience treating clients in Beverly Hills as a licensed acupuncturist. The center's website says that her interest in Traditional Chinese Medicine began in her college years when she watched a documentary about Oriental Medicine. She was mesmerized by what she learned and took it upon herself to find out more about its ability to comfort people with its treatments for a wide range of medical problems.
Jainen Shin eventually began her journey into holistic medicine after completing her Bachelor of Science degree at the University of California, Irvine, where she studied Biological Sciences. At South Baylo University in Anaheim, she pursued her Master of Science degree in Oriental Medicine, receiving training in TCM diagnosis, herbology, as well as acupuncture, and cupping therapy. While studying at South Baylo University, she continued to excel in clinical understanding and practice through internships as well as externships in various clinical settings in Southern California. After graduation, she received her acupuncture license from the California Acupuncture Board and started working as an acupuncturist in Beverly Hills in May 2015.
When asked about her thoughts on the effectiveness of cupping therapy and the overall impact of TCM on modern medicine, Jainen Shin says, "I firmly believe that cupping therapy has a calming therapeutic effect that rids the body of harmful toxins and stagnant blood and clears energy pathways to improve blood circulation. I would recommend this treatment to those suffering from a wide array of medical conditions including fevers, chronic low back pain, poor appetite, indigestion, high blood pressure, acne, atopic dermatitis, psoriasis, anemia, stroke rehabilitation, nasal congestion, infertility, and dysmenorrhea. You are also welcome to experiment with both cupping therapy and acupuncture to find out what treatment works better for your symptoms. I think through a little deliberation and experimentation, we can unlock the full potential of TCM and reap the benefits of these age-old traditions. I am devoted to patient care and management and through my sustained efforts, someday, I hope to assimilate TCM with conventional allopathic medicine."
Jochen Chiropractic & Wellness center has a dedicated following in the local community and the quality of the many services that it provides is evident in the center's exceptional rating of 4.6 out of 5.0 from almost 45 reviews on its Google My Business page. It was also recognized as one of the best chiropractor clinics in Beverly Hills in 2021 by Expertise.com.
The Beverly Hills chiropractor and wellness center can be contacted at the phone number (310) 556-8071 to request an appointment. Jochen Chiropractic & Wellness Center is located at 9478 West Olympic Boulevard, Beverly Hills, CA 90212.


SOURCE: Press Advantage [Link]