Duluth, Georgia -
The Duluth, Georgia based Atlanta Institute of Music and Media (AIMM) is hosting a highly attractive bass guitar program that is designed to help musicians establish themselves as competent artists. With some very well-known names in the music industry as its staff, the Atlanta Institute of Music and Media offers an exceptional learning experience for guitarists. More specifically, the Music and Technology Associate Degree: Bass Concentration provides students with all the tools they need to thrive as a bass guitarist in the competitive world of music.
"Are you a bass guitarist looking for the right environment for your skills to grow and your passion to thrive? If so, the Atlanta Institute of Music and Media is for you," says AIMM. "Our Bass Guitar Programs offer the instructional, non-stop music environment needed for students to develop their technical and musical talents playing the bass. In addition, our Music and Technology bass students will have the opportunity to learn how to produce original music with state-of-the-art software. We truly believe, in this day and age, being able to both perform and record, mix and master music makes you an attractive candidate in the music world."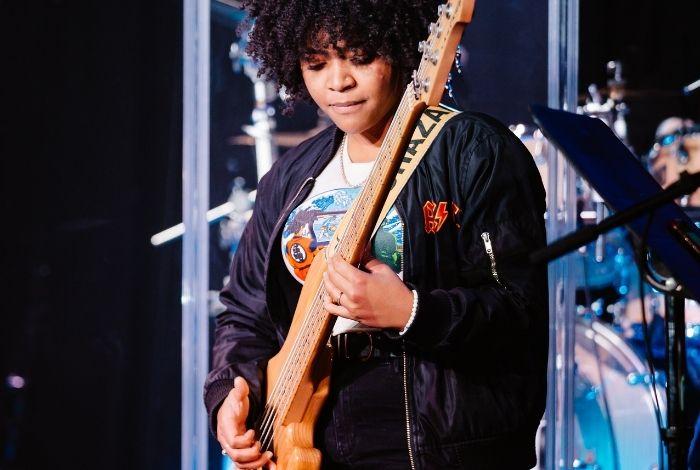 The Atlanta Institute of Music and Media produces world class musicians through class and practical application instruction, lab instruction and live clinics (featuring well known engineers, producers and music industry professionals). Students are given the skills they need to be great musicians during their courses at AIMM, and their interactions with music industry veterans — which are facilitated by the Atlanta music college — give them wisdom and insight into how best to use said skills.
Bassists have two options available to them. These are the Music and Technology Associate Degree: Bass Concentration and a Performance Certificate in Bass. The associate degree can be completed in 18 months by full time students while a performance degree can be completed in merely 12 months. Each lesson is intense, combining classroom experiences with performance opportunities. During the course, students study topics outside of music as well, such as business concepts, musical structure, technical knowledge and how to develop an entrepreneurial mindset that will help them achieve their goals and build a successful, long lasting career.
AIMM strives to develop well rounded musicians whose skills lie in a number of areas. The skills taught at the music college are the very same needed to stand among the top musicians in any given setting. Every day, AIMM students explore industry tips and techniques along with real world experiences in ways that few others at other colleges are able to. The Institute has produced a number of successful musicians, including Grammy winning engineer Kesha Lee, guitarist Tosin Abasi and renowned producer KEYZBABY (among dozens of others). Find out more at https://www.aimm.edu/bass-program-music-college.
"The Atlanta Institute of Music and Media strives to excel in contemporary music and media arts education with its primary focus being a positive, fulfilling and rewarding student experience," says AIMM. "AIMM continues to set the industry standard by providing the technical and applied learning skills needed to equip students with the knowledge and tools necessary to prepare them for successful careers. The Atlanta Institute of Music and Media's curriculum accomplishes its mission through class and private instruction; audio, video and computer lab instruction; and live clinics featuring today's most well-known and informative artists and music industry professionals. Atlanta Institute of Music and Media programs are taught by professionals whose work experience, certification and/or music degrees give each instructor the background to teach the demanding curriculum."
Learn more about AIMM's bass guitar programs through their website and social media platforms. Nite Driscoll of the Atlanta Institute of Music and Media is available in the event interested parties wish to pursue any further inquiries.


SOURCE: Press Advantage [Link]