Duluth, Georgia -
Atlanta Institute of Music and Media, an accredited music college from Atlanta, Georgia, has published a blog post detailing the benefits of online music education. Readers can check out the blog post in its entirety at the link: https://www.aimm.edu/blog/benefits-of-online-music-education.
The blog post begins by explaining that the internet has democratized the art of making music. This has happened due to the overwhelming amount of educational resources available online for free on sites such as Youtube along with the increased ease with which one can upload their own music to any of the many popular streaming and content hosting platforms. This has greatly reduced the barrier to getting started as a musician.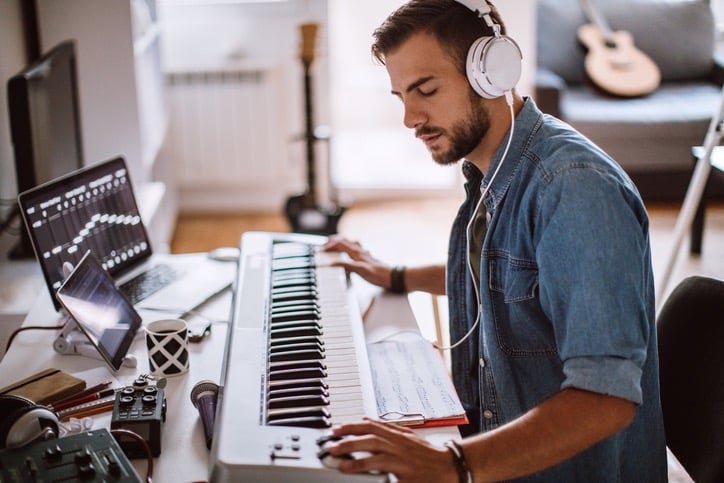 However, this revolution in music production and content consumption also brings along with it increased competition and makes it difficult for a budding musician to stand out. Also, since the online tutorials are meant to appeal to a broad stroke of folks, it is very hard to get the knowledge that solves the specific problems that one is facing on their learning journey. It is also not convenient to sit through ad-supported content and it is easy to get tricked into watching tutorials of circumspect quality that do not impart high-quality technical education.
The blog post then suggests that getting a formal education in music solves the aforementioned problems along with offering many other benefits such as industry-leading instructors, hands-on courses, and networking opportunities.
Instructors at music colleges are vetted specifically for their mastery of the craft and their skill of explaining difficult concepts to students. Compared to a passive medium such as internet tutorials, a classroom environment gives students the chance to get immediate feedback and learn from their mistakes, quickening the pace of their learning. Finishing a structured and accredited course also allows them to get a degree or certificate that lets them convey to potential employers that they have the skills and professionalism that comes with having put in the work to get a degree. Finally, getting a degree in a classroom setting allows the student to network with their cohort. Building a list of connections lets students find opportunities that they wouldn't have had access to if they were self-taught.
The blog post then discusses the benefits of getting an online music education as opposed to attending an in-person classroom course. When it comes to the value of online music education, the blog post highlights advantages such as convenience, flexibility, and financial considerations.
Firstly, not all students can afford the luxury of a full-time, dedicated classroom schedule as they might need to support themselves while they are attending the course. Attending an online course lets students set their own schedule and helps them work around the limitations imposed by their other, equally important responsibilities. Second, an online course makes available all the course material from the get-go. This gives students the flexibility to learn at their own pace as they are not limited to the pace set by the instructors.
Third, recorded videos also have the useful quality of being reviewable over and over again. This gives the student a chance to rewatch the materials until they are familiar with the subject matter and fully confident about it. This is an advantage that is rarely offered in a traditional classroom. Finally, an online course cuts down a lot of the costs that may have made a classroom program prohibitively expensive. Expenses such as housing, materials, and commuting are essentially zero for those who attend an online course.
AIMM offers an online music certificate that combines instrumentation and recording aspects unlike any other music program in the world. The college's degrees boast of a well-rounded curriculum comprising of classroom instruction, stage performances, computer labs, recording studios, and live clinics. The college also offers students the opportunity to become Pro Tools Certified.
The music school can be contacted at the phone number (770) 242-7717 or at the email address admissions@aimm.edu.


SOURCE: Press Advantage [Link]