Duluth, Georgia -
The Duluth, Georgia based Atlanta Institute of Music and Media (AIMM) is reaching out to the community to share information about their Music Production School. The Atlanta Institute of Music and Media offers majors in music and media, including but not limited to Music Technology, Music Performance and Recording Arts Technician.
Nite Driscoll of the Atlanta Institute of Music and Media says, "If you are passionate about music production and creating original music and you are serious about pursuing a successful career in music production, you can't find a better place for your education than the Atlanta Institute of Music and Media. We are dedicated to providing exceptional music production instruction in a fast-paced, hands-on music environment where we eat, sleep and breathe music. When you study with us, you will be working with industry-leading instructors that have already left their own footprint in the recording industry and growing alongside fellow students who are talented musicians and producers open for collaboration — and what better way to study than to learn from the masters?"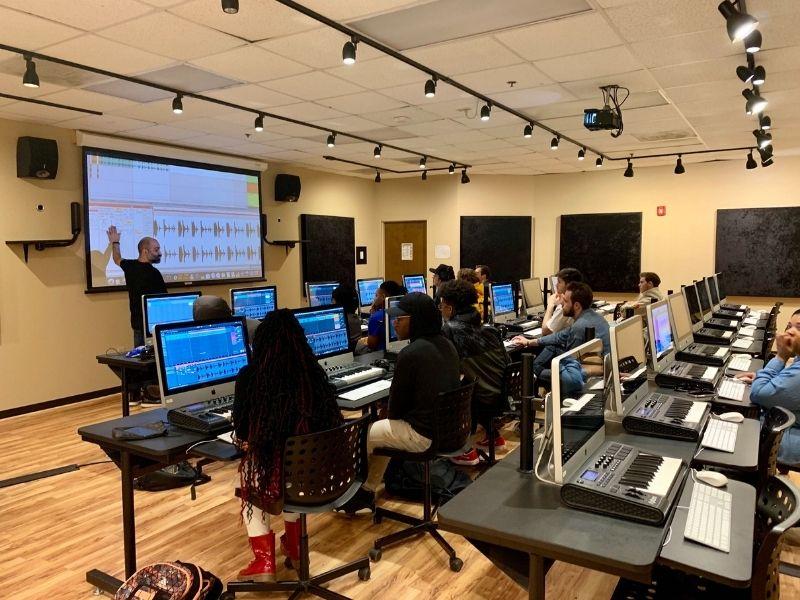 As an accredited music college, The Atlanta Institute of Music and Media offers two music production programs for producers and engineers. These include the Music Production and Audio for Media Associate Degree and the Certificate in Music Production. AIMM provides insider techniques when it comes to recording, mixing and mastering music. Students will be in an immersive music atmosphere with industry-leading instructors and countless musicians to collaborate with. Alumni of note from AIMM's Music Production programs include Kesha Lee (who earned a Grammy for her work with Childish Gambino on This is America) and KEYZBABY (who co-produced 2020's number one song, WAP).
AIMM's Music Production and Audio for Media Degree and Certificate in Music Production offer a large number of different courses that are tailored to enhance students' musical talents, while simultaneously gaining valuable knowledge from professors about their future fields and industries related to hip hop music production. The Institute shares that their Music Production Degree Program was designed with individuals who wanted to produce their own original music, songs, scores and soundtracks in mind. As such, it focuses on taking the students' passion for music and turning it into professional productions with the aid of the latest in digital music technology. The Music Production Certificate is now officially offered 100% online, as well.
The curriculum is constantly being updated, focusing on courses such as music theory, composition, digital music production and recording as well as professional level mixing and mastering. Their professors' instruction techniques, too, are constantly changing. Driscoll says, "The truth that we have come to learn is that music, like everything else, evolves with time and the progress of society, and we make sure that our teaching styles evolve with the music industry around us. To that effect, we utilize varying instruction styles, like live clinics hosted by professionals currently working in the industry, hands-on lab instruction, practical application instruction and more."
The Atlanta Institute of Music and Media says that employing a variety of teaching styles within the classroom allows students to learn from traditional practices, hands-on experience and real-world scenarios from current industry front-runners. Some of the aspects students can expect to receive training in include software (such as AVID Pro Tools and Ableton Live); concepts, theories and practical lessons on Hip Hop Music Composition; Audio Production; Digital Music Production; Mixing and Mastering; Music Copyright and Publishing and so on.
AIMM is proud to share that their students have made their mark on the music industry, working with great musical artists and companies. Artists who have worked with AIMM's graduates include Snoop Dogg, Ludacris, Beyonce, Justin Bieber, Childish Gambino, Mary J. Bilge, Ciara and more. AIMM's graduates have also worked with companies like Honeywell, Nickelodeon, Cartoon Network, Comcast and Aflac, among many others.
Those who want to learn more about the Atlanta Institute of Music and Media and the variety of programs on offer from the institute can find more information on their website. The institute encourages interested parties to get in touch with Nite Driscoll directly via email or phone. Further, Atlanta Institute of Music and Media can be reached through the contact form on their website. They also have a Facebook page where they post updates and share additional information and communicate with the community.