Duluth, Georgia -
Atlanta Institute of Music and Media (AIMM), an accredited music college in Duluth, Georgia, is happy to announce that their next open house event will be held on November 13th, 2021. During the open house, guests can take advantage of free and exciting events that serve to offer a sample of what student life at AIMM is like. A key element of the event are the live student performances followed by sample classes, including studio performance; instrument-based courses for bass, guitar, drums, keyboard, and vocals; surround mixing; audio production; and more. Those who are interested in attending the open house can indicate their intent by filling out an online form on the AIMM website.
AIMM is an Atlanta music production school and offers the Associate Degree of Applied Science in Music Production and Audio for Media (MPAM). This associate degree offers the student an education that both well rounded and tailor-fitted to comply with the specific needs of rapidly evolving audio industry. Those who earn this degree will have an in-depth understanding of recording, mastering, and mixing. Students will also be trained in automated dialogue replacement (ADR), sound design for film and gaming, and location sound. The MPAM program is for students who want to optimize their income streams by taking advantage of all aspects of the modern audio industry.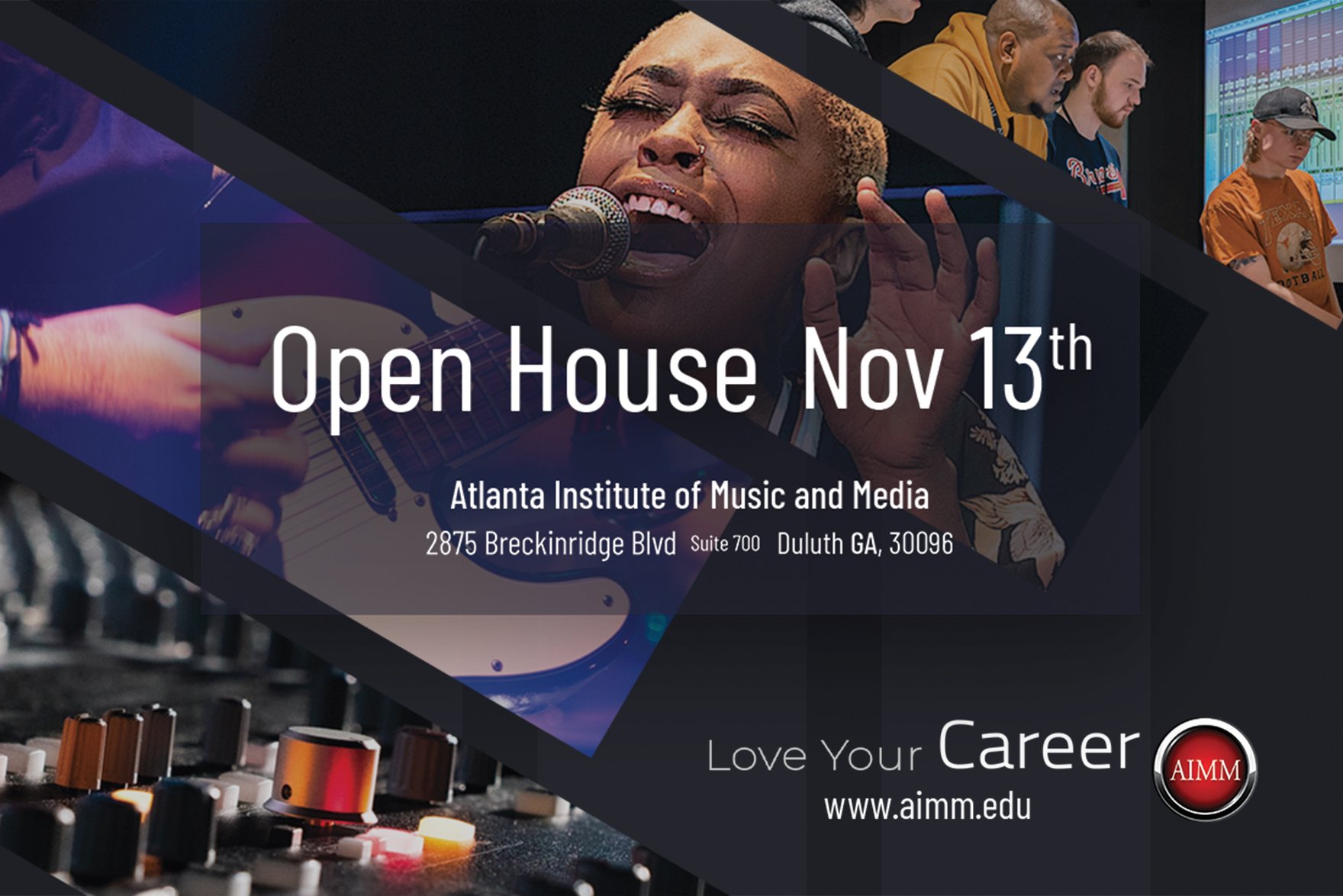 They also offer the Music and Technology Associate Degree with guitar concentration, bass concentration, drum concentration, keyboard concentration, and voice concentration. The guitar concentration curriculum is for the intermediate guitar student, providing a completely immersive and non-stop music environment. It provides guitarists the best tips, techniques, and insider info that professional guitarists use. Students will also get an in-depth understanding of the writing, recording, mastering, and mixing procedures. The other concentrations are similar except that focus is made on the instrument chosen, whether it is guitar, bass, drums, keyboard, or vocals.
There are also a number of AIMM Certificate Programs, which are the: Certificate in Music Production; Online Certificate in Music and Technology; and Performance Certificate. The Certificate in Music Production helps the student in acquiring the skills needed to become a professional and successful sound engineer. It is designed to teach the recording processes of editing, mixing, tracking, and mastering for both digital and analog music production. Students also get the chance to become AVID Pro Tools Certified.
The Online Music and Technology Certificate is offered completely online and its various courses are designed to provide students with the required education to improve their musical, recording, and engineering capabilities. Students can choose an instrument concentration, whether guitar or bass.
The Performance Certificate offers instrument courses to enhance the student's music performance capabilities and make it easier for the student to gain employment in the chosen field. Possible instrument concentrations are: guitar, drums, bass, voice, and keyboard.
Established in 1985, AIMM is aimed at providing excellent education for contemporary music and the media arts. It provides the necessary technical and applied learning skills that can help students prepare for successful careers. AIMM's mission is to foster an instructional environment for non-beginning students that they require in order to develop their musical talents and obtain the skills that are in demand in the music industry. AIMM's curriculum is targeted towards this mission using live clinics by the most popular and informative artists and music industry professionals; class and private instruction; and computer lab, audio, and video instruction.
People who are in interested in learning more about AIMM's Open House can check out the AIMM website, or contact them through the telephone or via email.


SOURCE: Press Advantage [Link]