Clean Group Sydney, a Syndey commercial cleaning services company, has explained in a recent blog post what commercial cleaning in Sydney, Australia, is composed of. In general, it means that the workspaces in a commercial building are thoroughly cleaned. It is important to note that professional commercial cleaning, when done correctly, with the right chemicals and equipment, will have a positive contribution to people's health because of the removal of dust, dirt, germs, and other indoor pollutants. The professional cleaners from Clean Group Sydney will: eliminate pollutants from inside the commercial spaces and put them outside the commercial building and minimize the introduction of new pollutants into the building that is being cleaned.
Stephen Matthews, Commercial Cleaning Manager at Clean Group Sydney, says, "Green cleaning was introduced as part of commercial cleaning in the late 1990s and the early 2000s. In Sydney, it is a common and very demanded service for schools, universities, offices, hospitals, and other institutions that see a lot of traffic. Having methods and procedures in place is the basis of great professional commercial cleaning. This sets apart the domestic cleaning and makes the commercial cleaning different and special. The process of commercial cleaning involves the regular cleaning of hard floors and carpet floors, furniture, fixtures and fittings, bathrooms, and waste removal."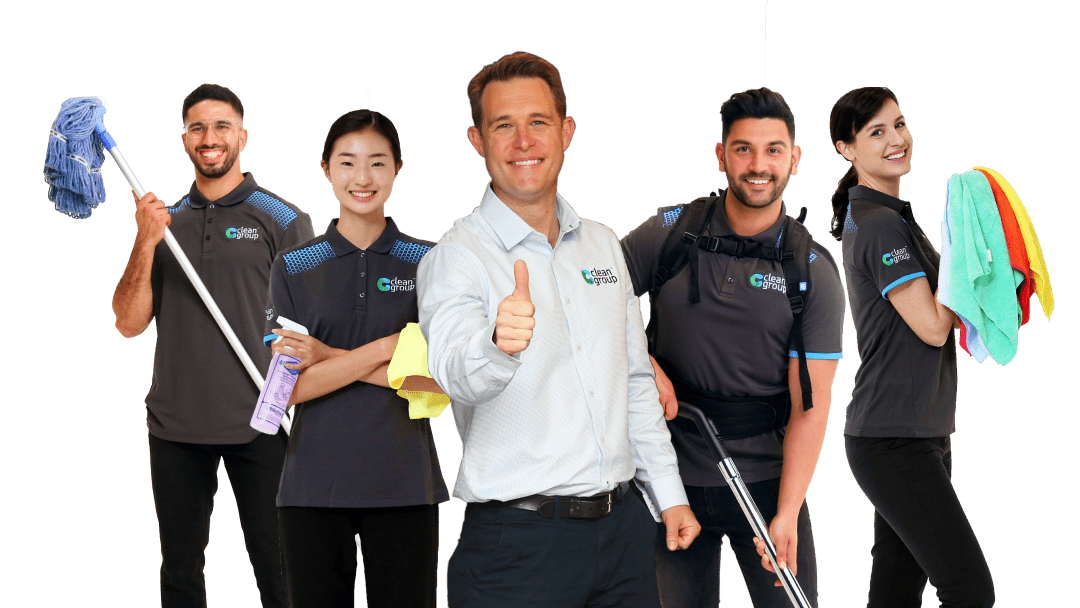 When taking on a new commercial building for cleaning, the professional cleaners will determine all those places that have to be cleaned. This will become part of their routine and will specify the tasks that they need to undertake, such as spot cleaning of fixtures and fittings; dusting once or twice a week; and high dusting once or twice a month, which typically covers anything that is more than 1.5 to 1.8 meters or about head height for most people.
There are also must-do tasks that should not be skipped. These include spot vacuuming litter from carpeted floors and spot cleaning hard floors to remove marks, dust, and dirt; spot cleaning bathrooms and replenishing bathroom supplies; emptying all waste bins and removing waste to designated bins or areas; and spot cleaning high profile and important areas of the building such as entrance doors.
They will also provide should-do tasks that are still part of the commercial cleaning that they provide in Sydney. These include: ensuring special attention is given to the boss's office and the person who handles the cleaning contracts office; detailed cleaning of all high-profile entrances, lobbies, etc., which includes cleaning door glass, cleaning floors, cleaning outside entrances, vacuuming entrance matting, and cleaning entrance glass; detailed vacuuming of all high traffic carpeted floors to eliminate visible litter and dirt; detailed cleaning of wash hand basins and toilets, and cleaning of mirrors in bathrooms; spot cleaning of kitchens and activity areas; and spot cleaning of tables and desks to get rid of food and coffee spills and stains.
It is important to remember that over some time, the hard floors, furniture, carpets, ceiling surfaces and fittings, and air-conditioning ducts accumulate dust and soil. The frequency of periodic cleaning is discussed between the client and the cleaning service to ensure that the spaces remain clean. And knowing which cleaning methods to apply will necessitate a quick inspection of the commercial surface or object that is to be cleaned and getting to know the kinds of soil that has to be dealt with, organizing access, and which detergents to use.
Different commercial office spaces will have different cleaning requirements. Thus, there are distinctions as to the kind of cleaning provided for large offices, small offices, shopping centers, schools, and factories in Sydney. Common places to be cleaned include the reception area, bathroom, kitchen or break area, and cubicles and offices.
It is important to remember to always double-check the kind of work that has been performed by the cleaners. Also, each space in the building will have different cleaning times because of the variety in the kinds of services that each space needs.
When in need of the best COVID cleaning Sydney businesses can visit the Clean Group Sydney website, or contact them through the telephone or via email.


SOURCE: Press Advantage [Link]