A top tree service company in Austin, TX, Austin Tree Services has released a video featuring the review from a recent customer. The video covers the customer's experience with the company their opinion of the service quality. In the video, the reviewer noted how easy it was to schedule an appointment for that same week. She also was impressed by the arborist's knowledge of the trees and maintenance required. The customer rated Austin Tree Services with five stars, which is the highest rating that can be provided on a Google Business listing.
The full video review can be seen here at this link: https://www.youtube.com/watch?v=BYVxB1hdPRw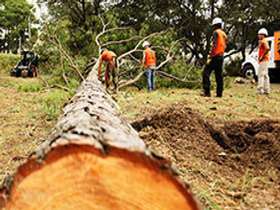 Company representative, Douglas Andrews, stated, "Our customers are our highest priority and we look forward to their feedback. We are happy to have been able to provide an exceptional experience to this customer and look forward to helping others in need of our services receive the same high quality treatment."
Austin Tree Services is a professional tree service provider working with Austin residents to make sure that their homes have functional, healthy, safe, and aesthetically appealing trees. To ensure that every tree service in Austin is handled perfectly, the company has invested in the right tree care gear and equipment. From saving trees from pests and diseases to restoring their shape and eliminating safety hazards, the team of professional tree service providers at Austin Tree Services is capable of offering every tree service.
Working with a local company that has experience is vital. After offering tree services for years, Austin Tree Services' tree care providers are familiar with the various issues that affect trees and how to fix them. For example, when pruning trees near power lines or a house, they will know how to lower the branches down slowly to avoid causing any damage. Backed by years of experience, the company's team of ISA (International Society of Arboriculture) arborists are capable of offering all types of tree services. Some of the tree services offered by Austin Tree Services include tree removal, emergency tree services, stump removal, trimming, pruning, and much more.
Company representative, Douglas Andrews, stated, "Our team of arborists and highly skilled and can handle all tree issues. Once we receive a customer request, we will send a professional to analyze their trees, determine the main issue, and offer a solution that works for that specific problem."
Austin Tree Services is a family-owned tree service with over 25-years of experience caring for the natural landscape of communities in Austin and Travis counties. Their goal is to provide exceptional tree service to all residential and commercial clients looking to maintain or improve the natural surroundings of their homes and businesses.
Austin Tree Services is accepting new customers and is offering a special spring discount. This includes all services including tree removal, tree trimming, and arborist service. Those interested in scheduling a consultation should call the company's customer service. Quotes can also be requested by visiting the company's website at https://www.treeexpertsaustin.com/ and completing the online quote request form.


SOURCE: Press Advantage [Link]