Sydney, New South Wales -
Clean Group, a professional commercial & office cleaning company based in Sydney, is now offering a 100% satisfaction guarantee with all their works. In addition, the company also offers free COVID-19 Disinfection and Protection Shield Cleaning for new routine cleaning clients.
Clean Group Sydney, is a leading commercial cleaning company that offers tailored office cleaning solutions and services to businesses. The company specializes in offering the best-value cleaning packages that come with fixed per hour cleaning rates with no hidden costs. Also, they allow the flexibility to hire office cleaners for as little as one hour and do not force customers into long-term contracts. Despite this, most of the Clean Group clients have been with them for years, mainly because of the company's flexible and high-quality services.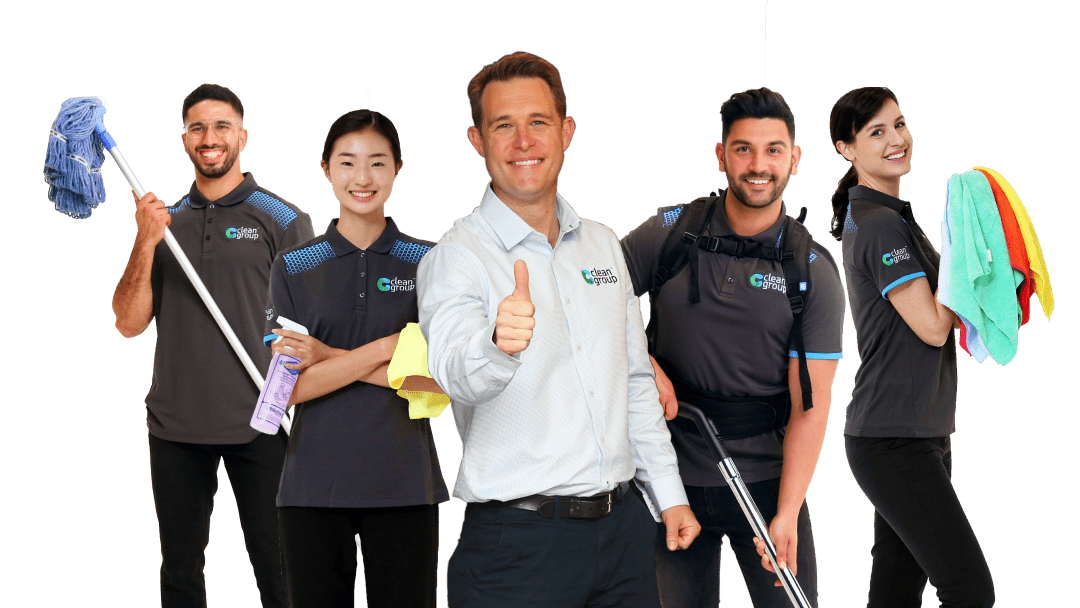 Besides office cleaning, Clean Group also offers a complete range of affordable and results-driven commercial cleaning and maintenance services, which include carpet cleaning, gym cleaning, strata cleaning, school cleaning, childcare cleaning, medical cleaning, and after builders cleaning. Lately, the company has started providing office disinfection services as well. Using the world-renowned Electrostatic Virus Shield technology, Clean Group cleaners provide completely safe disinfection and sanitizing treatments for all types of commercial premises in and around Sydney.
All the cleaning services by Clean Group are offered with a 100% satisfaction guarantee. This also includes carpet cleaning and disinfection cleaning. For a predefined price, the company offers their best team of police-verified cleaners along with top-quality cleaning products & tools for assuring results. "All our cleaners are trained to follow safe cleaning practices that are designed to produce efficient results consistently. We also focus on using eco-friendly cleaning solutions and practices as far as possible," said Suji Siv, owner and CEO of Cleaning Group.
"The main purpose of our satisfaction guarantee policy is to ensure that all our customers always get the best value for their money spent on cleaning. This also protects customers from bad or inefficient cleaning, as they can always claim for a fix if there is a problem with the cleaning service provided," he added.
While the existing customers of Clean Group already have trust in the company's efficiency and cleaning quality, the potential clients may find it difficult to immediately trust a new company. "The satisfaction guarantee allows such businesses to confidently put their trust in our cleaners and services. If they are not 100% happy with the end results, they can always ask us to fix the problem, which we do for free."
Clean Group is a full-service office cleaning services specialist recognised and trusted by hundreds of commercial and real estate owners in Sydney. Not only the company provides complete cleaning solutions to businesses looking for affordable & quality cleaning in Sydney but also they will re-clean a property if it fails in the inspection or if the cleaning doesn't meet the quality standards. All the company office cleaners are police-checked and fully insured. Clean Group also specializes in offering tailored cleaning solutions personalized to fit the needs of different businesses.
Each of the company's cleaning jobs is followed by a detailed quality inspection by their area manager, which also includes preparing and submitting the work status report to the client, mentioning the details of the work done and recommendations for further cleaning if any. If any mistakes are found or if an area is reported uncleaned during the inspection, the team will go back to the property and fix the problems with immediate effect. "Office Cleaners Sydney very much care about the satisfaction of our clients and will do everything in our ability to rectify the mistakes, if any are made by our team of cleaners."
Clean Group now has a new website and has recently started a new office in Canberra, which effectively extends the company's reach in the capital territory. With the new office, the company now offers cleaning services in over 1000 suburbs in Sydney, Melbourne, Brisbane and Canberra, which also makes it one of the largest providers of commercial cleaning services in the country. Existing and potential customers can visit the Clean Group website to find more about their cleaning services and satisfaction guarantee.
Businesses looking for guaranteed office cleaning at affordable prices in Sydney can contact Clean Group to request a free quote.


SOURCE: Press Advantage [Link]