Sydney, New South Wales -
Clean Group, a Sydney-based office cleaning company that was founded only a few years ago, is now a leading cleaning company for Sydney businesses, mostly thanks to their outstanding service performance during the COVID-19 pandemic. Whereas most of the business premises were shut during the recent COVID lockdown, only a few cleaning companies, including Clean Group, remained fully operational and kept providing impeccable & safe cleaning services to essential businesses such as hospitals and grocery stores.
"We at Clean Group believe that the real test of one's ability is during difficult times. Anyone can provide good service when the times are positive. So, when our customers needed us during these tough times (talking about the COVID pandemic), we stood with them and kept doing our best, as we always aim to. All our Australia offices were open during the pandemic, and we helped hundreds of essential businesses like grocery stores, offices and medical centres with their routine cleaning & disinfection needs, allowing them to operate in a safe environment," said Suji Siv, owner and CEO of Clean Group.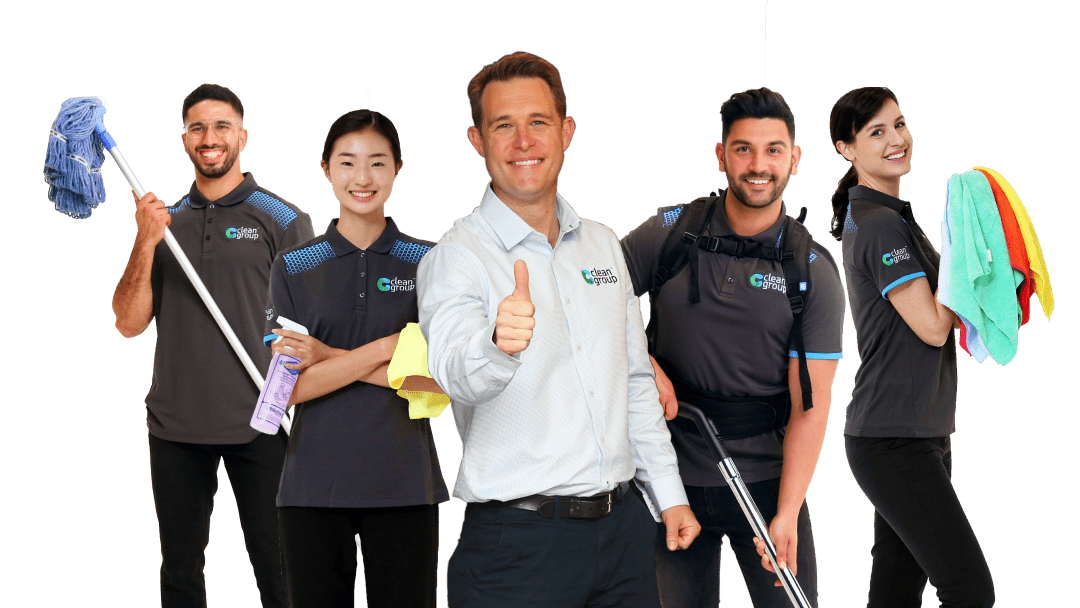 Thanks to Clean Group's unparalleled commitment to user service and their ability to stand up for others in difficult times, Clean Group has now become a leading choice for office cleaning in Sydney, according to a survey by a leading news portal.
"Honestly, it wasn't an easy time for us. Most of our clients, businesses, offices and property owners were cancelling their cleaning appointments because of the lockdown. There was a time when we had almost decided to shut our operations temporarily. But, for the sake of a few of our clients, including essential businesses like govt offices, hospitals and grocery stores, we rejected the idea," he added.
According to an IBISWorld report, the cleaning "Industry revenue is projected to have declined by 6.6% in 2019-20," as many businesses had to cancel cleaning appointments in response to COVID-19. So, naturally, this was one of the worst times for the industry.
"Someone had to clean essential business premises like hospitals and grocery stores to make sure they keep running safely. We along with a few other cleaning companies rose to the occasion."
Clean Group is a full-service commercial cleaning company that offers a complete range of office cleaning & commercial cleaning services to businesses in Sydney, Brisbane, Melbourne and Canberra with the help of their in-house team consisting of 50+ full-time cleaners. The company was founded by Mr Siv in 2017 with its first office in Sydney. And now, it has offices in all major cities of Australia, effectively covering over a thousand suburbs across the country. "We started with 3 cleaners, but now have a team of more than 50 full-time and trained cleaning professionals."
Mr Siv himself has more than 20 years of experience in the commercial cleaning industry. He has also, worked for many leading organisations and has experience providing services to a variety of businesses including offices, care centres, schools, hospitals, and warehouses. He started the company on the core values of reliability, honesty and integrity, and the same values are now shared by the company staff and management. To ensure that all the expectations of Clean Group clients are met and that the office cleaning services even during COVID 19 pandemic are provided in line with the highest quality standards, the owner personally manages the performance reports of all the company projects and also occasionally visits the premises to inspect the cleaning quality & performance.
"Customer satisfaction is something we value very much and always instruct our cleaners to go the extra mile to ensure the customer is happy with the service provided. We also have a 100% satisfaction guarantee, which is to ensure that each and every customer of Clean Group gets the best value for their money."
As the market gets back on its feet and businesses start to function normally, more and more companies would be looking for reliable & expert cleaners. Clean Group's hard work and commitment during difficult times will likely give them an edge over the competition now that the world is returning back to normal.
Interested businesses looking to get a free quote from Clean Group can visit the company's official website.