Napolin Accident Injury Lawyer Glendora is proud to announce that Alexander D. Napolin, who heads the law firm, has developed a reputation of being a leading accident injury lawyer in California. Attorney Napolin has a track record of success on thousands of accident injury cases. He urges car accident victims to find a reputable lawyer and discuss their case before talking to the insurance adjuster. He is a 100 percent plaintiff-side personal injury lawyer, which means that he never takes the case of insurance firms.
Alexander D. Napolin explains, "In a car accident situation, one of the most important steps to take always involves figuring out which of the two or more parties was at fault. Unfortunately, this is often a lot more difficult than just determining 'who hit who.' This level of complication is one of the many reasons why a personal injury attorney is so valuable in a car accident case. They can use police reports, photographs, witness testimony and other materials to determine exactly what happened, find out exactly which laws were broken and how and more, all of which will be used to determine both the appropriate course of action to take and the level of damages to seek in court."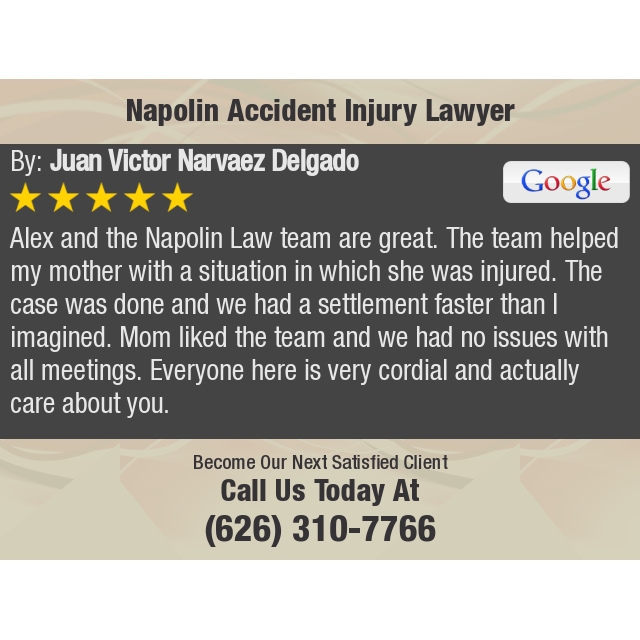 Attorney Napolin points out that it is vital for car accident victims to realize that the level of compensation that they are entitled to usually goes above and beyond the cost of fixing the car. It also includes the medical bills that resulted as an immediate aftermath of an injury sustained from the collision. Furthermore, it may also include the cost of physical rehabilitation and even lost wages as a result of not being able to go to work due to the injury and having to go to doctor's appointments.
The Glendora car accident lawyer offers free consultation for car accident victims in order for the latter to find out if they really have a case. Those who are not able to go to the law office because of their injuries or due to the pandemic need not worry because the consultation can also be done virtually. By using the appropriate technology, clients will not need to go to the office and sign paperwork or meet with the lawyer.
Meanwhile, several past clients have expressed satisfaction about the service that they received, by leaving a highly positive review on a number of online platforms. For instance, James K. gave the firm five stars on Avvo and said, "I chose to call Napoleon after my automobile accident, and I'm glad that I did. I was well taken care of from the start. Mr. Napolin took the time to put my mind ease. And all of my issues were resolved and I received a very significant settlement in the end. I didn't expect the outcome, so it was a pleasant surprise. I highly recommend Napolin if you are injured in an accident."
Napolin Accident Injury Lawyer Glendora does not just handle car accident cases. Other practice areas are accident injuries, employment law, bankruptcy law, product liability, personal injury, torts & injuries, medical malpractice, workers' compensation law, and more. Thus, they can handle the cases of victims not just of car accidents but also of other kinds of accidents. Whenever the injuries have been caused by a negligent party, the victim has a legal right to seek damages for such injuries under California state law. The victim is entitled to ask for compensation to help cover medical bills, lost wages, and other damages, and possibly more under the personal injury laws of California.
And when the harm was caused by a medical professional, whether by intention or by accident, a medical malpractice case may be filed. The firm also offers medical malpractice legal consultation to determine if someone has a case.
People who are interested in consulting with a Los Angeles County accident injury lawyer may want to check out the Napolin Accident Injury Lawyer Glendora website, or contact them on the telephone or through email. They are open from Monday to Friday, from 8:00 am to 6:00 pm.


SOURCE: Press Advantage [Link]