Sydney, New South Wales -
The Office is a crucial part of the routine life of millions of workers in Australia who spend 8-10 hours daily at the office. So, naturally, it's essential to keep the office premises, including desks, clean and well-maintained in order to protect the health interests of the company employees. Clean Group is a Sydney-based cleaning company that helps offices & strata stay clean through its complete & affordable range of office cleaning services in Sydney.
Clean Group Sydney is in the process of upgrading its office cleaning services to further meet the increasing demands for disinfection-focused office cleaning in and around Sydney. "We are committed to 100% meet the cleaning needs of our clients, always. If they want disinfection, we offer disinfection, and so on. Lately, we have started offering COVID-19 disinfection & protection shield cleaning service for which our cleaners use the most cutting-edge Electrostatic Sprayer Application technology," says Suji Siv, owner and CEO of Clean Group.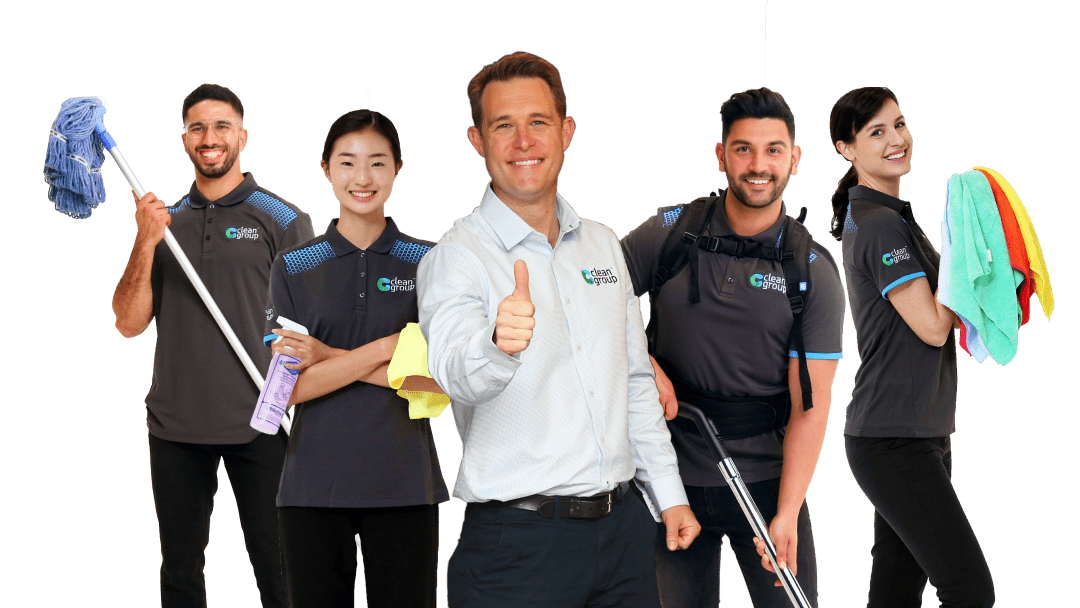 Despite understanding the seriousness of the COVID-19 disease and receiving warnings from local authorities, many Sydney businesses have failed to comply with the changing office cleaning needs. Even today, many employers and office owners in the city have no proper cleaning system in place for their premises.
"Business owners must understand that cleanliness is a prerequisite for office settings, which will help ensure the health safety of employees as well as lead to increased productivity. A clean and well-maintained office environment also helps make a great impression on the visiting clients. With that in mind, we at Clean Group are constantly adapting and improving to keep meeting the advanced cleaning needs of our clients."
Ever since the coronavirus hit the world last year, the demand for disinfection-focused office cleaning services has surged. This has made many cleaning companies upgrade their offerings to include disinfection cleaning. Clean Group is also in the process of upgrading its services in a number of areas. The company had started offering the Virus Shield disinfection service in May 2020 and has since completely revamped its office cleaning service, including the team, tools and techniques.
"We now work with a new, more experienced & trained team of office cleaners and use the best-in-the-industry cleaning solutions and techniques for our clients in Sydney."
For those wondering what exactly to expect from the upgraded office cleaning Sydney services of Clean Group, here the owner himself explains the new techniques & methods used by their cleaners for all-round cleaning and disinfection of office facilities.
In-depth cleaning of premises

Well, the first step to all-round cleaning is the in-depth cleaning of the entire office setting, including the cleaning of floors, surfaces, tiles, toilets, kitchens, rooms, desks, furniture, windows, doors, keyboards, cafeteria, etc. That helps remove all types of dust, dirt and debris from the area and make the place look clean and spotless. The Clean Group team also takes care of the garbage and will replenish basic supplies like toilet paper and soaps.
Identify and disinfect high-touch areas

Germs and infections mostly spread through the hands. "When we touch an infected surface or object and then use the same hand to touch another surface, it causes the spread of germs." That's why the importance of hygiene in the workplace simply cannot be avoided. And the best way to achieve that is by maintaining the cleanliness of high-touch areas.
The Clean Group's office cleaning team will identify frequent-touch surfaces, i.e. the surfaces and objects that are touched by many people many times throughout the day. These areas, along with carpets and other hard-surfaces, attract all kinds of germs and bacteria. "Our team will use the company's proprietary disinfection method to properly disinfect all such surfaces and objects to get rid of the viruses and return back the freshness." The frequently touched surfaces that need to be regularly disinfected include door handles & knobs, desks, keyboards, tabletops, phones, light switches, kitchen counters, etc. For the cleaning and disinfection of carpet floors and other germ-prone areas, their cleaners use the same Virus Shield method that is proven effective in killing up 99.99% of common germs and bacteria.
"It's important that cleaning and disinfection are done on a regular basis. We prefer to work with a schedule, based on the particular cleaning needs of a facility."
For the cleaning of hard surfaces and floors, the cleaners use the highly advanced i-Mop scrubber machine that comes with a flexible handle along with the power of an industrial scrubber. The machine can effectively clean all kinds of hard surfaces and remove even the toughest stains. It's flexible enough to clean corners and other unapproachable areas.
To know more about Clean Groups' advanced office cleaning services or to request a free quote in Sydney, one can visit their website or call the team at (02) 8859 8936.


SOURCE: Press Advantage [Link]