Bartolomeij, a resident of Naples Florida, recently completed residential and outpatient addiction treatment at WhiteSands Alcohol and Drug Rehab in Naples FL. She took the opportunity to thank the addiction treatment center for the high-quality care she received and left them a five-star review on Google.
"I went through residential at the main campus in Plant City before transferring here [Naples] for outpatient. I'm grateful for both the inpatient and outpatient services that were provided," said Bartolomeij.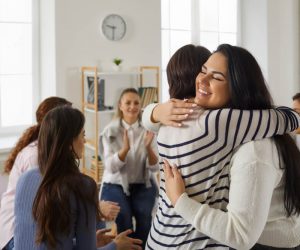 WhiteSands provides the full continuum of care in addiction treatment from detox and residential treatment to partial hospitalization (PHP), intensive outpatient (IOP), outpatient (OP), and aftercare. Patients like Bartolomeij appreciate having the ability to transition easily between the levels of care as they progress through treatment with one provider.
The transition to outpatient care close to home is particularly beneficial. Having the ability to return home with the support of ongoing outpatient treatment is an important step for anyone in early recovery. People are most vulnerable to relapse and overdose during the time just after inpatient rehab. Graduating to outpatient treatment in their hometown means that as patients reintegrate back into life outside of rehab they have a strong support system in place to help them work through challenges and stay on track in their sobriety. For this reason, WhiteSands operates nineteen outpatient treatment locations throughout Florida, making ongoing care easily accessible for patients once they return home.
In addition to receiving overwhelmingly positive feedback from current and past clients, WhiteSands was recently rated the number one addiction treatment center in Florida by Newsweek magazine. This acknowledgment, which was based on a survey of medical professionals across the state, confirms WhiteSands is achieving its mission of elevating the standard of care in addiction treatment.
WhiteSands provides multiple features that set them apart from the crowd of alcohol and drug rehabs available today. One such feature that Bartolomeij appreciated was the opportunity to explore the deeper issues of addiction and recovery through therapy. "Everyone has been very helpful and the counselors were on point! I got a lot out of my individual sessions and was able to meet with my therapist whenever I needed to. The knowledge of recovery they had helped me gain a better understanding of my issues with addiction," she said. See the full blog article at WhiteSandsTreatment.com, and see why they are the #1 addiction treatment center in Florida according to Newsweek.
The rehab industry standard calls for one individual therapy session per week. WhiteSands feels that does not allow sufficient time for treatment to be effective. At WhiteSands, patients see their primary therapist two to three times per week which allows them to form a better bond with their therapist and provides time to open up and work on the deeper issues that lead a person down the path of addiction.
Another important way that WhiteSands is raising the bar in addiction treatment is through their staff. WhiteSands employs board-certified addictionologist, medical doctors with specialized training in the treatment of substance use disorders. They also maintain board-certified psychiatrists on staff seven days a week. At any given time there are multiple medical doctors on-site in their detox and rehab facilities. Many treatment centers either don't employ these kinds of specialists or if they do, only hire them on a part-time basis. With doctors and psychiatrists on-site full time, specialists have the opportunity to get to know each patient individually and work closely with them as they progress through treatment.
Having psychiatrists on staff every day also means that each patient who enters WhiteSands receives a full psychiatric evaluation within 48 hours of arriving and will be seen once a week thereafter for evaluation and management of medication. This allows the alcohol and drug rehab to operate an effective dual-diagnosis treatment program.
Dual diagnosis refers to patients who are diagnosed with co-occurring substance use and mental health disorders. For many people, the driving force behind addiction is an undiagnosed and untreated mental health disorder like depression, anxiety, post-traumatic stress disorder, or bipolar disorder. Getting proper treatment for these mental health conditions eliminates the need for patients to attempt to self-medicate with drugs and alcohol and allows for lasting fundamental healing.
WhiteSands also maintains a low patient to therapist ratio and ensures that there are no more than ten to twelve patients in a group at any given time. With a low patient to therapist ratio, each patient has the opportunity to participate in meaningful ways in each group they attend.
For those who are struggling with substance abuse and addiction, please reach out for help. WhiteSands is available by phone 24/7 and calls are completely confidential. They can be reached at (877) 974-3031 or online at www.whitesandstreatment.com


SOURCE: Press Advantage [Link]