Rated #1 Local Moving Company in Bronx for their Bespoke Moving Services
Bronx, New York – 23rd Feb 2021 – 5 Star Movers LLC, the #1 local moving company in Bronx is pleased to share that they are operating despite the ongoing pandemic. They guarantee and offer safe moving services for both local and long distance moves. The company is known for their bespoke services wherein they treat each and every move differently. They take great care in understanding the specific needs of their clients and handle the moves specifically as per the demands. The clients don't just enjoy this special care and attention but also are satisfied with the process. They can also benefit from absolute transparency in price quotes and the pay for what they have agreed.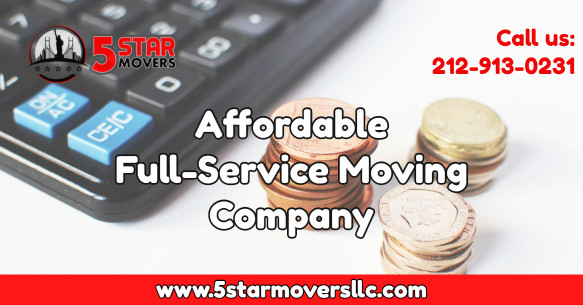 Most customers find it highly daunting when it comes to packing and unpacking. The team of moving specialists here are the packing experts. They make sure that all the household items are packed appropriately and labelled so that the customers don't spend too much time guessing what's in every box. And when the packages arrive to the destination, the movers also help their clients unpack the boxes and also help with the arrangement upon request. All this leads to a stress-free home moving experience whether it is local or out of state move.
Coming to dismantling and assembling, customers can always request for the same so that the team arrives with the necessary tools to disassemble and assemble items such as sofa beds, tables, shelves, cabinets, etc. The company also offers auto moving services in Bronx using car carriers. Drivers can also be arrange for relocation via road. Make the long distance moving a smooth process with the experts at work. As the #1 long distance moving company in Bronx, 5 Star Movers LLC offers fast and reliable moves. They have specialized trucks & trailers to transport the household items for longer distances. Customers can be assured that they will be guided towards the best solutions which are not just friendly on the pocket but stress-free as well.
For those who are looking for short or long term storage solutions without spending a fortune, can call this top rated moving company in Bronx. Moving is definitely an expense and with storage added it might not be light on the pocket. 5 Star Movers offer various moving and storage package deals whey customers opt to use the Bronx storage facility. The safe facility is equipped to keep the belongings safe for a very long time. They offer storage units in different sizes with specifically devised payment plans. Covid-19 or not, these movers are readily available for their customers in these difficult times.
To know more visit https://5starmoversllc.com/

5 Star Movers LLC is a moving company in Bronx with a team of moving specialists offering moving planning services, packaging, transport, unpacking and many more. Local moving or long distance moving, the company also offers short term and long term storage solutions. They offer a wide range of storage units, storage sizes and plans as well.