Melbourne, Victoria -
Clean Group, a commercial cleaning & office cleaning company in Melbourne, recently announces a completely new line of advanced office cleaning services for its clients in and around Melbourne city. Clean Group is a certified and one of the leading commercial cleaning companies providing services throughout Australia. It specializes in office cleaning, hospital cleaning and after builders cleaning. And now, the company is all set to start offering advanced office cleaning services to meet the changing demand of its office cleaning clients.
"The COVID-19 pandemic has changed a lot of things. The biggest change for us was that the demand for specialized office cleaning services along with disinfection cleaning has increased now more than ever. To meet this shift in demand, we have made multiple significant changes both in our cleaning practices and in our team. And now we are more efficient and better able to service the office cleaning needs of our clients in Melbourne," says Suji Siv, owner and CEO of Clean Group.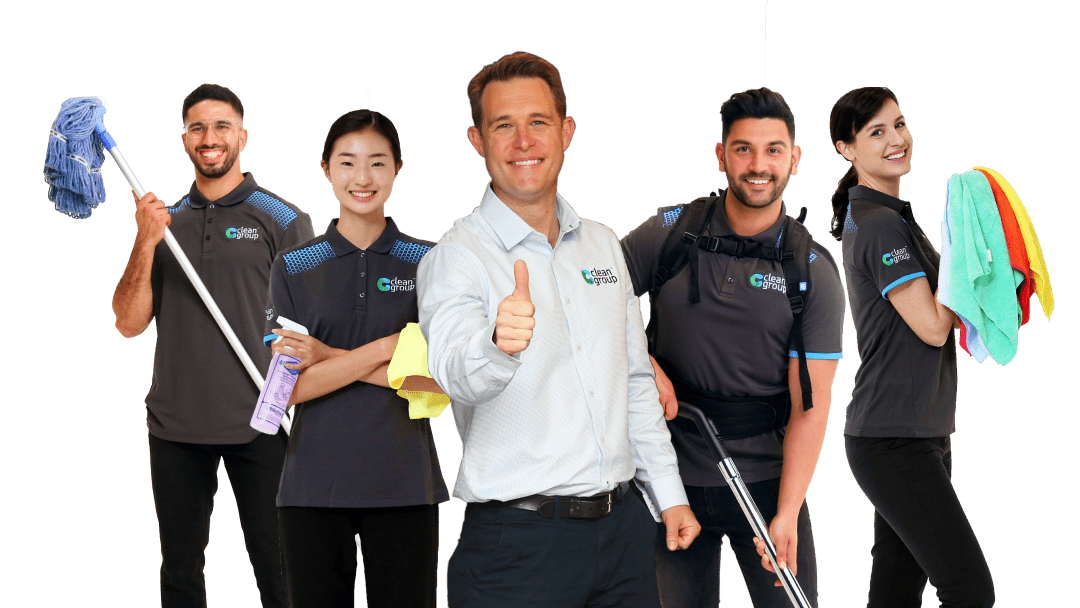 One of the major changes in the office cleaning Melbourne services of Clean Group is the inclusion of COVID-19 Disinfection Cleaning, which covers the disinfection of sensitive areas such as toilet seats, door handles, etc. in order to maintain proper sanitization across business premises. "We saw a huge rise in the demand for disinfection services post the COVID-19 pandemic and lockdown, and now we are the first cleaning company to offer a comprehensive range of COVID-19 cleaning & disinfection services in Melbourne."
Clean Group's COVID-19 cleaning service includes the basic cleaning of a place, followed by disinfection of surfaces like tabletops, desks, furniture, toilets seats, door handles and knobs, lift buttons, and others. This is to ensure that offices not just look clean but are also well-sanitized and maintained to protect the health interests of people around. The COVID disinfection service of Clean Group is certified to kill up to 99.99% of germs, including the COVID-19 virus.
Clean Group offers a complete range of office cleaning services in all major suburbs of Melbourne. They have been providing services to local businesses for over 20 years now and have good experience in understanding and working to meet the specific cleaning needs of these businesses. "We provide all types of office cleaning services, including one-time clean, routine cleaning, weekend cleaning, holiday cleaning, and more."
Now as the user demand is shifting from basic cleaning to disinfection office cleaning, Clean Group, abiding by its commitment to 100% customer satisfaction, has started providing upgraded office cleaning services to both existing and new office cleaning clients in Melbourne. In fact, the company, for a limited period, is offering the first COVID-19 Disinfection & Protection Shield Cleaning service FREE for new clients. Any business who signs up for a new routine cleaning (office cleaning or commercial cleaning) service from Clean Group can avail their first COVID-19 cleaning service absolutely free. The offer is for a limited period and applicable on a first-come-first-serve basis.
Clean Group's disinfection office cleaning or COVID-19 cleaning service for offices comprise the following things: 1) basic cleaning including the cleaning of floors, toilets, bathrooms, rooms, walls, windows, etc. 2) advanced cleaning including COVID-19 disinfection using the Electrostatic Sprayer technology. The Electrostatic Sprayer virus shield disinfection method of Clean Group involves the use of an electrostatic sprayer machine along with Zoono-71 Surface Sanitiser. When the machine is used to spray the sanitiser solution on a surface, it sends charged particles that are highly efficient to kill germs. This method of disinfection has been TGA approved to provide up to 30 days of protection from up to 99.99% germs and bacteria and is also effective in removing the COVID-19 virus. For more information read the following news article https://www.pressadvantage.com/story/38892-clean-group-explains-the-advantages-of-office-cleaning-for-businesses-in-melbourne.
Other advanced office cleaning solutions being used by Clean Group cleaners include the I-mop scrubber, HEPA multi-filtration vacuum cleaning, and microfiber cloths. The I-mop scrubber is similar to an industrial scrubber but offers the flexibility to clean tighter areas such as corners efficiently. The HEPA multi-filtration vacuum cleaning practice of Clean Group is known to improve the indoor air quality and is highly recommended for hospitals and childcare centres. The use of color-coded microfiber cloths by their office cleaners ensures that surfaces are both clean and germ-free, without limiting the risk of cross-contamination.
Office owners in Melbourne looking to the next-gen cleaning technology can Contact Clean Group to know more about their advanced office cleaning practices & services.


SOURCE: Press Advantage [Link]