Can Do Plumbing, a company based in Lago Vista, TX, has announced that they can safely provide water heater installation services according to COVID-related guidelines. They can install a hot water heater in Lago Vista, TX and neighboring areas, such as Leander, Point Venture, Cedar Park, Jonestown and Marble Falls, and possibly other towns in Travis County. It should be noted that the company is owned by Jason Bauder, who is one of the few people who have invested in technology that is useful during times like the coronavirus situation. Thus, customers who need water heater installation or repair services can contact them through Video Chat a Pro, which allows them to live stream and request for an estimate.
Their water heater installation or replacement services are available for various types of water heaters. These include tank type water heaters, tankless water heaters, and hybrid water heaters. The most common type of water heater found in the home is the tank type water heater, which makes use of an electric hot water tank. The water tank typically contains 10 to 80 gallons of water for residential applications and this type of water heater will often last for 10 to 17 years, depending on the water quality and kind of maintenance that is provided. Can Do Plumbing is available to recommend the type of water heater that aligns with each customer's needs.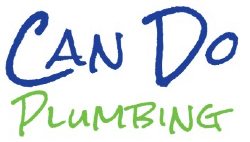 For those who want a water heater that is more efficient that the regular system, Can Do Plumbing recommends tankless water heaters, particularly from Rinnai. These can provide an endless supply of hot water, are more efficient than the tank type water heaters, and they can last for a long time when they are properly installed and maintained. They are also a good option for those who want instant hot water while ensuring energy efficiency, or those who are searching for alternatives to standard tank hot water heaters.
For those who want to install a hot water heater for their home, another way to have a more efficient system compared to the tank type water heaters is through a hybrid water heater. Basically, it transfers heat from ambient heat from the surrounding air and it heats up the water only when hot water is needed, unlike the conventional water heater. It makes use of electric heating only during those times when the demand for hot water is high. Since the electric heating mode is the least energy efficient, it will only be used when demand for hot water is high. And because hybrid water heaters get their heat from the surrounding air, they are typically recommended for places with a warm climate like Texas.
Can Do Plumbing also provides hot water heater repair and other types of plumbing repair and this is where their video chat technology can really help. Using live stream through the customer's smartphone, the plumbing professionals at Can Do Plumbing can actually perform a visual inspection of the water heater and its various parts, such as the electric hot water tank, and get an idea of what the problem is. This allows them to be prepared and to know what to expect even before they arrive at the customer's home. In addition, they can also provide an instant estimate, which means customers can avoid contact with other people as much as possible as way of preventing the coronavirus from spreading.
Another potential benefit of using video chat technology is that the plumbing professionals from Can Do Plumbing may be able to instruct the customer on how to deal with a water leak or do something to prevent the problem from worsening before the plumber arrives.
Homeowners and other property owners who require water heater installation or repair services in Lago Vista and surrounding areas in Travis County may want to check out their website at https://candoplumber.com/plumber/water-heater-repair/, or contact them on the phone or through video chat. They are open 24 hours a day, from Monday to Sunday, and their online service hours are from 9:00 am to 7:00 pm.


SOURCE: Press Advantage [Link]