Old World Brick Paving owner, Frank Calistro, has become dismayed over the fact that many local stores are not properly disinfecting their shopping carts. Many are not taking any steps at all. He feels this is being very irresponsible considering the current pandemic that is sweeping across Illinois and the rest of the country. Many medical experts have surmised that coronavirus can live several hours or more on the plastic and metal materials that shopping cart handles are made from.
Calistro had this to add, "If there is ever a time since I have been alive where people need to be diligent when it comes to sanitizing themselves and their surroundings it's now. Every time you turn on the TV you see a virus that spreads easily and spreads at an alarming rate. I recently approached several businesses and offered to sanitize their hand baskets and shopping carts for them. The attitude among most of them was very nonchalant considering the magnitude of the crisis we are seeing here in Illinois. Grocery stores simply are not taking this outbreak seriously and one manager even flat-out told me it was not their problem if customers get the virus from their cart handles. This attitude not only appalled me as a business owner but also as a concerned citizen trying to do my part."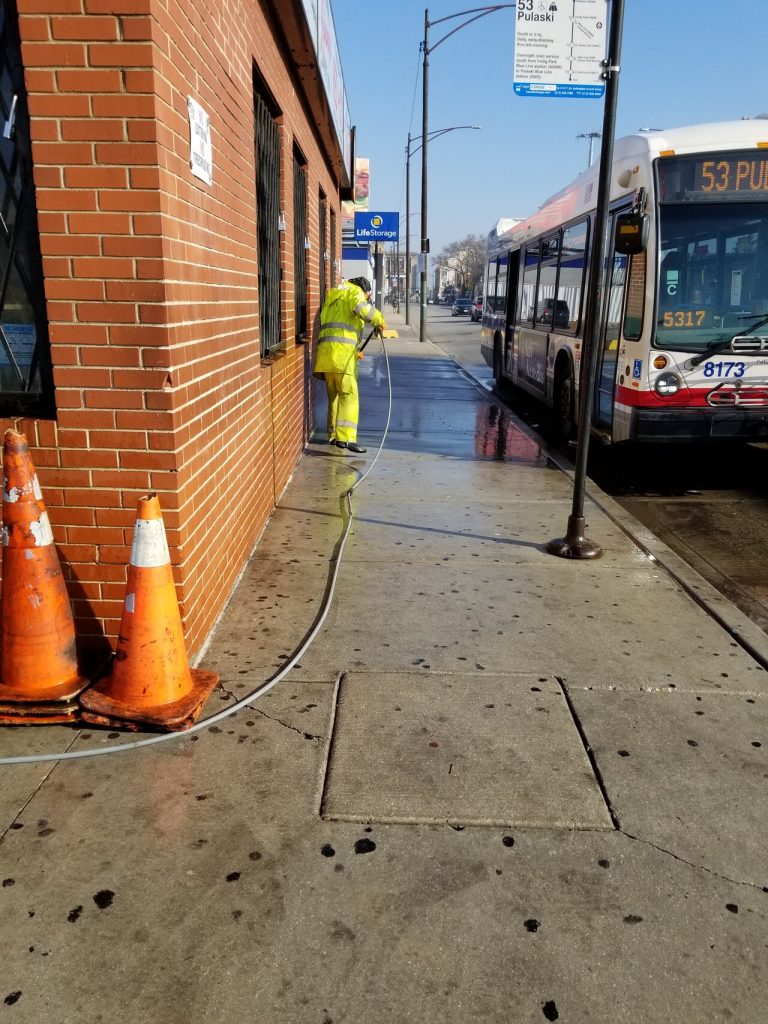 Calistro went on to add that disinfecting shopping carts is a pretty simple and straightforward process. It's also not very time consuming and can conveniently be done after the store has closed for the day. He says this service is very affordable too considering the benefits that it brings to customers, employees, and the general public during the virus outbreak. The owner stated when his company sanitizes shopping carts, they use hot steam combined with powerful disinfectant chemicals that are formulated to kill most coronavirus traces that are found on the handles of shopping carts and hand baskets. These special chemicals are also applied using pressure washers set on a lower volume of water so it does not harm the shopping carts or baskets during the process.
The company owner says that Old World Brick Paving offers their specialized Corona virus cleaning services throughout the greater Chicago area and the surrounding satellite communities. He says they will be working as long as possible until government recommendations deem it necessary that even essential services like they offer should be paused. Calistro did point out that their operations will hardly be anything but business as usually. He said they will closely monitor their employees for signs of illness and those who are not feeling well will be asked not to report to work. They also ask that their residential and business customers cancel their appointments if they become ill at home or are experiencing cases of illness at their business. They will also be greeting their customers from a distance and all bill transactions will take place over the phone. He says the safety and health of everyone will be the highest priority for the company during the current health crisis.
He also wanted to remind people that their special coronavirus sanitizing products have many more uses than just being used on shopping carts. Calistro pointed out that they have the special sanitization equipment needed to clean buildings, pavement, sidewalks, railings, and more. The same special sanitizing fluid that is used to disinfect during the shopping cart cleaning process is used on these other structures and pieces of equipment too. The owner says they are able to conveniently schedule these sanitization services around the home or business owners preferred schedule and they are available 24-hours a day to provide emergency coronavirus sanitizing services. He also pledged to keep the rates affordable and not to take advantage of customers during the current virus outbreak.
Calistro says his company welcomes any inquiries about their virus cleaning services by phone, email or website contact form. He also says that those who want more information on the current Covid-19 virus itself can follow the provided link to the World Health Organization website.


SOURCE: Press Advantage [Link]