Fort Worth, Texas -
Couples' communication authors Jordan and Amy Fowler are pleased to issue the 'Marriage Meeting Challenge,' which will consist of four guided, half-hour long conversations between spouses that will take place once a week throughout February. The Marriage Meeting specializes in bringing couples together in harmony with one another, and they look forward to fostering good marital communication with February's participants. Notably, each of these meetings is simple-to-implement, self-initiated, and take place in the comfort of each couple's' own home.
Jordan Fowler states that February's meetings will include, "Four simple-to-do, once-a-week, guided conversations with your spouse. Each conversation will help you both improve communication, leading to greater connectedness and fewer arguments. February has many associations with love, largely due in part to Valentine's Day, so it is the perfect backdrop for a series of conversations between you and your partner that will allow you to understand each other better." Communication is often the secret to a great marriage, according to The Marriage Meeting. This is why they seek to foster a stronger sense of connection between the couples by encouraging them to meet weekly. The Marriage Meeting is the brainchild of Jordan and Amy Fowler, who also co-authored The Marriage Meeting Guide, an accompanying book that forms a fundamental cornerstone of each meeting. The authors explain that, over the course of their own relationship, they had to come to grips with many lessons that helped them work together harmoniously as husband and wife. These lessons have been imparted with great love and care into the Guide, and it is designed to help couples navigate the difficulty of opening up to their spouses. In fact, it is a crucial part of The Marriage Meeting Challenge.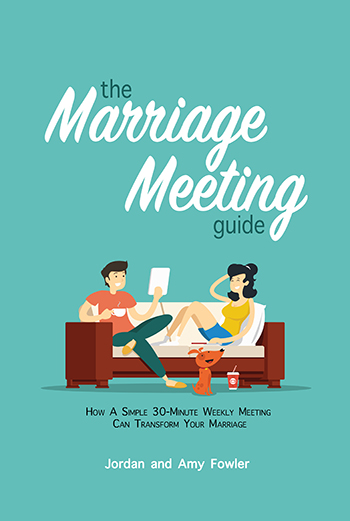 According to The Marriage Meeting website, the Challenge and the Guide can help couples at various stages of their marriage, whether they have felt distant from one another for years or have only just gotten engaged. The author states, "Marriages are always a work in progress, no matter how comfortable and stable they are. New challenges are always on the horizon, and both members of any relationship are always growing in their own ways as people. If you have a good marriage and want to make it even better, our February Challenge is perfect for you. If you find yourself in constant arguments with your spouse, the guided communication that is part of the meeting can help you with that too."
Those who step up to the Challenge will find that several aspects of their relationship will change for the better over the course of the month. They will learn to understand their spouse better, to talk to each other without getting defensive, stop hiding any resentments they have in order to deal with issues properly before they get out of hand and more. In short, these couples will learn how to be closer to one another. The Marriage Meeting even suggests that they will experience an improvement in their physical intimacy.
Interested parties are welcome to get a copy of The Marriage Meeting Guide and commit themselves to these four guided meetings in February. Other couples have already explored the resources the book has to offer, and their glowing reviews can be found on the company's Amazon store page.
For instance, Erin Lowack says in their 5-Star Amazon review that, "This short guide is actually very helpful! My husband and I had our first meeting today after we both read the book. We talked for an hour and a half and had a lot to say, more than we both realized. We are excited about what we discussed, and we both feel good about each other's expectations. We are looking forward to a productive week. There is no way we can tackle all we discussed in one week, but we will take it one step at a time." In another top-rated review, Pam Farrel says that The Marriage Meeting Guide is an "Excellent, quick read. Practical help for a marriage."
More information can be found on The Marriage Meeting's official website. Jordan and Amy Fowler of The Marriage Meeting are also available should prospective participants have any further inquiries. Interested parties may commit to The Marriage Meeting Challenge by accepting the company's Facebook Event Invite.


SOURCE: Press Advantage [Link]